Husqvarna Norden 901
The review from Knox
WRITTEN BY Aaron Travell
PUBLISHED: November 17th, 2021
Last week, I went to the international press launch of one of the most hotly anticipated Adventure motorcycles in recent years, the Husqvarna Norden 901.
Before we get into how the Husqvarna Norden 901 performs, we have to acknowledge just how much anticipation there has been for it. I was there working at EICMA in 2019 when the curtain was lifted on the Norden, the buzz and hype around it was phenomenal and was arguably the most talked about machine of the show! What is more amazing, is that the production model that is being brought to the market and the one we rode, is remarkably close to the concept bike that everyone loved. In the flesh, it looks fantastic, with very clear and clean Husqvarna design language and beautiful finishing, its just a lovely thing to look at and brings something very different to the current Adventure bike offering.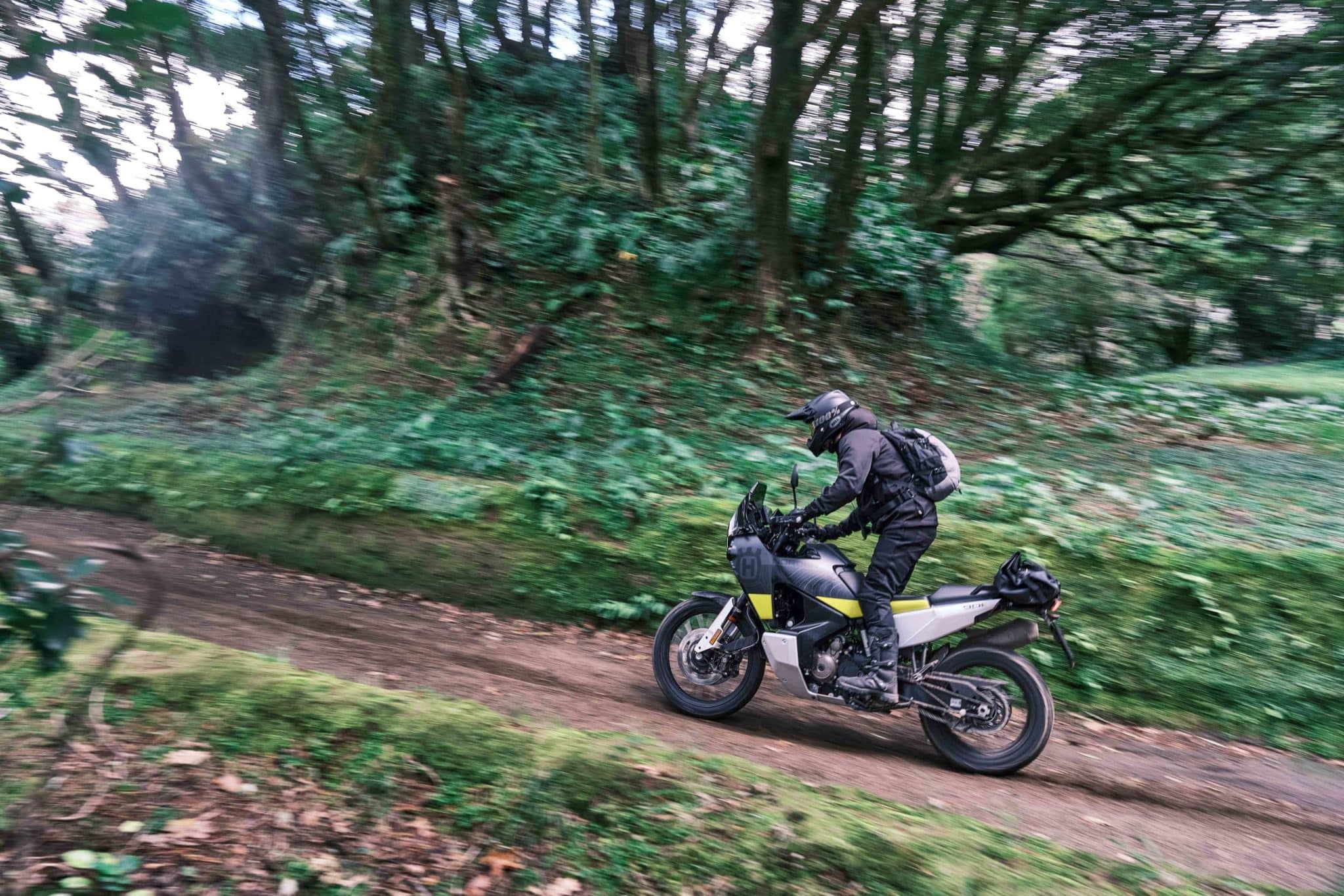 Our launch was in the beautiful Sao Miguel Island in the Azores, a remarkable place in the middle of the Atlantic Ocean and provided a near perfect location to get to grips with the Norden 901. In our 2 days and approx. 400km of riding, we experienced a mixture of terrain, from beautiful mountain roads with excellent tarmac, to moss covered and broken up asphalt, through to dirt trails, some more rutted than others, sand and even a few river crossings! Most of the time the ground was wet, and we had all weathers on test. It's hard to think of another country which would have provided such a mix of real-world riding and weather conditions.
First impressions of swinging a leg over the bike and riding it down the road are impressive. The Norden 901 has inherited the low weight bearing fuel cells that we see on some of the KTM Adventure products. This combines with wide handlebars with an excellent turning circle, a low and comfortable seat and a friendly engine characteristic to make a bike that almost anyone should feel instantly at home on.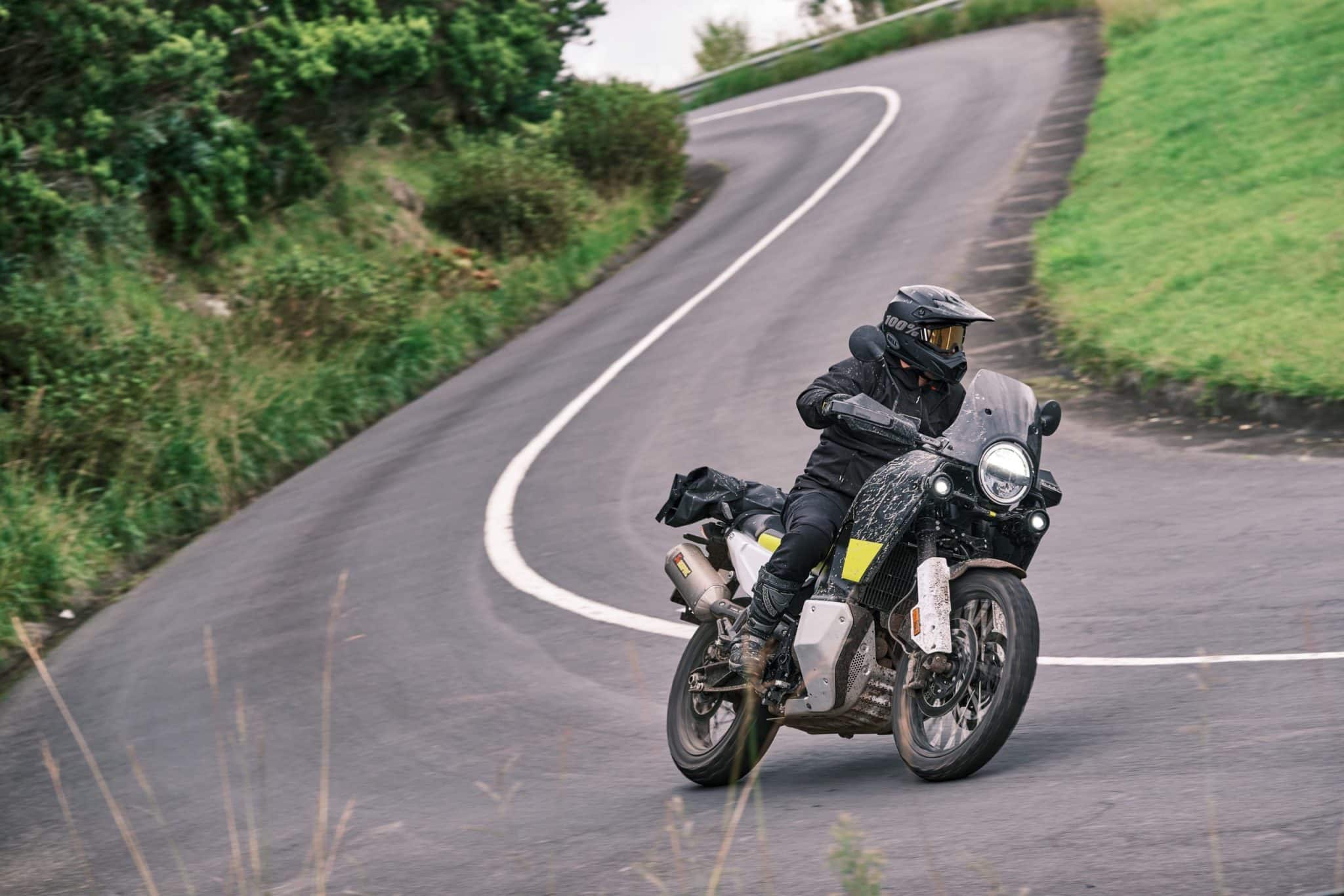 The Norden 901 is pitched as a long-distance travel motorcycle and to this end, it hits the nail firmly on the head. Seemingly anything you throw at the Norden on the road, it gobbles up. From lazy and long stretches on the motorway, spirited riding on mountain roads, slippery, wet, broken-up and bumpy asphalt and anything in between, it's simply brilliant. Some of the ingredients that make it so include the standard fitment cruise control, comfortable riding position and supportive seat, beautifully refined suspension package, up/down quickshifter and one of the best engines in the business. I can't believe I am writing this about an adventure bike, but another trick the Norden has up its sleeve is its stability; its ridiculously stable! At high speeds (I won't disclose how fast 😊), full throttle and through fast mountain passes, the Norden is planted. Behind the scenes, the Norden has been designed with large but subtle cut out's in the front fairing aiding airflow through and round the bike, simultaneously providing downforce and is fitted with a steering damper. Whatever they've done, its very effective and makes high speed riding very confidence inspiring.
This all makes for a machine that is clearly capable of long-distance travel. Our first day was 270km and I got off feeling like I could do it all again and with over 1/3 of a tank of fuel left, the Norden was clearly still eager! It's an inspiring bike to ride, one that inspires you to chase the sunset, discover new places and enjoy every mile along the way.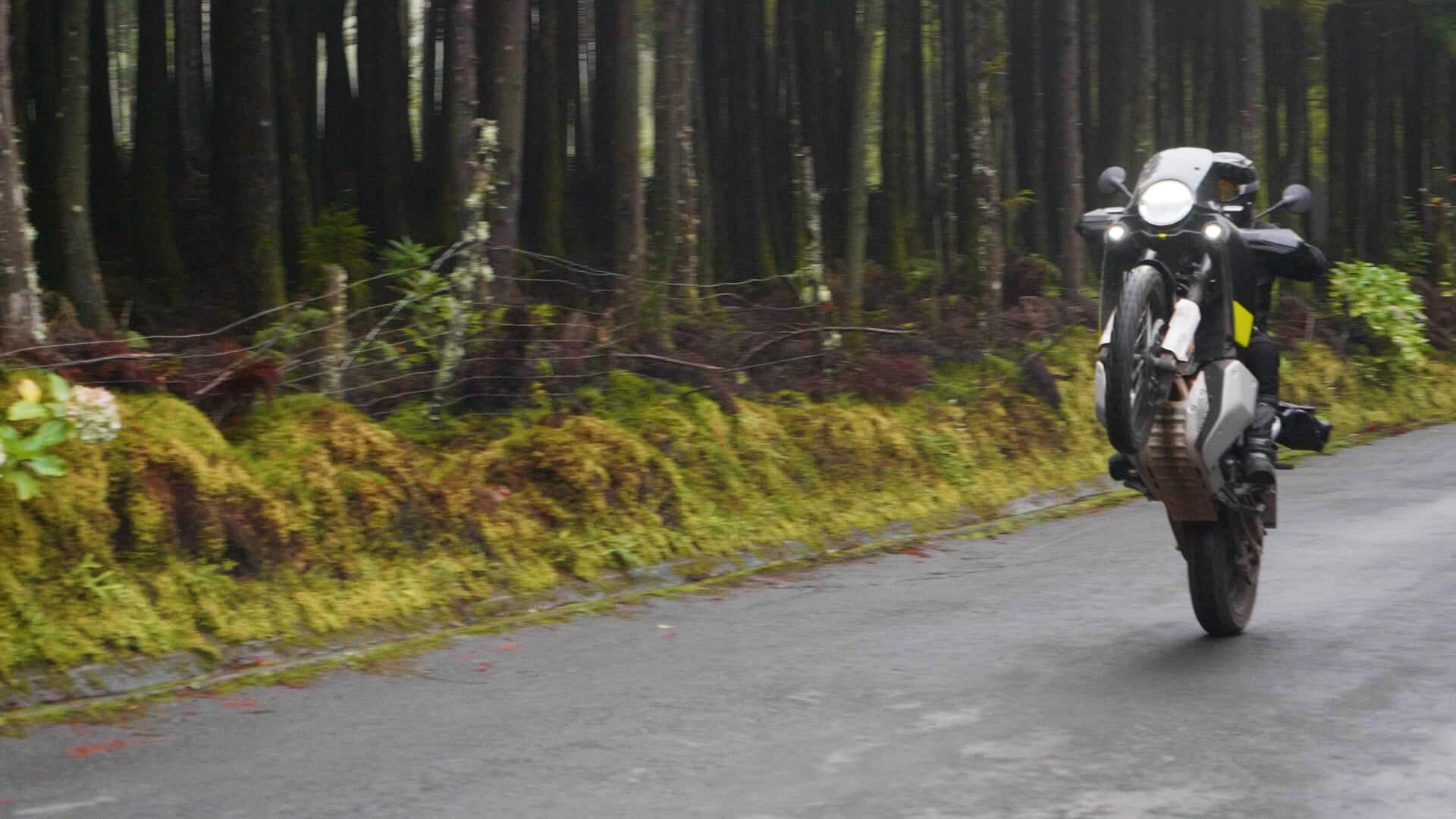 The 890 twin is a peach of a motor, kicking out 105hp and 100Nm of torque. It's a powerplant that provides massive refinement, bags of power and speed with entertainment and somehow does it in such a way that anyone from beginner to expert will find it both confidence inspiring and thrilling simultaneously. Want to pootle around, no problem, sit on a motorway for hours, check, pull a massive wheelie, done! It's a highly entertaining motor and gives the Norden a level of excitement I wasn't necessarily expecting.
The handling of the Norden is also fantastic. While it's an Adventure bike with long travel suspension and a 21" front wheel, it can never feel like a naked bike, but it's surprising just how much of a hustle you can get on with it. The bike changes direction very well, holds a lovely line mid corner and is remarkably stable. I don't think owners could realistically ask for any more.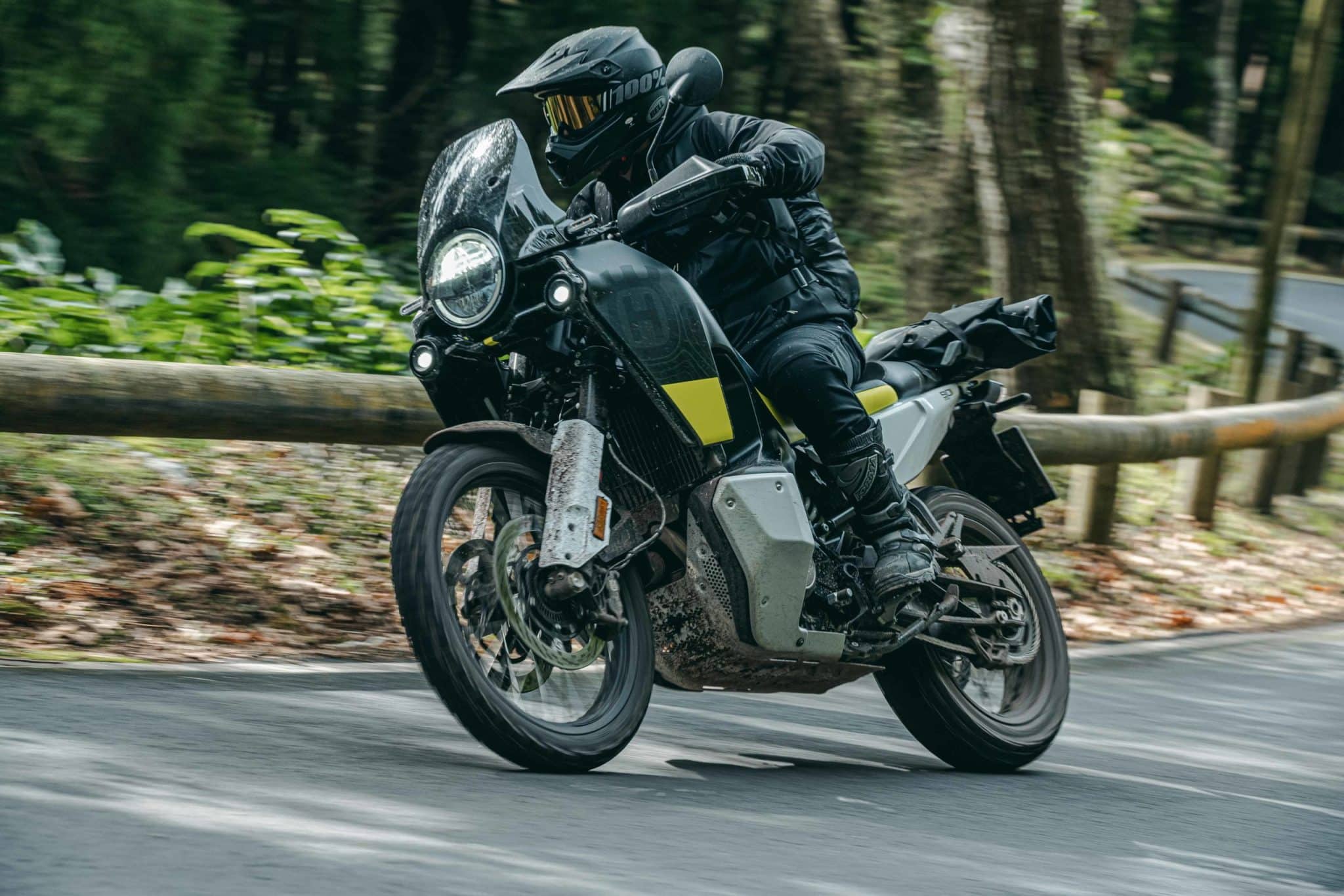 At this point, we should mention the WP Apex suspension. What a quality set up! With 220mm up front and 215mm at the rear there is clearly plenty of it and in practice, it seems to float over anything and everything, feels very refined and yet controlled enough to get a good fast pace on. I jumped the Norden quite a few times and it didn't bottom out and pushed it fairly hard on road and it was really composed. For riders who are much heavier than me and planning to carry a lot of luggage, spring rates can easily be increased at your local Husqvarna dealership and for riders wanting to go full-on Rally mode, there will be a WP Pro parts suspension kit available down the line. The WP pro parts kit won't be cheap and will require new triple clamps, side stand and longer brake lines, but will cater for massive jumps and satisfy the hardcore Adventure Off road riders out there, putting it in a bracket similar to the KTM 890 Adventure R Rally.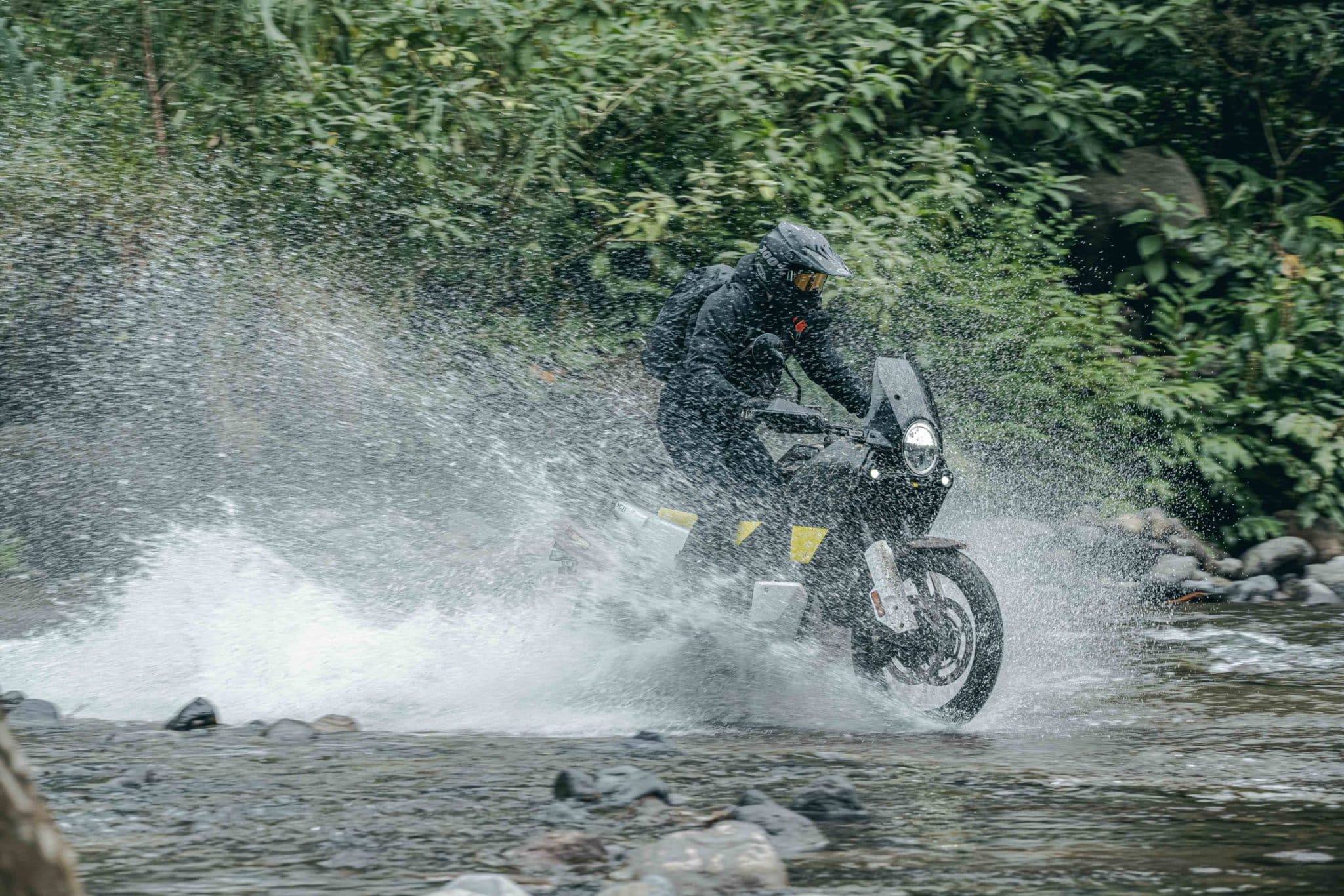 Fortunately, Sao Miguel offered plenty of variety of off-road terrain too, we had everything from smooth dirt to deep sand and rutted, more technical trails. Viewers of Knox content will know I am personally quite sensitive to Adventure bikes and off roading, a history of spine injuries and a spine operation providing my reasoning. With that in mind, as always, I was a little tentative about the Norden and its 204kg dry weight. However, my caution was ill-placed, and I spent the 2 days consistently building up my confidence in its capabilities and found it better than I could have ever hoped. Combining with the low centre of gravity weight and excellent turning circle was the new 890 motor. Its significantly more tractable than the previous 790 engine which had a tendency to stall at low speeds. With the Norden you can run very slow speeds in 2nd gear, feather the clutch and just drive-up whichever terrain you find yourself on. Come to think of it, on most circumstances I have dropped adventure bikes, it's been due to stalling them. As a result, I didn't come anywhere close to dropping or crashing the Norden 901, I built up a huge amount of trust in an off-road setting and while its never going to be as ultimately capable as my 701 Enduro, I am sure it's as, if not more, capable than any Adventure bike out there. If it was my own bike and I knew I was planning to take it off road, I would probably opt for a more aggressive off-road tyre as I wanted a bit more bite, but that is a personal choice.
The electronics also provide a fantastic foundation for off road riding, off road mode selected and off road ABS, you can pull off a pretty impressive power slide with safety net included and the off road ABS allows hard braking before interference kicks in and the ability to skid the rear.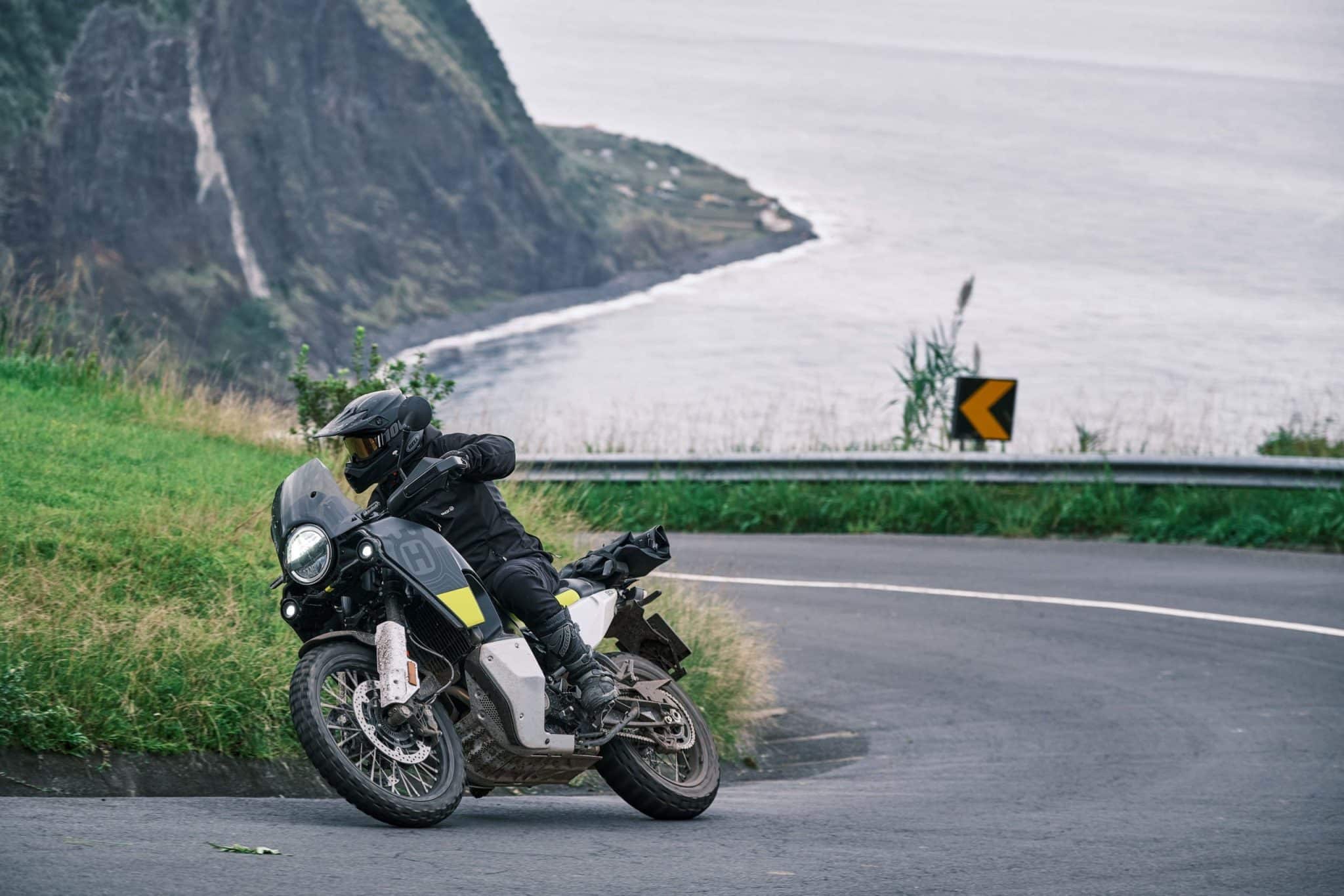 Speaking of electronics, the Norden is loaded to the teeth. Cruise control, up/down quickshifter, excellent rider modes, slip regulation (MSR), throttle maps (On road – off road etc) all displayed on a beautiful and re-designed 5" TFT display. Opt for the Explorer mode and you can modulate the degree of traction control. Because we were often transitioning from on to off road terrain with little notice, I mostly used off road mode and off road ABS and wasn't really left wanting much more over the 2 days. It allowed a good and safe power slide, hard braking with even a few rolling stoppies, rear wheel skids and of course big wheelies! If I get to test the Norden again in the future, Ill probably try some of the lower settings in Explorer mode to see if I can't get a better powerslide on!
As a sub note and probably important if you are doing genuine adventure riding, some of the latest motorcycles with modern electronics don't like to be bump started for some reason. I tested the Norden and yes it bump starts no problem, but 2nd gear is the right one for this bike.
Husqvarna have cleverly slapped their latest model right in the middle of the uber popular Adventure bike market, but I think its appeal is wider than just designated "ADV riders". I can see the Norden appealing to and being used by Urban and city riders, commuters, real Adventure riders wanting to ride around the world, and also normal riders who just want a great bike that will do everything and look great.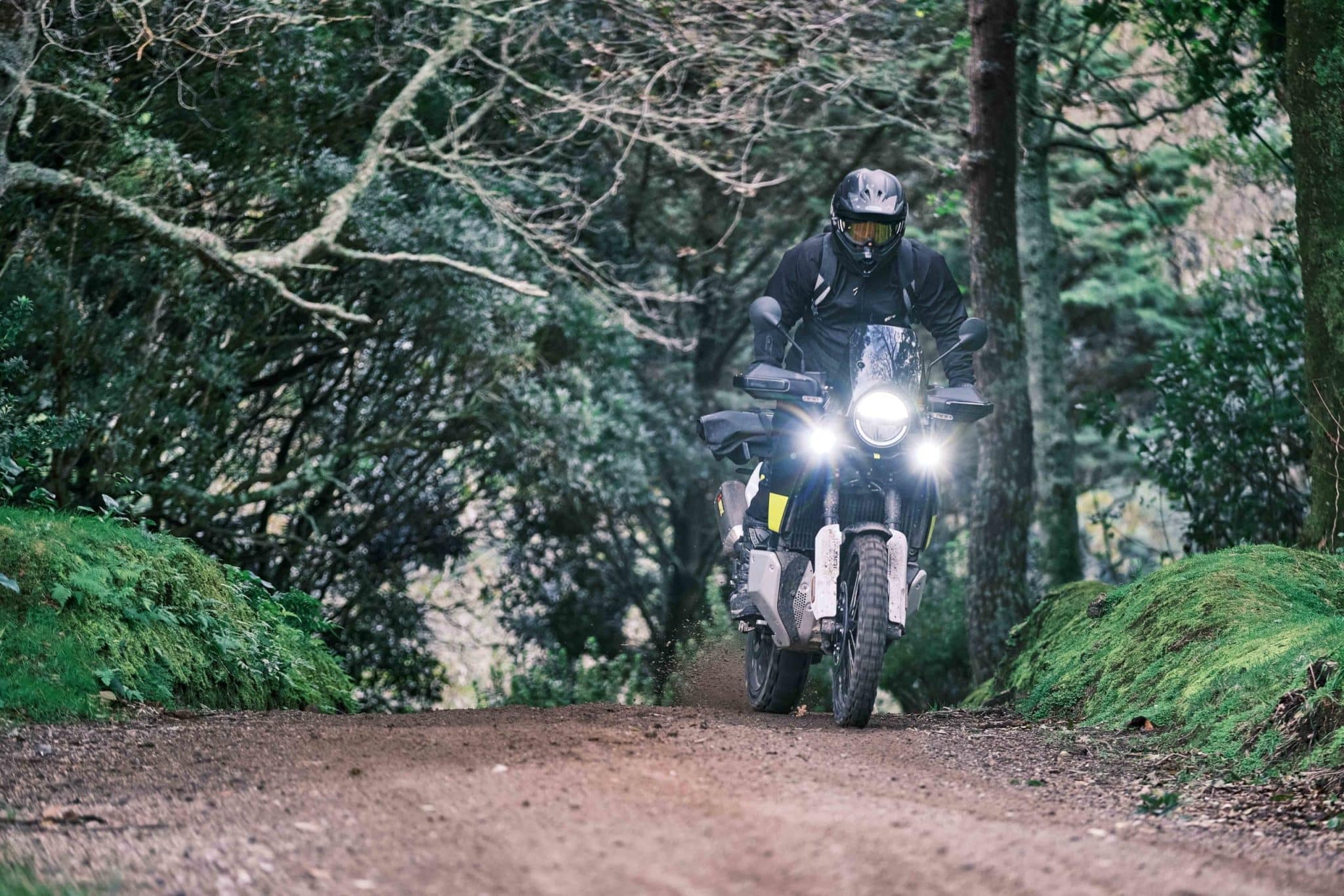 While I've been waxing lyrical about the Norden 901, are there any downsides? In all honesty, it's a very difficult bike to make any criticisms of and blew me away in so many areas I am genuinely reluctant. On one hand the brakes could do with a touch more bite, there is power there, but perhaps on the road pushing on you'd like a touch more. But then on the other hand, a softer brake application is advantageous in an off-road setting, so on balance, I think the set-up is probably about right.
If it was my own bike, I'd probably swap the tyres out for something with a bit more bite off road on slippery terrain.
Finally, weight wise, at 204kg dry, the Norden tips the scales slightly heavier than most would have hoped for, but my honest opinion is that this is largely a moot point as in practice the Norden masks its weight incredibly well with clever engineering and as a rider you never feel it.
There is another UK publication that has been quite critical of the Norden from this same launch, but this can largely be discounted and doesn't reflect the reality of what is an incredible motorcycle.
The real litmus test for this bike comes down to the question of whether I would buy one myself? The answer is absolutely yes! From its looks, to the way it rides, to the possibilities it creates in terms of real motorcycle adventure, I love it and I think we are going to see a lot of these on our roads in the very near future!
For full spec of the Norden 901, please see here, https://www.husqvarna-motorcycles.com/en-int/models/travel/norden-901-2022.html.
Hope you enjoyed this review and we'll see you next time!
Knox products worn on Test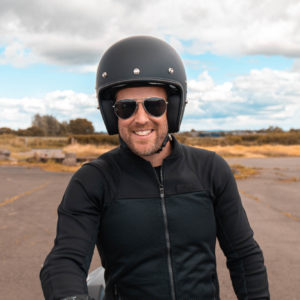 Related posts