EACH ADVENTURE BEGINS WITH THE FIRST MILE. WITH THE RIGHT BASE LAYER, YOUR JOURNEY HAS NO LIMITS.

HOW BASE LAYERS WORK
Adding another layer when you're hot may not sound like common sense but adding a Knox base layer will help regulate your temperature and stop you getting hot and bothered.
In hot and sweaty conditions, Knox base layers pull moisture from your skin through the fibres of the fabric, where it can then evaporate. By removing the sweat your body is pumping out, the base layers keep you dry and comfortable, not hot and bothered with your skin sticking to your outer layer.
In cold weather, Knox base layers provide the perfect first layer of moisture management and insulation. Keeping you dry in cold weather is paramount. Moisture left on your skin in cold weather has the potential to send your body temperature too low. As part of a layered system, Knox base layers provide the right foundation of insulation, made from incredibly soft and comfortable fabrics, they keep you comfortable and warm.
THE TECHNOLOGY BEHIND
KNOX DUAL ACTIVE BASE LAYERS
Dual Active base layers are made from a melange soft polyester. Polyester is a  synthetic fibre that is strong, durable and highly efficient at managing moisture, making it an ideal fabric for use in base layers.
However, Polyester on its own has limitations, so we have engineered the fabric, adding an optimum amount of elastane to the fabric, so we increase movement and comfort. We also realise that a tight base layer isn't always the most flattering, or easy garment to wear for long periods. So Dual Active base layers shirts are not skin-tight, so you can wear them all day and look good.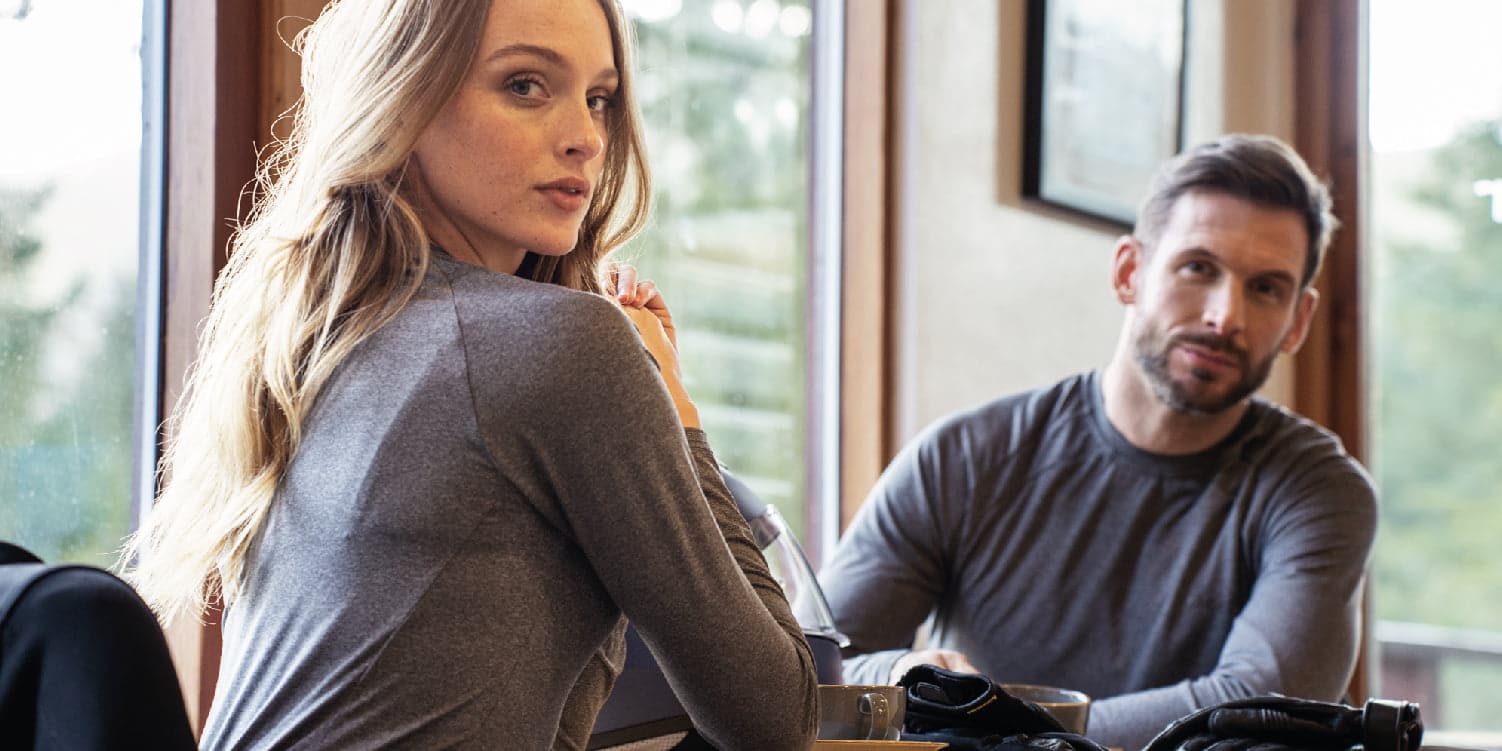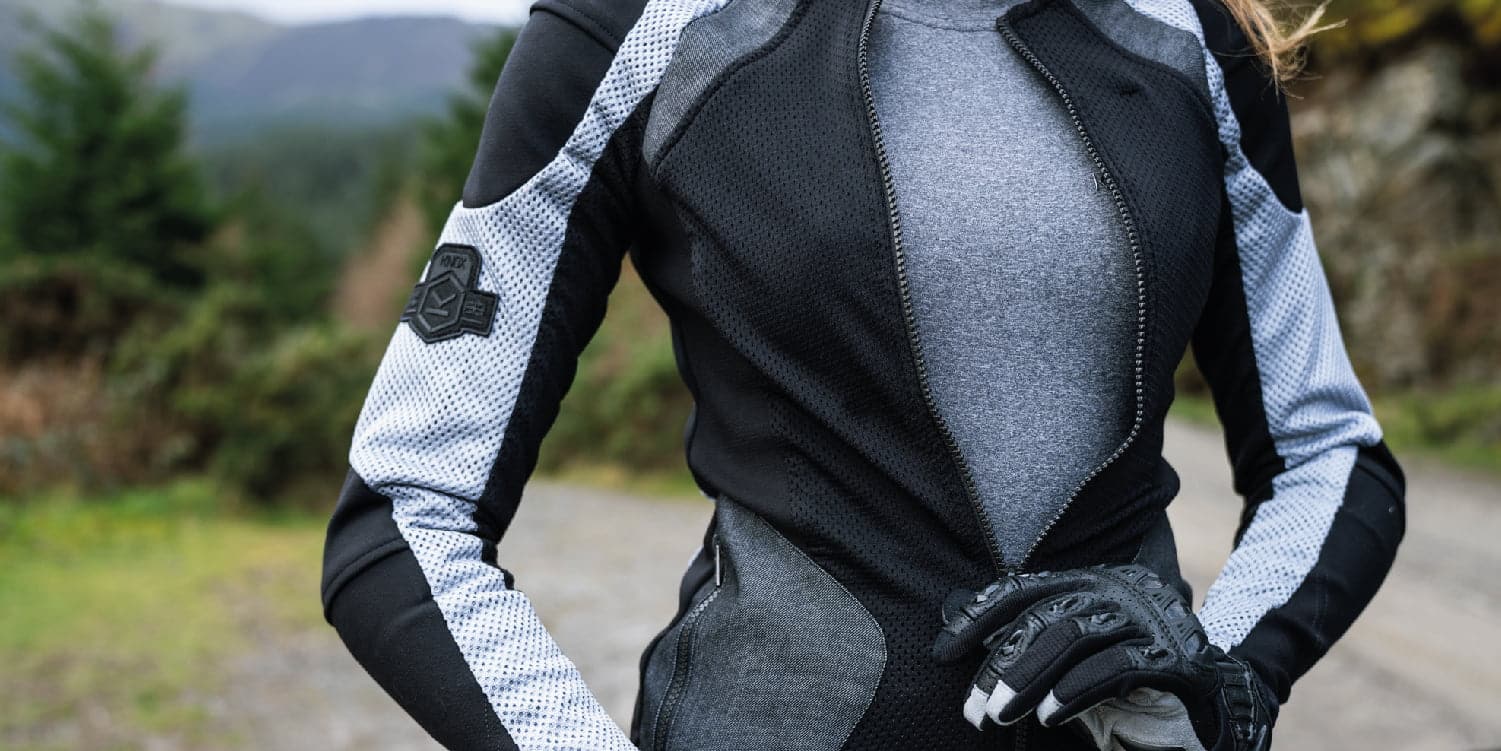 The SILVERPLUS® coating resists bacteria that causes base layer odours during use. On a practical level this means the need to constantly wash our Dual Active base layers due to unpleasant body odours, disappears. This in turn prolongs the life span of the garment, making it more sustainable.

HYDROCOOL®  is an advanced moisture transport technology. It works in harmony with SILVERPLUS® to draw moisture away from the body. SILVERPLUS® then suppresses the formation of odours.
DUAL ACTIVE – LONG OR SHORT SLEEVE? IT CAN BE A DILEMMA!
A short sleeve top may seem like the best thing to wear when it's hot on the bike but we have purposely made Dual Active shirts long sleeve. That's because more coverage means better moisture transport and a cooler you. Also, most importantly, a long sleeve Dual Active under a Knox armoured shirt means the shirt glides on and off, and any hot stickiness on the sleeves just disappears.
This same applies to wearing Dual Active long trousers which vastly improve rider comfort when worn under textiles and leathers.
DON'T TAKE OUR WORD FOR IT!
Ride Magazine awarded Knox Dual active Base Layers the coveted RIDE Best Buy award in a recent Base Layer group test.
The writer found Knox base layers to be "soft and silky with a looser, against-the-skin design, supremely comfortable on the bike and felt like they dissipated moisture very well"
We agree of course!

The Knox Seasonless collection is about core Knox pieces, used for every ride and every season. Start with core protection and add layers to adapt and overcome all conditions, from unbearable heat through to driving rain. There is no spring/summer/autumn/winter wear, this is adaption to climate and conditions via seasonless equipment.