BUILT ON 5 CORE PRINCIPLES
Knox trousers and jeans are designed to complement the Knox seasonless collection and to appeal to different types of riders across all climates. The range is underpinned by 5 core principles.
1. Jeans that look like regular jeans with no ugly stitch lines. Timeless and stylish designs.
2. Use of high-performance materials. e.g., Spectra®, Kevlar®, Cordura®, Sorona®. Knox engineered mesh.
3. Great fit, maximum stretch comfort.
4. Knox Micro-Lock armour, fitted as standard.
5. CE approved performance options – Classes A, AA, AAA for both men and women.
CLASS AAA – HIGHEST PERFORMANCE
SHIELD – SINGLE LAYER JEAN
The Knox Shield Jeans are the highest performing jean in the Knox collection, and also single layer so they look and feel just like normal jeans. Due to their amazing strength, the Shield Jeans are rated to EN17092 class AAA. To put this in perspective, AAA is a class normally reserved for one piece leather race suits.
The single layer construction is made from Spectra®, one of the worlds lightest yet strongest fabrics, making them perfect for tough, hot conditions too. Spectra is 40% stronger than aramid and a staggering fifteen times stronger than steel. The UHMWPE fibre also has a cooling effect on the skin, drawing heat away from the body. The Shield was Awarded the coveted Ride Recommended  triangle in their recent test of  single layer jeans where they outperformed every other jean on their abrasion test.
CLASS AA   – TOUGH ALL ROUND PERFORMANCE
RICHMOND MK3, SCARLETT MK2, URBANE PRO TROUSER
The newest Mk3 Richmond jean for men, and Scarlett Mk2 for women, are our most popular jeans and it's not hard to see why when you wear them. The great stretch fit and comfort of Cordura® denim with Kevlar®,  gives them a reassuring Class AA rating, making them a firm favourite.
For those who are travelling in the heat, and need maximum breathability, look no further than the Urbane Pro trousers. They are a tough, comfortable stretch trouser, with discreet mesh panels on the legs, and perform without any loss of abrasion resistance. They are also the perfect partner to the Urbane Pro armoured shirt.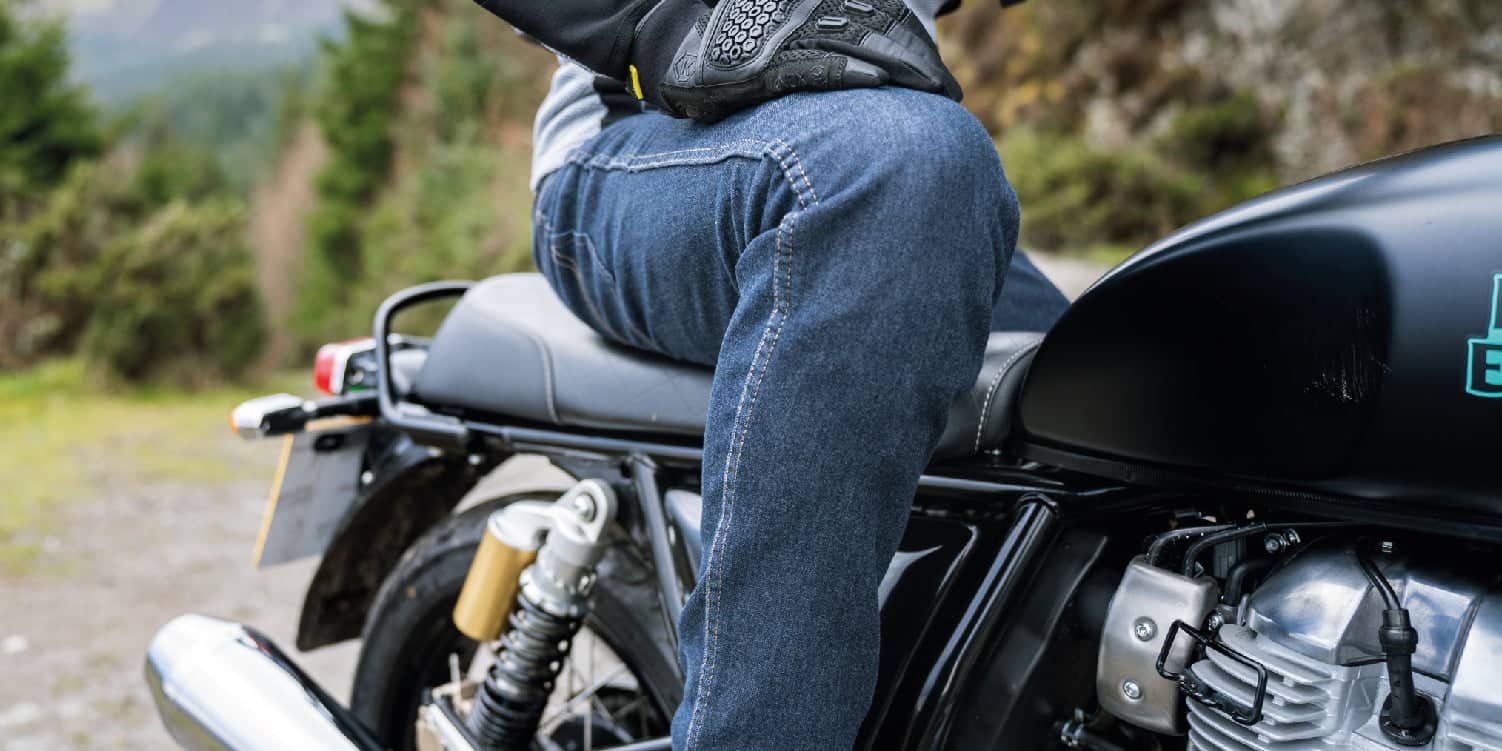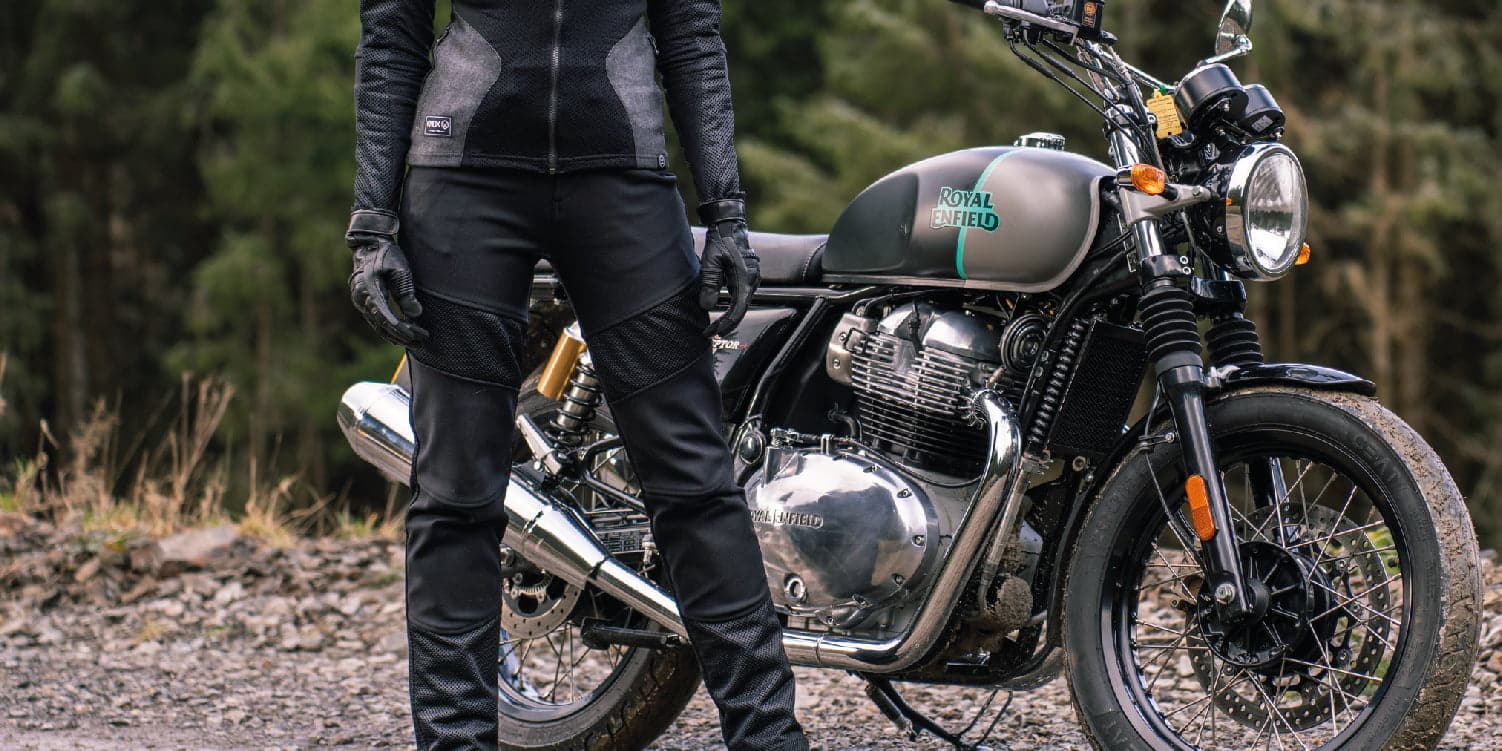 CLASS A PERFORMANCE  – THE LIGHTER WEIGHT ALL DAY OPTION
BRIGHTON AND BRITTANY
If you are looking for comfortable, lightweight stretch jeans you can wear all day, in the heat, then the Brighton Men's or Brittany Women's jeans are both great options. Made from Cordura® denim with Kevlar panels, they are  approved to EN17092 Class A. Easy to remove armour means there is no need to change out of the jeans at destination.
CLASS A – STRETCH TROUSERS FOR ACTIVE RIDERS
ACTION PRO TROUSERS
The unisex Knox Action Pro trousers are our newest Athleisure proposition.
They are abrasion resistant leggings made from tough, sustainable plant based Sorona® Agile from Dupont
They can be worn on their own, as an abrasion resistant layer, or alternatively, underneath your favourite trousers. Also designed with fast E-bikers, Enduro or trials riders in mind, where an athletic stretch fit is the top of the agenda.
The Action Pro Trousers are Class A performance and CE approved to EN17092. Uber-lightweight Knox Compact Micro-Lock armour is fitted in the knee, hip, coccyx and thigh.