GasGas EC300 enduro review
WRITTEN BY AARON TRAVELL
PUBLISHED: March 10th, 2022
We were lucky enough to spend a few weeks with the GasGas EC300 enduro bike, and this is our review!
Attend a hard enduro event anywhere in the world and the first thing you will notice is that the sound coming from the pack of riders lining up at the starting grid is entirely different to the sound you'll hear at almost every other motorcycle race in the world. Why? Because almost everyone who is racing is riding a 300cc 2 stroke enduro machine.
That's probably all the introduction that the GasGas EC300 needs in terms of its enduro abilities. For clarity, GasGas were recently purchased by the PIERER Mobility AG group. In short, this means that the new GasGas Enduro bikes share (mostly) the same race winning formula as both their orange and white (Husqvarna) counterparts, a formula that sees them absolutely dominate the enduro scene.
But how does that all work out for the average non-professional weekend rider, riding mostly legal trails, caring more about how broad their smile is as opposed to whether they win their local hard enduro race? Pretty well it turns out!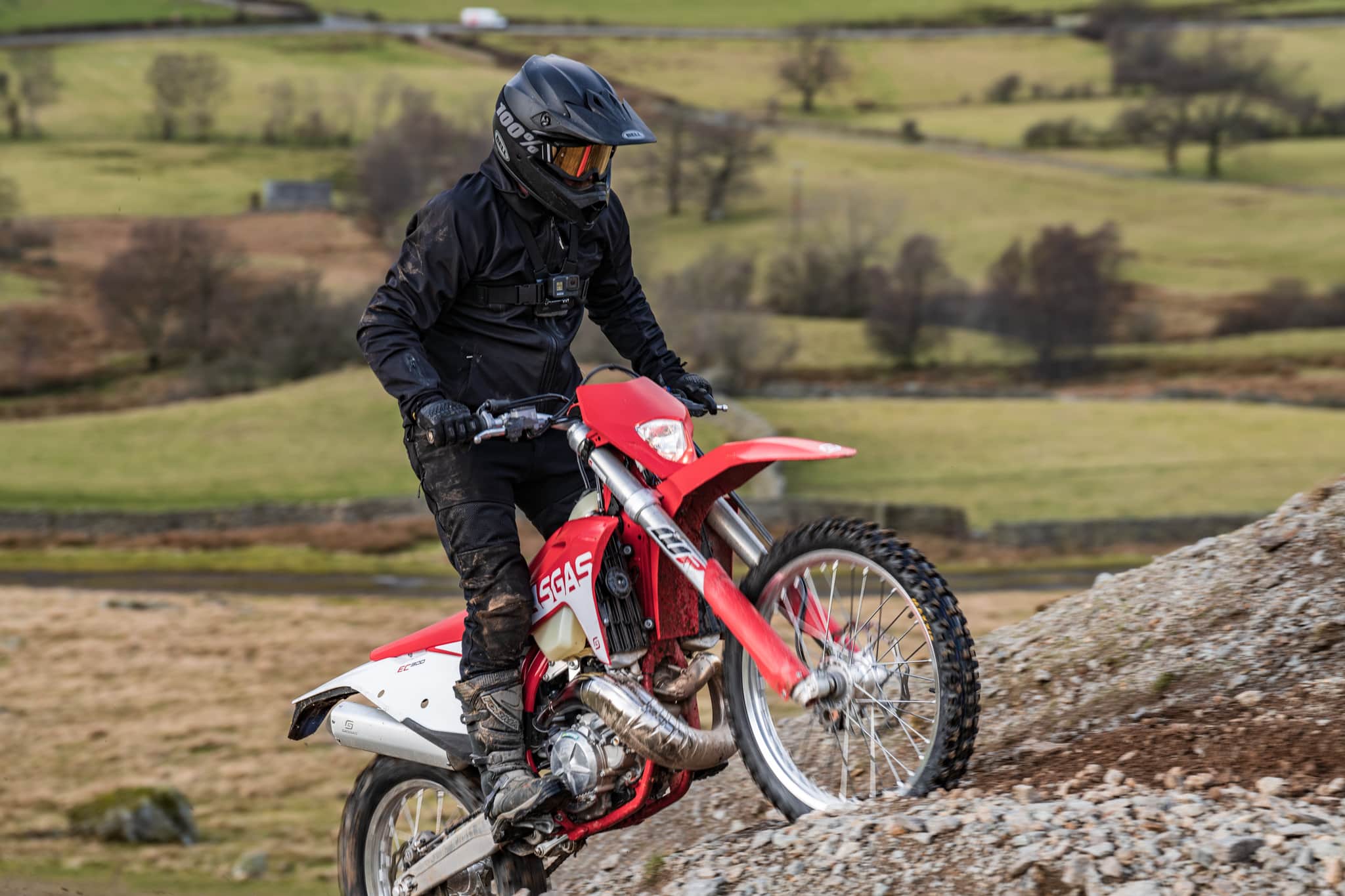 Let me break the review into a few sections here about the distinctives about the GasGas EC300.
Weight.
This is the lightest enduro bike I have personally ever ridden. From taking the bike off the side stand, in and out the van, low speed technical riding and picking it up after a crash, the EC300 is ridiculously lightweight. Switching between that GasGas and our 2020 Yamaha WR250f instantly gives you an appreciation of how much more the GasGas would be suited to gnarly enduro work. Its light, its flickable, its direct, it works with you. On our scales, amazingly the EC300 weighed in at 106kg with ½ a tank of fuel in it; even lighter than the spec sheet.
Playing into the lightweight feel is the lack of engine braking the 2 stroke motor provides. In our experience, we've found that the combination of a lightweight machine with large amounts of engine braking (exactly like our WR250f) is a recipe for a choppy ride that's very difficult to ride technical terrain. The GasGas EC300 on the other hand doesn't suffer this swearbox-filling characteristic, instead making light and easy work of technical terrain.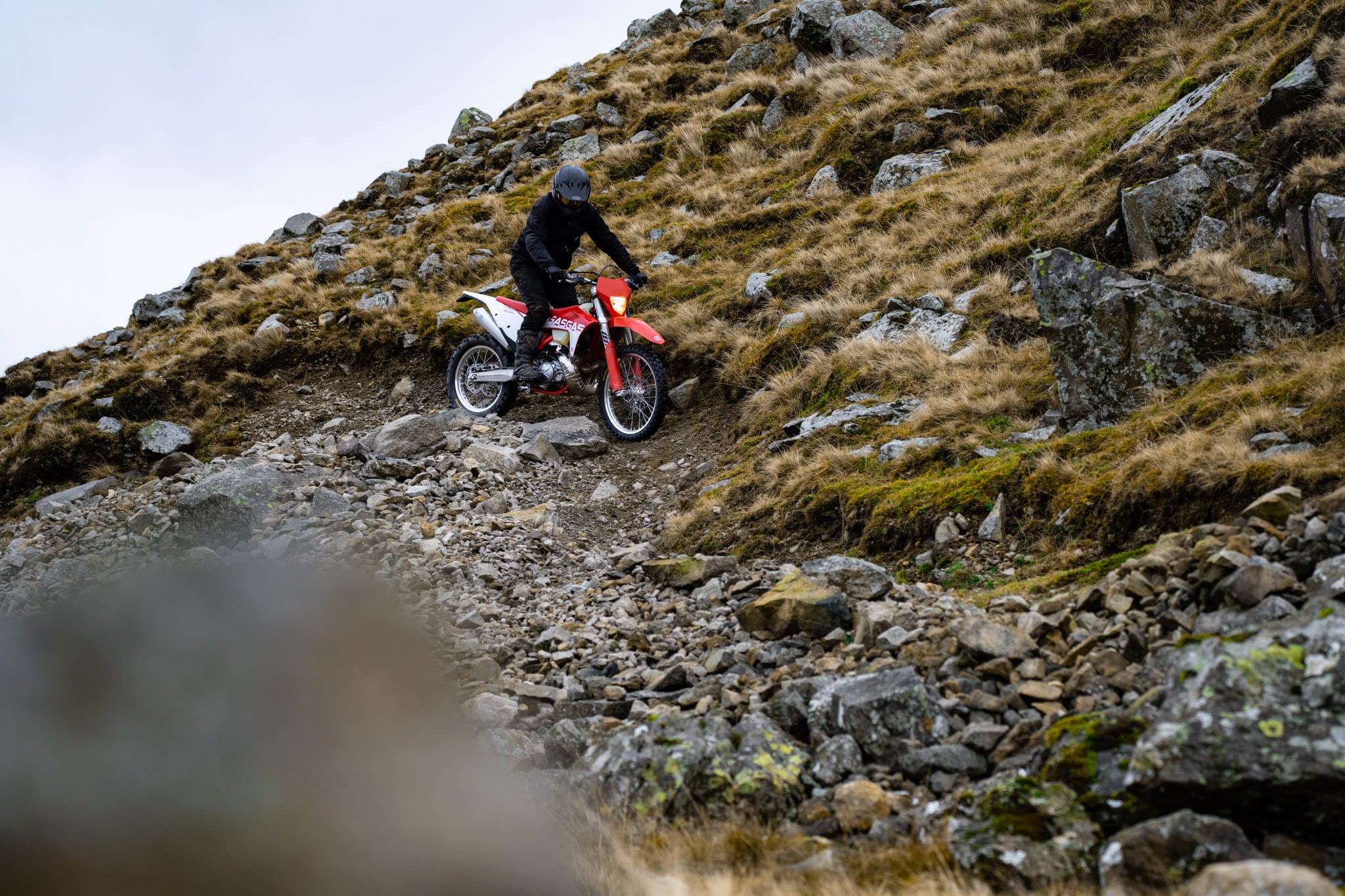 Suspension.
The WP Xplor suspension set up on the EC300 was about perfect for our application. In the Lake District, our terrain is made up of mostly rocky terrain with blend of rock beds and sharp rocks in equal measure. The front and rear suspension felt very balanced front to rear and it absorbed a huge amount of impacts, providing as plush a ride as I could have ever expected. A quick look at the fork travel showed that we were using all the suspension travel up front and I would suspect the same from the rear. In my opinion, the set up is about perfect for trail riding and enduro, but would start to bottom out on MX style tracks and big jumps. Also, because the shock is quite soft, it makes it helpful for shorter riders like myself at 5'9", as once you swing a leg over it, you compress the bike and it just feels a lot more manageable in comparison to harder sprung enduro bikes. It's a class act.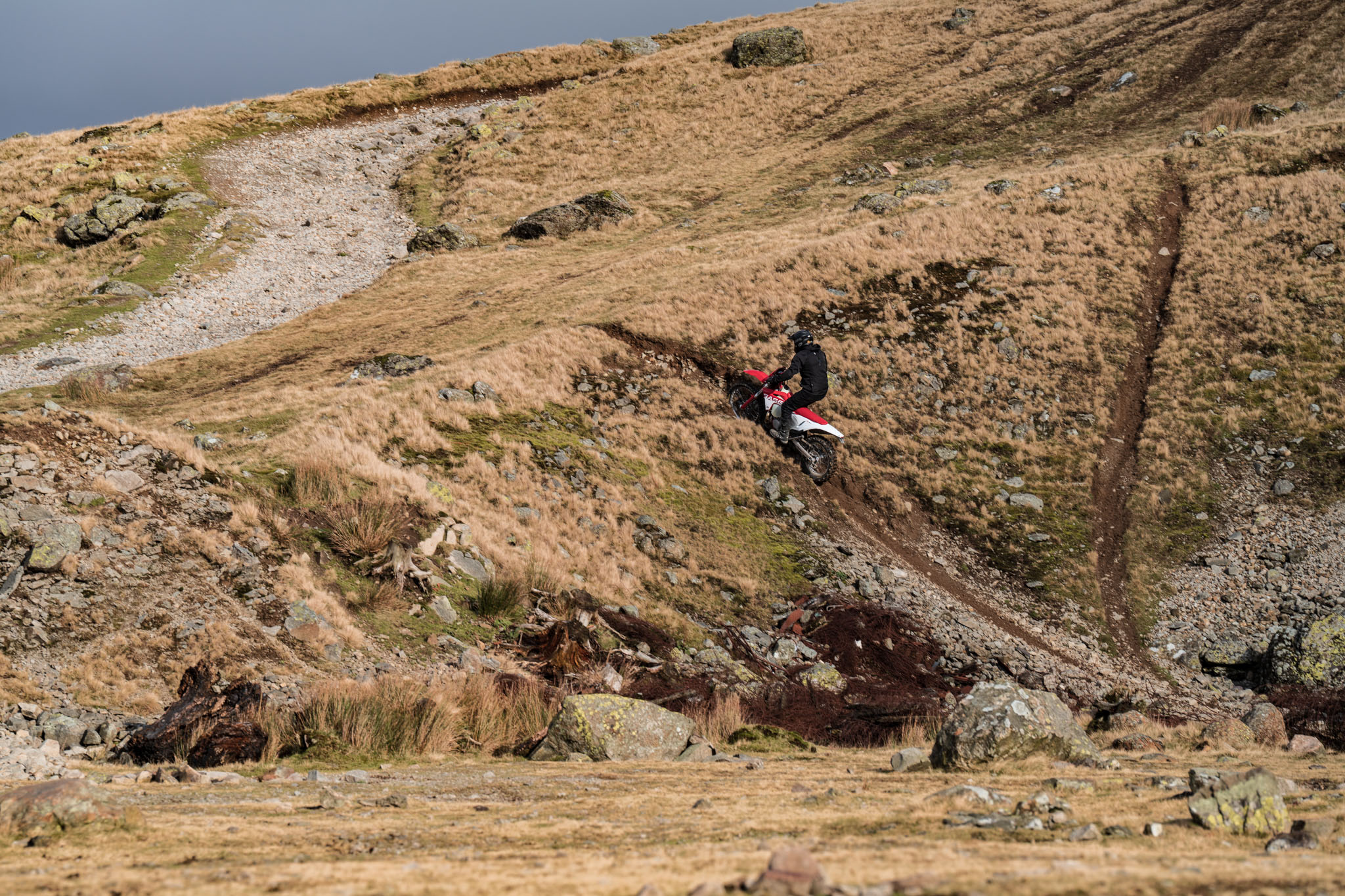 Engine
As this is a 2022 GasGas 2 stroke, it houses the KTM derived 300cc tpi 2 stroke. First introduced in 2018, tpi has now had quite a few years of development and the result is incredible. No mixing 2 stroke oil with petrol anymore, simply add 2 stroke oil to the separate tank and just fill it up with petrol at your local gas station. The tpi engine runs perfectly, no bogging or spluttering, just clean and raw power with very good fuel economy. As previously mentioned, the 2 stroke characteristically has very little engine braking and this makes technical riding easier than I have ever found it from a 4 stroke motor.
Let's not mix words here, the GasGas EC300 tpi 2 stroke is an animal. Without doubt the snappiest and most aggressive engine I have ever used in my life, including 200hp superbikes and wheelie inducing supernakeds. From the second you set off, you are instantly aware that you are riding an enormously powerful machine that demands respect and a careful right hand. I can now understand how the likes of Billy Bolt are using these engines to power up a 100ft near vertical hill climb with about a 2ft run up. The engine is out of this world and it makes for an incredibly exciting ride. I can sum up the experience as such, for 90% of the time, I am riding the EC300 and thinking "this is awesome", but there is always the other 10% of me thinking "Im going to send this bike to the moon in a minute if I am not careful". Such is the savage power of the 300.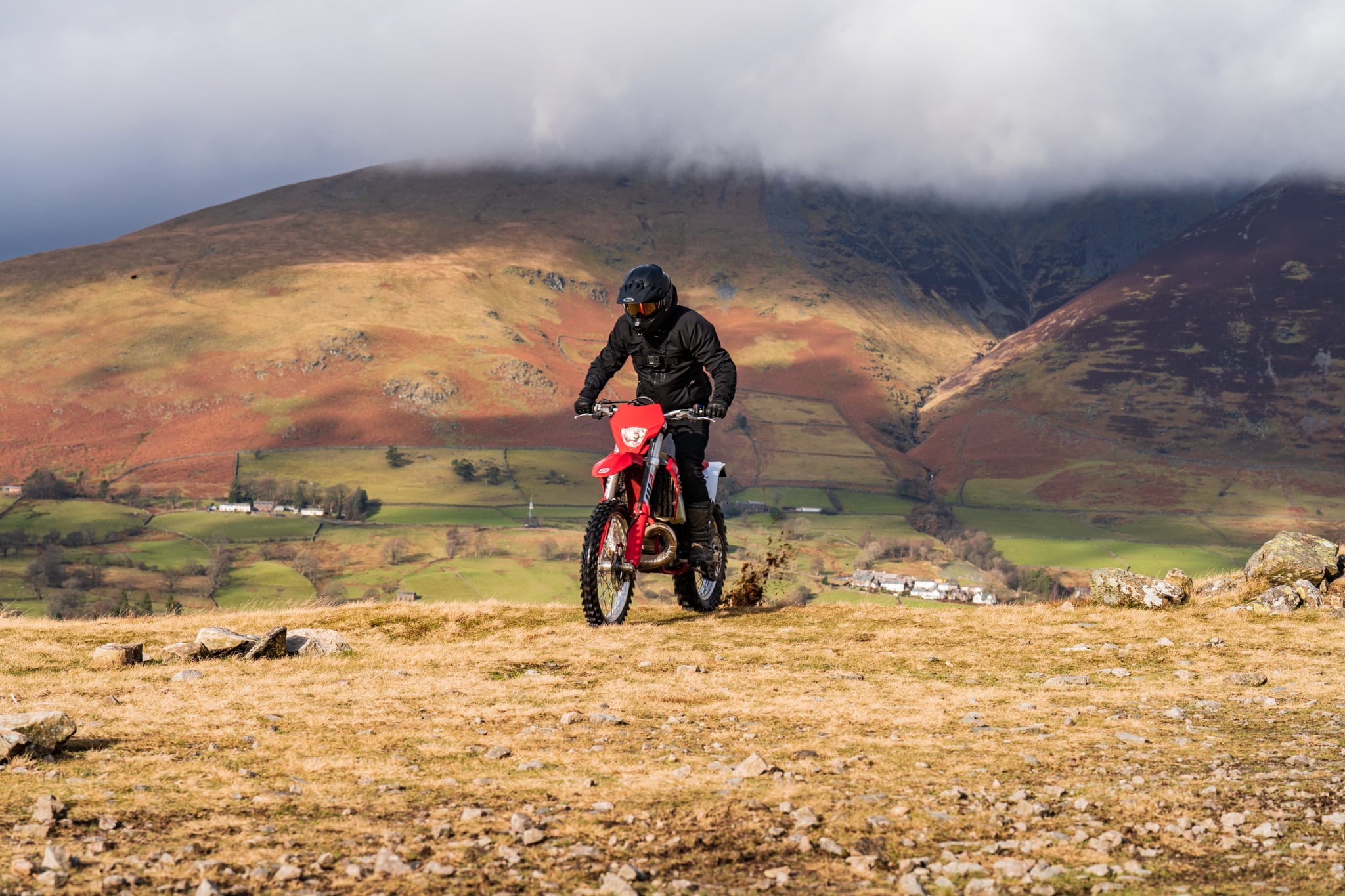 That being said, the beauty of the 300 tpi is its ability to not act like a 2 stroke at all. Hook up another 2-3 gears than you thought suitable and just lug your way up just about anything in front of you. The engine has some serious stall resistance and will pull from the very bottom of the rev range, delivering traction, consistency and confidence you'd never think possible. In fact, on a regular little hill climb we do that has me hard on the gas on other bikes we have, on the 300, it's a couple of gears up, a wiff of throttle and Im up! Happy days!!
This riding technique is the way to dampen and modulate the raw power of the 300 until you are both confident and capable enough to unleash more of its potential. Saying that, the EC300 isn't the place to start if you are new into Enduro riding.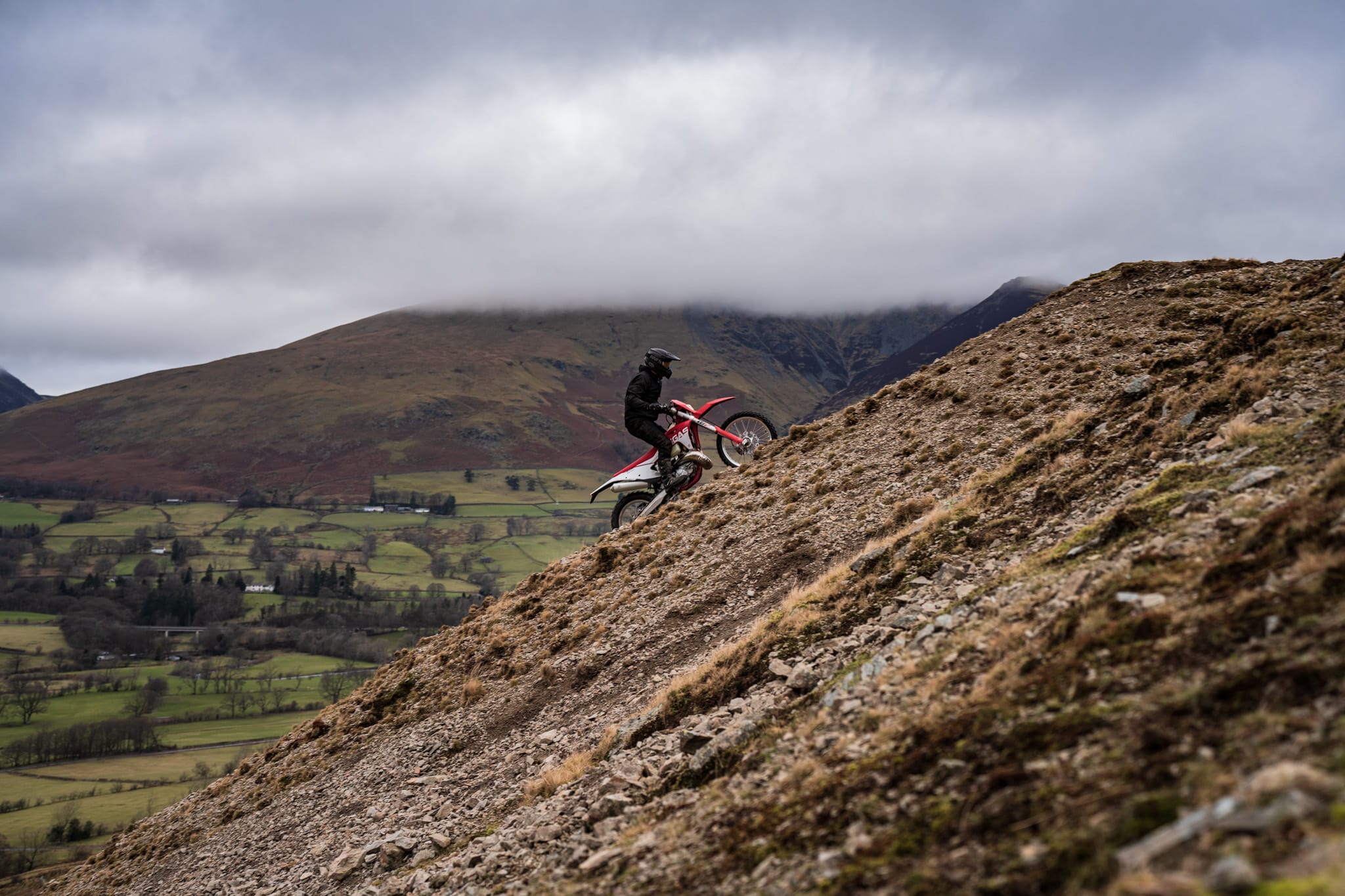 Which leads me onto my summary nicely. I would class the EC300 as an experienced riders Enduro bike. In a similar way that a new rider shouldn't just get their licence and jump on a 1000cc superbike, in the same way, the EC300 requires some experience to get the most from. This is not a problem for riders who can turn such raw power into a benefit, but for the average rider or newbie, I'd recommend starting with something a little bit milder from the GasGas range.
Knox founder Geoff put it best when he said, "the GasGas is a 10/10 bike… problem is, we're 6/10 riders!".
While Geoff's flippant comment was said in jest, it sums the GasGas EC300 perfectly – an incredible machine that demands respect and with a few more years under my belt, I'll probably end up buying one.
GasGas EC300 IMAGE GALLERY
Knox products worn on test!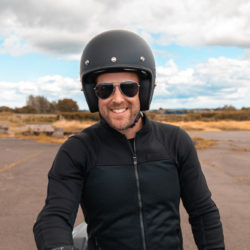 Related posts