GasGas - United in Dirt
WRITTEN BY CHRIS MOSS
PUBLISHED: March 7th, 2022
I should have been totally enthused by Aaron's invitation to take his place at an event called United in Dirt. Hosted by bike manufacturer GasGas, it would involve spending the day riding a selection of their off-road bikes. What's not to like, I hear you say.
Well, under normal circumstances, the chance to ride some dirt bikes in the Derbyshire countryside would've really lit my fire. However, and this might sound like I'm getting my excuses in early, I hadn't ridden off-road for a while, and given I had a 400-mile road ride up to Inverness the following day, my normal enthusiasm level was a little tempered. As it turned out, I had a brilliant day and really enjoyed trying a lot of different new GasGas machines. On top of that, the whole reason we were invited to the event, to promote the brand after the recent takeover by KTM, was really enlightening. I quickly learned the future of GasGas looks very bright.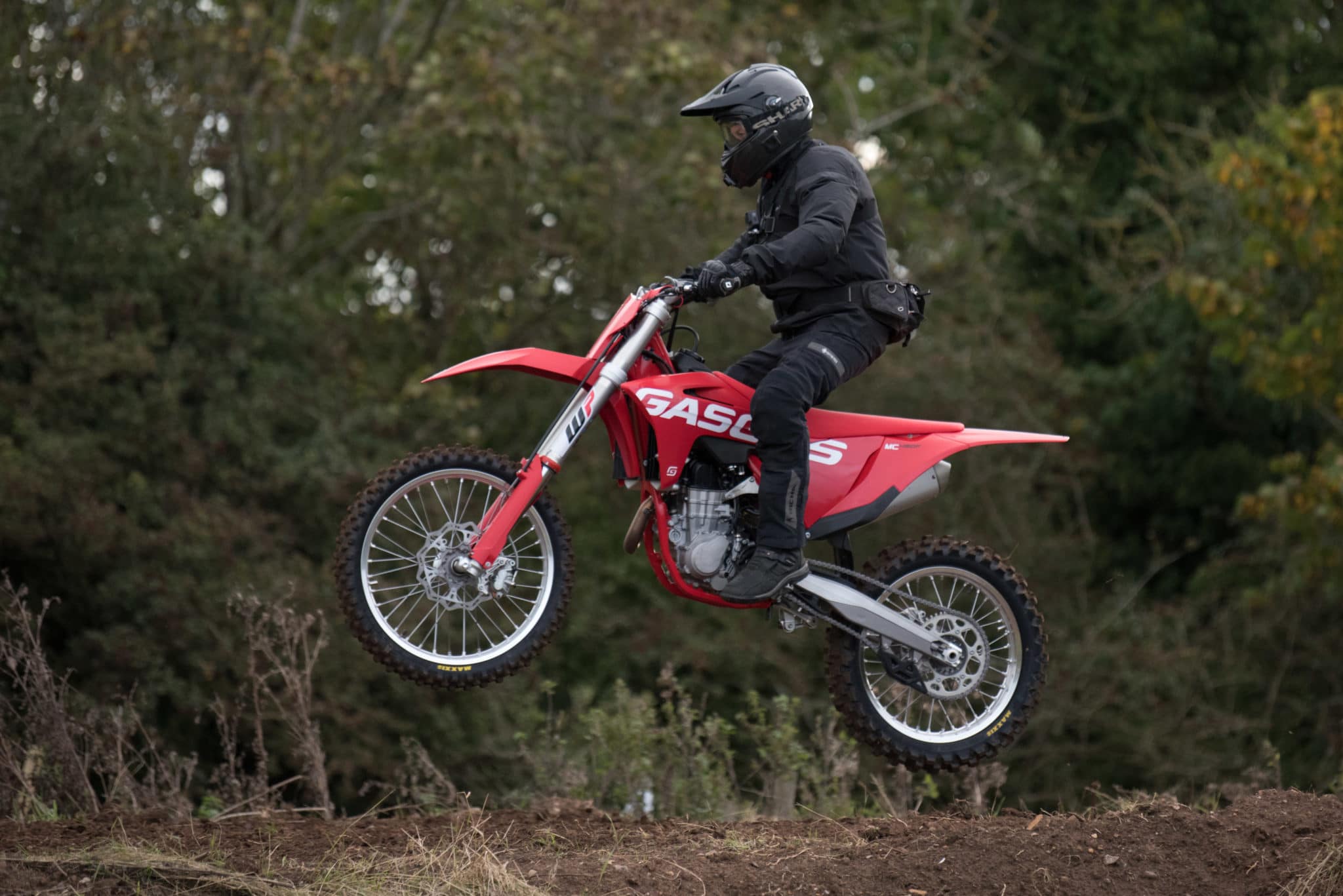 There was a little bit of a fight for bikes as there were a lot of journos chasing rides, so you couldn't always get your first choice of bike. This was definitely the case when I was given an MC450F four-stroke moto-crosser for my very first outing of the day. A 450cc-engined bike might not sound too intimidating to a road rider, but believe me, a bike with 'just' 60 bhp can be a real handful off-road. Luckily, the track at Butts Farm in Derbyshire wasn't massively demanding, and the GasGas turned out to be friendlier than I expected. Its power delivery is linear enough for you to dial in as much extra speed as you fancy, with no sudden surges to catch you out. Weighing in at just 100kgs, and running on top quality suspension, makes it easier to manage too.  Of course, some of the 450's usability came from the fact I wasn't riding it hard, something underlined whenever talented youngsters with much greater ability and experience whizzed by me so quickly I thought I must have stalled the bike!
If like me, you've not done too many laps on MX tracks, they do take some getting used to. Their steep undulations can be especially tricky to cope with, and 'getting air' isn't uncommon. Once in flight, it's very important to keep your composure and land the bike correctly to avoid a mishap. If I'm honest I really get uncomfortable whenever the distance between the tyres and mud becomes too great – in my case, just a few inches! Fortunately, the GasGas proved to be a good ally, and though my lap times were really slow, I enjoyed the session and could really see its value. For improving your bike control and fitness, riding MX is hard to beat, and I would love to spend more time doing it. But even though that ambition to do that might have been in place, my aching limbs were dictating otherwise, and when I saw the chequered flag, I have to admit to feeling relieved. The new 450 might have been perfectly suited to flying round the circuit, unfortunately, its rider wasn't!
The quality of the new GasGas bikes was then further underlined when I switched to the enduro circuit. As a keen trail rider, I'm more familiar with more technical, less speedy terrain, and my choice of an EC350F four-stroke, was likely to make life a bit easier. By now, I'd realised the GasGas MX and enduro bikes are essentially, cheaper, slightly lower spec versions of the equivalent orange-coloured KTM models. As I've done quite a bit of trail riding on 350EXC KTMs, I was looking forward to riding the red version.
My confidence took a bit of a knock when I discovered the course had been made a lot more challenging by overnight rain, making the climbs and descents pretty damned slippery. With a load of rocks and tree roots making matters all the trickier, I felt pretty chuffed just to be able to stay on the bike, and manage to complete a single lap! Luckily though, just as I expected, the EC350F really helped me to negotiate all the challenges of the circuit, proving really predictable and manageable.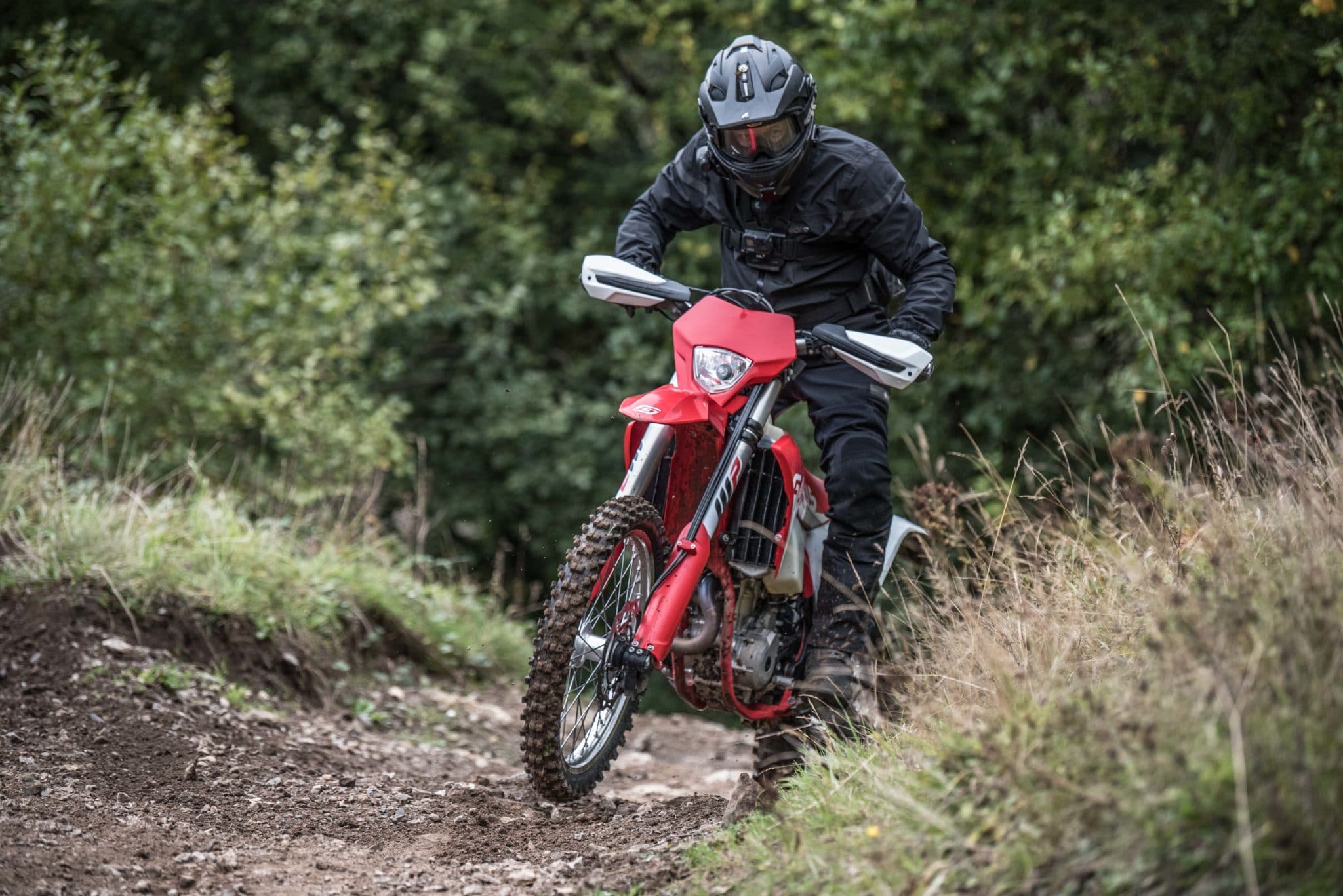 The slightly lower specification of the bike might sound as though the ride it offers would feel inferior. But when key components such as the engine, frame, swingarm and suspension are the same as the KTM sibling, and the average cost saving of between £500-600 comes from the fitment of cheaper detail components like handlebars, fork yokes, brake calipers and wheel rims, and an absence of handguards and sump guards, it's easier to see why the red GasGas behaves pretty much the same way as the orange KTM model. Like the MX bike, the EC350F's lightness and top-quality suspension deserve a particular mention, helping to underline this is a thoroughbred enduro machine, capable of everything from easy trail riding to high level competition. Though to qualify it being fully suitable for either, you'd really have to fit handguards (which GasGas did for the day) and a sump guard.
I did get better at circulating the course as the laps went by (only toppling off once!), and felt comfortable enough to switch to an EC300 two-stroke in due course. You might think the stroker would feel pretty similar to the four-banger given the pretty much identical spec of their rolling chassis. You couldn't be more wrong. OK, the 106kg two-stroke is a tiny fraction lighter than the 107kg four stroke, but from the seat it feels more than 10 kilos less. The much more agile feel is because there's a lot less internal inertia in the screamer, resulting in reduced gyroscopic force and much greater toy-like flickability. And its fuel-injected engine is remarkable in that it can pull big gears from low rpm with unbelievable ease, giving it a level of drive not normally associated with engines of this type. Mind you, when I tried the same bike in much more open territory in the Lake District a few weeks later, I did discover when you do rev the little 300, you really need to hang on! It's a very potent machine and demands lots of respect when you want to ride it harder. The 350 four-stroke on the other hand, always stays friendly even if it's ridden harder, a feature underlined all the more when I subsequently rode one for a couple of weeks round my local trails in Wiltshire. Even along very rutted and slippery routes, the 350 remained manageable. It might lack the sheer excitement of the 300, but it's distinctly more predictable.
On from the enduro lapping, I then went on to try the sort of bike I'm least familiar with, and absolutely loved it. On the face of it, a bike making just 20bhp, geared to do what seemed like a max speed of no more than 25mph, wouldn't be able deliver much in the way of excitement. But even though I spent most of my time at speeds ranging from a standstill to just 10 mph, the GasGas TXT Racing 300 two-stroke delivered brilliant fun. Weighing at just 68kilos it feels more like a bicycle than motorcycle, and that was a real help when trying to get through what's best described as an obstacle course demanding a skill level about ten times greater than the one I possess! Perhaps it was the very nature of the challenge, maybe it was because I'm so new to the discipline of trials riding. But whatever the reason, I got a real kick out of trying to ride the GasGas over such tricky terrain. Trials riding really does demand the very finest levels of bike control to get things right, and I've no doubt learning the necessary understanding and execution of those skills will go on to benefit your riding ability on any bike, at any speed. That might sound far-fetched, but if you ask several road racers where they learnt and practiced their skills, a lot will admit mastery of off-roaders like this helped them massively.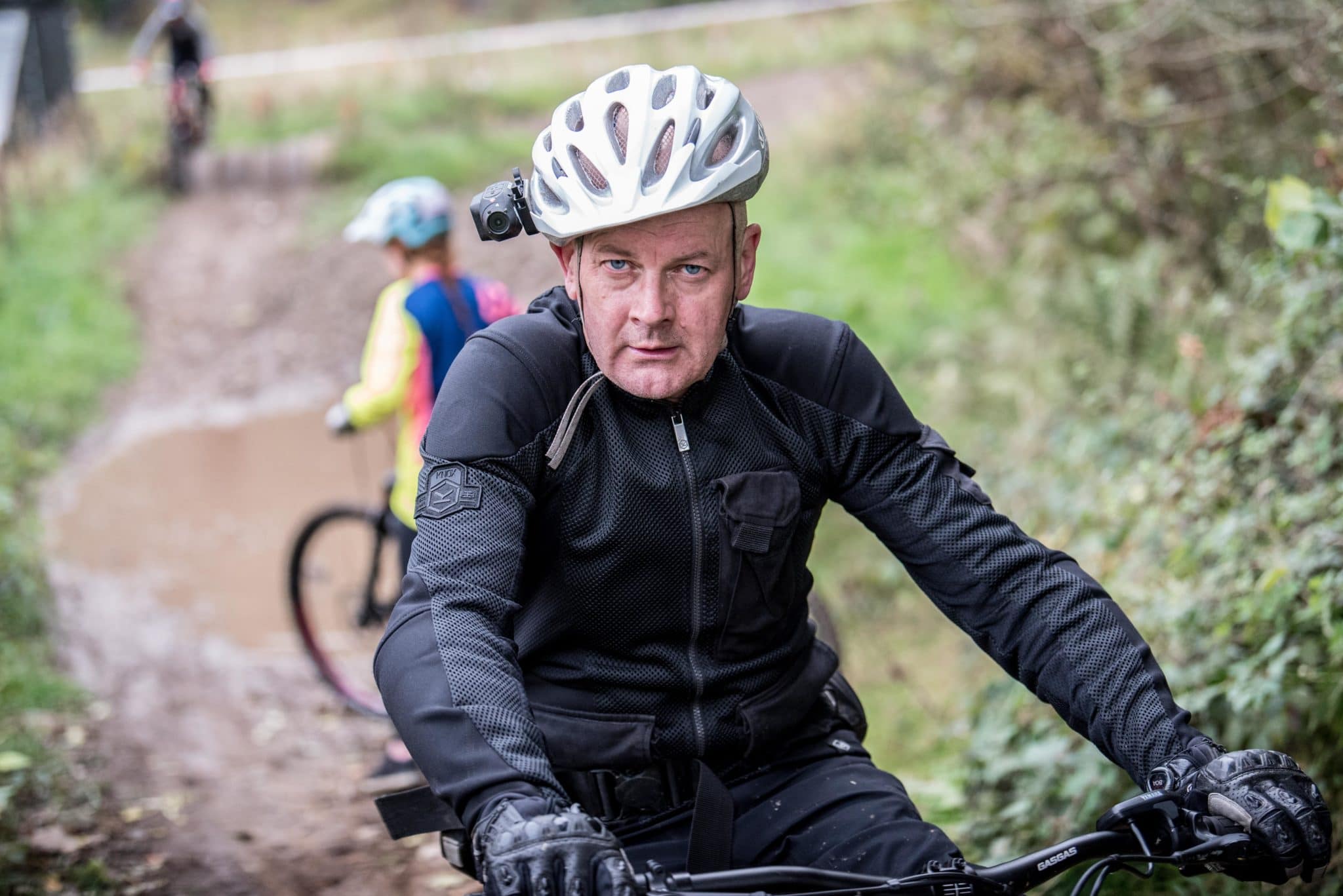 I can't say I was too keen to leave something I was enjoying so much, to then try my hand at a machine that appeared was going to need much more physical effort to propel. But giving a GasGas Enduro Cross 11.0 electric mountain bike a go, turned out to be a right old laugh! The electrical assistance of the bicycle is so strong when you pedal it, and engage the power of its 630Wh battery, you really need to be prepared for the strength of its impressive acceleration. It's remarkable and can launch you up steep hills at an unbelievable pace. I now understand why I've been taken aback by their speed on a few occasions when I've seen them out on the roads and trails. Mind you, costing just over £4700, the EC 11.0 bloody well should have impressive performance!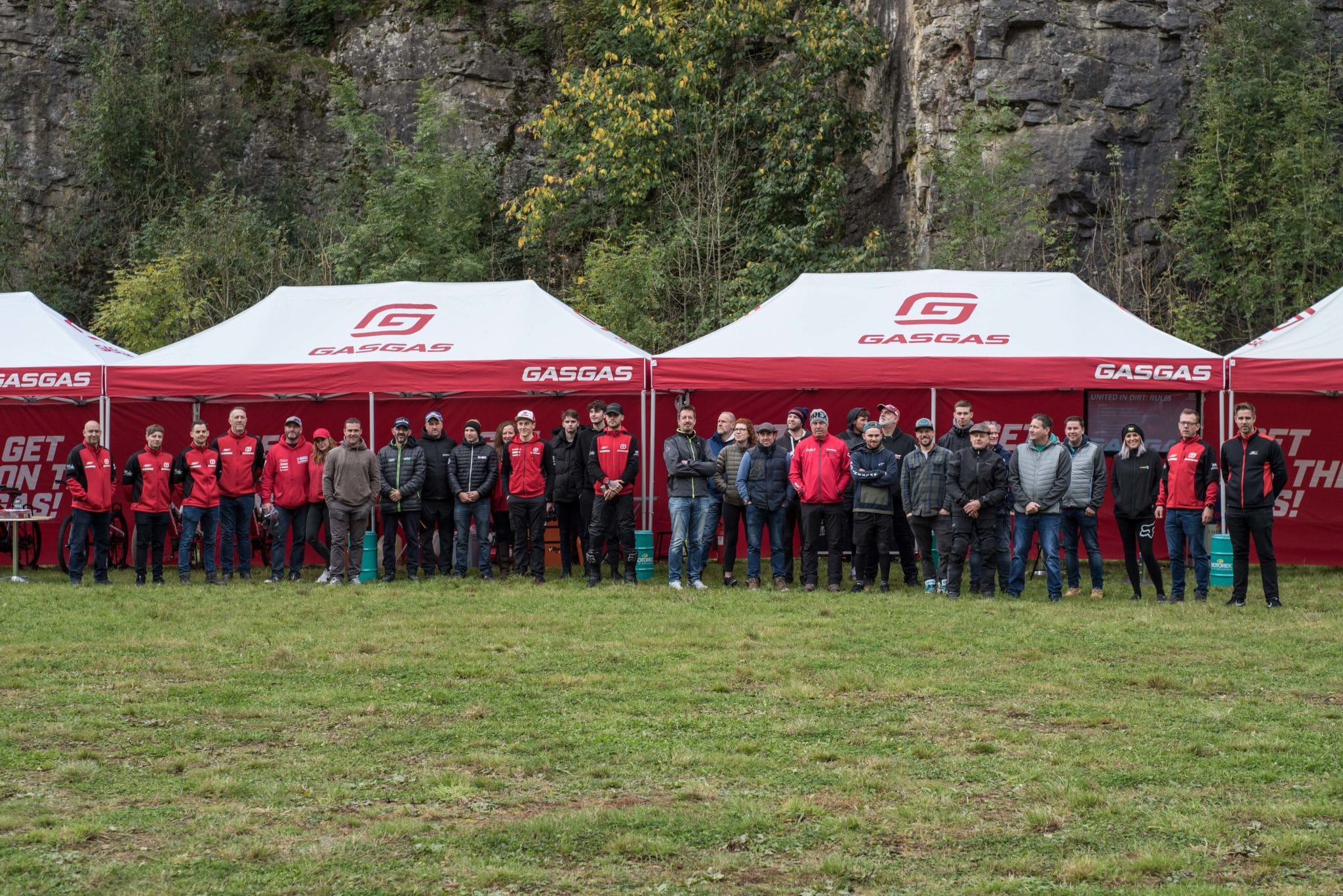 The day drew to a close far sooner than I'd have preferred, but saw me wearing a beaming smile. It'd been great to ride such high-quality machinery, and though I'd ridden pretty much all day out of my comfort zone, that's probably the main reason I'd found it so rewarding.
As far as KTM's takeover of GasGas is concerned, I think it represents really good news for the relaunched brand. With the might of KTM behind them, GasGas can now look forward to a much more prosperous future. Their bikes will benefit from the massive R&D and investment of the giant new parent company, and they'll no doubt have superior performance and reliability. As well at that, the dealer backup will be far better, giving you a chance to buy GasGas machines more readily and have them serviced more locally. And if you want to do your own work, spares availability will be much improved. It's a win, win situation and makes the idea of owning and running a GasGas far more attractive than it's ever been.
GasGas United in Dirt Gallery - pictures taken by GasGas UK
Knox products worn on test!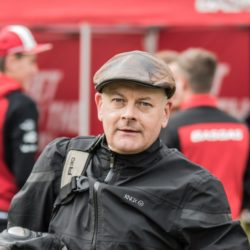 Related posts