Dunlop D212 GP Racer Review
WRITTEN BY Aaron Travell.
PUBLISHED: January 9th, 2023
Since April this year, I've been running the Dunlop D212 GP racer and getting a very good understanding about what they are about. I've done mostly track days on them, but a good few road miles too, I've used the same front, and I've gone through 2 rears.
Everyone has an opinion of what tyres are the best and many of the major media channels are now paid sponsors by tyre brands or feature sponsored tyre tests.
This article is not to say anyone is wrong or to sell you anything, only that we want to share our experiences from the time we spend riding and write helpful information.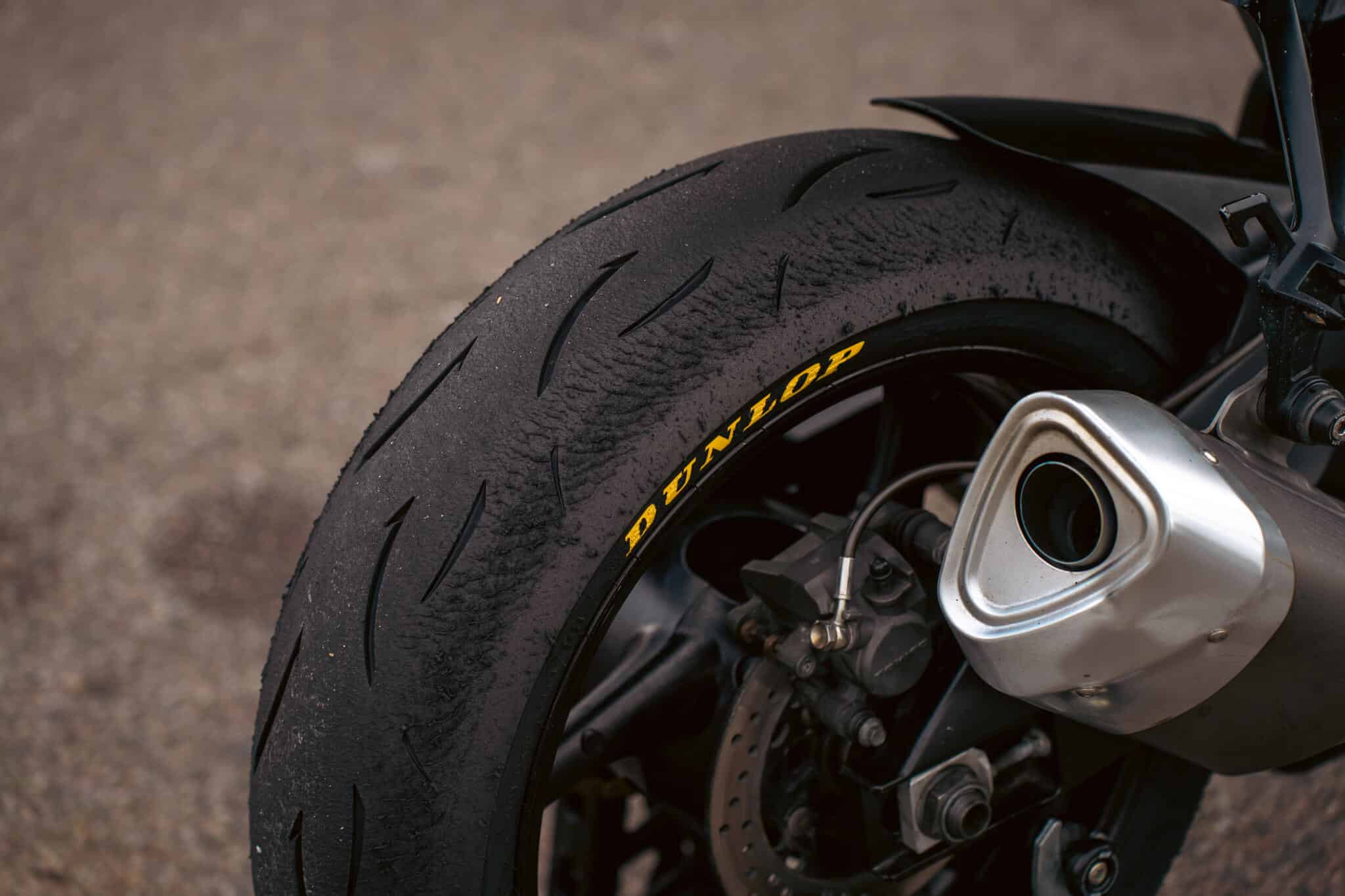 In order to understand the D212 GP Racer properly, there is a bit of clearing up required to explain what they are and who they are designed for.
The D212 GP racer are Dunlops Track Day/club racing tyre. Unlike a road tyre, the recommendation is to run tyre warmers and we've done that.
The D212 name harks back around 10 years now to when it was released as their flagship treaded racer tyre. The original D212 GP Pro was the Isle of Man TT record setting tyre, and if you are looking at older reviews online, it's possible they refer to the original D212 GP Pro.
The original D212 GP Pro has now been superseded by the D213 GP Pro which is the new Dunlop flagship treaded race tyre. Since the launch of the D213, Dunlop have essentially changed the compound of the D212 and renamed it the D212 GP Racer to suit track day riding with a wider operating range than a dedicated race tyre. There is the treaded version featured in this article, and a slick version too.
In pure track performance terms, the D212 GP racer sits higher than the Sportsmart TT road/track tyre, but lower than the D213 GP Pro or their top of the line KR slicks. It has a wider operating window, is cheaper and is more user friendly than a D213 or KR slick, both of which have 4 compound options for different conditions. However, unlike a road-based tyre, this is a track day-oriented tyre, so tyre warmers are advised and the cold and wet weather performance will be significantly worse.
I've ran a medium front with an Endurance rear which is a recommendation for riding in the UK climate. Good feeling from the front, and a harder wearing rear that offers great grip, but is a bit more resistance to tearing. Here is the link for the official track day pressure charts and the different compounds available.
https://www.dunlop.eu/en_gb/motorcycle/tires/gp-racer-d212–racer-d212.html
Hopefully that all make sense?
How does it work in practice?
First thing I'll say is that I've always loved Dunlop tyres on track and they very much suit the sort of track riding experience that I am looking for. I run proper race suspension which makes a massive difference to stability and handling, but the stability that you get from the D212 GP racer is probably their distinctive. My bike feels like it's on rails on these tyres. No movement, no pumping, they're stiff, strong and it just makes the bike carry a beautiful line and gives you confidence to go harder and harder.
We have tried quite a few tyre brands now and there is a massive difference when it comes to Dunlop. A Michelin or Pirelli is much softer and you feel like you could almost turn them inside out by hand, whereas Dunlop's are rock solid. Obviously, you pump air into tyres to make them hard, but the solid sidewall construction gives the Dunlop a harder and more planted feeling in my opinion, possibly at the cost of a little bit of feel in comparison to a softer tyre.
The front tyre is simply incredible.
If this was the only front I'd ever use ever again on track, I wouldn't have a problem. I have not found anything I can't do with the front tyre, seriously heavy braking with rear wheel in the air, heavy trail braking very deep into the corners, big lean angles with no movement. You come in from fast sessions and it looks in great condition. It has not overheated with rubber peeling off in chunks, it just looks right. I've done 4 days on the front, and I reckon I could do another 4. Fantastic performance, very little wear, top notch.
The rear also has fantastic performance and in the right conditions will match the performance of the front. When the conditions are right, they're fantastic. Loads and loads of grip, no drop off in performance over a session, and you can get on to full gas as early or earlier than anyone else can. The first day I did on these, 18c Oulton park, sunny, no wind, pressures set to recommendation, perfect. What I will say is that as it is a track tyre and it has more of a tendency to tear in comparison to a road tyre.
2nd day was an April day at Snetterton with No Limits. Freezing cold in track day terms with 10c ambient temperatures, 4c track temp with wind and there were a lot of cold tyre crashes that day. I really struggled with tearing, even with increased pressures. Although the laps were decent pace, there was a lot of movement in the rear on corner exit and I'd come back in from the session and the tyre looked like it had been subjected to a cheese grater. No matter what I did in terms of adjusting pressures, the issue only got worse. Of course, it shows the tyre is working, but ultimately in cold conditions like that, you'll easily go through a rear in day, depending on your pace.
Then we went back to Oulton again the next month with a new rear tyre, I just had the best day ever, really good riding and the performance from the fresh rear was excellent. Managed the pressures well, rode faster than I ever have, and the performance was great, although still getting some issues with a bit of tearing. The fresh rear has now done 2 track days and some road miles, and I think I'd squeeze another one out of them, but I don't think I'd get any more. Started with 5mm tread, now down to 2mm in the torn places.
If I was being picky, I'd love to see a harder option or a more resistant rear tyre, particularly for cold conditions. If you are running them in the cold or early in the year on track, you'll struggle with tearing. I'd even consider running a Dunlop Sportsmart TT in the rear or a harder compound KR slick like an MS4 instead. Obviously, the Sportsmart TT isn't quite at the same performance level, but they are more tear resistant and having ridden on them quite a lot and in our recent superbike shootout, it's the direction I'd be tempted to try out. Its important to point out this recommendation is not an official Dunlop one, or a Knox one, just one that I personally would be tempted to try.
A quick one on the road riding I've done. The Dunlop D212 GP Racer aren't designed as a tyre to use on the road and I was initially a bit worried about that as I use this bike on the road and track. I've ridden in the wet, cold, the wet and cold and in good weather. I probably wouldn't want to ride through winter on them, but as long as you are a bit careful in the wet and until they've had chance to warm up in the dry, you'll be fine.
So, in all, I think they are fantastic, in particular the front tyre which is just awesome! Ultimately, they are the right thing to be on if you are pushing on or up the front of the fast group on track. I've done track days on tyres that weren't up to the job and it spoiled it… these are the right tool for the job and will mean you can have a great day on track, have grip and make progress. The front is next level and in the right conditions, the rear is fantastic too.
Hope this article was helpful, please let us know what you think in the comments section and we'll see you next time.
Knox products worn on test!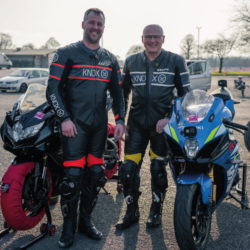 Related posts