What is REALLY inside a BSB Superstock bike?
WRITTEN BY AARON TRAVELL
PUBLISHED: November, 2022
Ever wondered what is really inside a BSB Superstock bike?
In this article, we dive under the bonnet to reveal all that makes our newly acquired Pirelli BSB superstock GSXR1000 the weapon it is!
I'm sure we've all seen media content where manufacturers invite members of the press to ride their latest BSB super-stock and race bikes, as part of their general PR activities. 
The main narrative is that the bikes we see being raced in Superstock are very similar to the bike you buy in the showroom, only with a fairing kit and an exhaust. 
That all seems quite plausible and the technical regulations seem quite strict at first glance, but if you're anything like me and have an eagle eye for this kind of thing, there is a bit more to it.
The idea that this superstock bike is remotely close to the showroom bike is wrong, it's highly demeaning to the experience and expertise of the teams that build them and disregards the quality of the aftermarket parts fitted, and is misleading to consumers.
With that intro out of the way, what is it?
Our newly acquired GSXR1000 Superstock machine was ridden by Ash Beech of the JDR race team until halfway through the 2022 season. It's a highly competitive machine and consistently one of the top Suzuki's in the class. 
With Ash at its helm, this bike has lapped Oulton at 1 minute 36 seconds, 0.5 seconds from lap record; Donnington at 1:32 and Snetterton at 1:52. 
If you know anything about these tracks, these are phenomenal lap times on treaded race tyres, only possible with the very best riders in the country on properly sorted race bikes.
The bike was built by Hawk racing, the factory-backed Suzuki team in the UK. Hawk build a lot of the Suzuki race bikes for the BSB championship. 
The first thing you notice when you see this bike up close is that this is a custom-built race bike. 
This machine NEVER started its life in a showroom, instead being built up from a blank factory frame. Of course, it is a homologated frame, but the point is, it was built solely as a race-only bike, every component added to it is intentional and it is built to maximise its potential within the confines of the technical regulations.
So why did we go with a GSXR? Despite some wins this year with Charlie Nesbitt and Richard Cooper, generally, the Suzuki is falling a touch behind and we now see that the Honda Fireblade is becoming the weapon of choice in this class with about another 20hp in race trim. 
There is the R1, BMW and Zx10rr as well, all excellent, but for me, the absolute pinnacle in performance isn't the absolute priority and I won't be riding at the limit of any superstock bike. 
It's a personal choice too; Having used GSXRs for years and rebuilt a smashed-up one, we know what we're doing with them, so familiarity is a massive point. Not only that, we understand the support network for them and we have good relationships with professionals like MSG performance. Going to a different model would be like starting from scratch.
BSB superstock GSXR: Engine
As per the superstock rules, everything is standard internally, which is fantastic for us from the perspective of performance and reliability. There would be no point in buying a full-blown BSB bike with race cams and needing a rebuild every few thousand kilometres.
Although this is only a couple of years old, the engine was fully rebuilt after every season, which is great, it's fundamentally brand new.
In general, the reliability of the GSXR is also top-notch. Our crashed bike was flying 20ft in the air down the Snetterton back straight and after some checks, the engine fired back up. It's a bullet-proof motor and that to me at least is very impressive.
Then we have an arrow 65mm titanium system on it, saving approximately 5kg from weight and removing the catalytic converter. These bikes make around 175hp at the rear wheel stock, but with the system and the dyno work via the kit ECU, this bike now produces around 193hp!
The raw spec of the bike is 193hp at the rear wheel and brimmed with 16ltrs of fuel its 188kg, meaning 176kg with no fuel. The regulations are 174kg with no fuel, so I'm assuming 2kg is left in as a leeway. Surprisingly, there is a standard battery on the bike, so we could reduce another 2.5kg from it with a lithium Ion battery if we wanted.
In the end, the bike is nearly 20hp more powerful and around 15kg lighter than the stock road bike. The stock GSXR1000 was enough for me, so I can only imagine what this is going to be like!
The raw spec of the bike is 193hp at the rear wheel and brimmed with 16ltrs of fuel its 188kg, meaning 176kg with no fuel. The regulations are 174kg with no fuel, so I'm assuming 2kg is left in as a leeway. Surprisingly, there is a std battery on the bike, so we could reduce another 2.5kg from it with a lithium Ion battery if we wished. In the end, nearly 20hp more powerful and around 15kg lighter than the stock road bike. The stock GSXR1000 was enough for me, so I can only imagine what this is going to be like!
BSB superstock GSXR: Electronics
A fair criticism of the stock GSXR1000 is that the electronics are quite basic. In fact, during the first year of the modern GSXR, Richard Cooper reportedly raced all season and won the superstock championship with traction control turned off as it was a hindrance to him. That's all changed for the race bike, as the stock ECU is switched out for a Yoshimura kit ECU and loom.
Essentially, the stock GSXR has 10 options of traction control and wheelie control combined, and that is all you get. With the Yoshimura, you can adjust or remove wheelie control by changing the % of cut when a wheelie happens, you can adjust the power reduction when the traction control is initiated, reducing power at certain lean angles, adjust the blip on downshift, and fully adjust engine braking.
The brain powering the bike is much more powerful and more accurate than stock. Such is the degree of accuracy you even have to input the correct gearing you are using and the tyre dimensions.
BSB superstock GSXR: Gearing
From there, we look at the gearing, this is altered depending on the circuit, but it's shorter than a road bike and makes the bike accelerate quicker. 
Our bike is fitted with a 520-weight chain and lightweight sprockets. However, the real benefit here is that with the longer chain, we can run the rear wheel back in the swingarm. This helps with stability and reduces wheelie.
BSB superstock GSXR: Quick shifter
We also have a Lohman quick-shifter. The stock quick shifter/blipper is actually OK, but essentially it's built to a price. This Lohman shifter is more positive and more accurate.
BSB superstock GSXR:  Rear sets
From a road riding point of view and with comfort in mind, often the lower the pegs the better, but start riding on a track, and the stock GSXR ones start scraping etc which is why lots of people run rear sets. Our bike is fitted with the uber-expensive billet Yoshimura ones, they're fully adjustable and they look and feel bulletproof!
BSB superstock GSXR: Cockpit
The cockpit looks quite different too, straight away you notice that none of the road buttons are present. Instead, we have race switches, simpler to use and we have a pitlane limiter too! It goes without saying, we have clip-on handlebars that are wider and give more leverage and adjustability.
BSB superstock GSXR:  Quick-Action Throttle
We also have a Yoshimura quick-action throttle. This makes getting to full gas easier, but it also makes rolling off the throttle to brake quicker and safer too. What is noticeable is that there is no free play, this all feels sturdily and professionally put together.
BSB superstock GSXR:  Chassis Components
The next major thing is the chassis components. I've talked about this in a previous article, but the GSXR is a dangerous bike in stock form. Monster engine combined with bargain basement chassis components. Our superstock bike is fitted with a full suite of Ohlin's suspension. You can't compare this to stock stuff, it makes the bike stable, handles correctly and make the tyres work much harder. The GSXR has got an awesome chassis, and these components transform the bike, bring out its best and make it safe and stable. It's also got a Bitubo damper, which is great because that's what we run on all of our bikes and we think they're great!
Custom Pirelli Race Tyres
As this was a BSB bike, it comes on Pirelli Supercorsa SC control tyres. The front is an SC2 and the rear is a BSB custom compound that is only available to riders in the BSB Superstock championship. I look forward to trying these out, but as they are a proper race tyre, I don't expect them to last long! 
AIM Data Logging
This isn't a performance enhancer so to speak, but it is nevertheless very interesting. Our bike is fitted with full data logging from AIM. Fork and shock potentiometers, brake pressure and throttle opening sensors. After your session or race, you can enter the AIM race studio and figure out what is going on, am I going full throttle, am I on the max of braking etc. 
Your suspension technician can use this data and use it to fine-tune your suspension.
Looking at Ash's data that was left on the bike, taken from a fast lap at Donnington Park. As you would expect a national-level racer to be, he is 100% full throttle from the moment he makes the corner exit to the braking point, then applies 100% brakes, generating up to 12 bars of brake pressure and 1.25g of braking force. 
Looking at my own data will probably be an eye-opening experience, but at least it will help me know where to make improvements.
Revised Braking System
The brakes are interesting. On the face of it, there isn't much leeway in the regulations for upgrades, so it was quite interesting to see what has been done. While it must run the stock master cylinder and callipers, everything else has been maximised. We're running much thicker discs, whopping 6mm thick brake discs, Brembo ZO4 race pads and even ventilated brake pistons. Everything has been done to minimise heat build-up and make performance the best it can be.
Race Fairings and Ergonomics
Lastly, we can see that the bike has race fairings. These are fibreglass ones, much stronger than road fairings and much lighter. The bike has a Yoshimura-style race seat and a Yoshimura tank extender. Sitting on it, you feel locked in and the racy feeling just from sitting on it is unbelievable. The seat is grippy, there is loads of support from the tank extender for braking, and the back of the seat hems you in for hard acceleration. Having only ridden road bikes before, this was really interesting and I can see that this will make a massive difference on the track.
Conclusion
Even in a Superstock bike, there is a huge difference in comparison to the showroom bike. This is a purpose-built race bike and it has been built by people who have many years of experience building them! If you were going to buy a road bike and add these components onto it, you'd be talking at least £15k in parts plus the labour to build it. From a new showroom bike built to this spec, you'd probably struggle to have change from £35k.
Our Plans!
So, the next question is, what are we doing with it?
Firstly, the bike will be used to help develop Knox products. Physically being out there and putting our products through their paces ourselves is a massive boon for our product development so we'll use this as a tool to do that.
Secondly, you'll see this bike on the channel regularly and we'll run a bit of an interesting series with it. The first ride is where we'll take it to Portimão in a couple of weeks and I can't wait for it.
Thirdly, you'll see this bike in Knox marketing, possibly looking a bit different, but the same underneath.
So, I really hope that has been interesting, make sure you check back for the next instalment.
Knox products in the video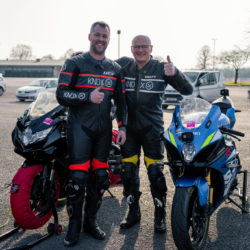 Related posts