Yamaha MT09sp vs KTM 890 Duke R
Ultimate Middleweight VS test
WRITTEN BY AARON TRAVELL
PUBLISHED: September 21st, 2021
Forming the biggest part of the new motorcycle sales market, Naked bikes are literally where motorcycling is at! In this project, we put the two best middle weights head to head! KTM's 890 Duke R currently wears the crown as the sharpest of the bunch in our opinion, but are promises made by Yamaha's all new 2021 MT09 SP enough to knock it off the podium? We spent a few weeks trying to work it out!
To kick off our test, we visited the Airfield to see how the bikes would compare in acceleration. Specification wise, there is not a huge amount in it, both bikes around the 120hp mark, with the 890 Duke R being slightly lighter at 166kg dry vs 189kg wet from the MT-09.
For clarification the MT09sp has the following specification:
Power   117bhp (87.5kW) @ 10,000rpm
Torque  68.6 lb-ft (93Nm) @ 7000rpm
Weight – 189kg (wet)
Price UK 2021 – Circa – £10,200. Devitt Insurance Quote – £187.01*
KTM 890 Duke R
Power 119bhp
Torque – 73lb/ft
Weight – 166kg (dry)
Price UK 2021 – Circa – £10,649.Devitt Insurance Quote – £322.05*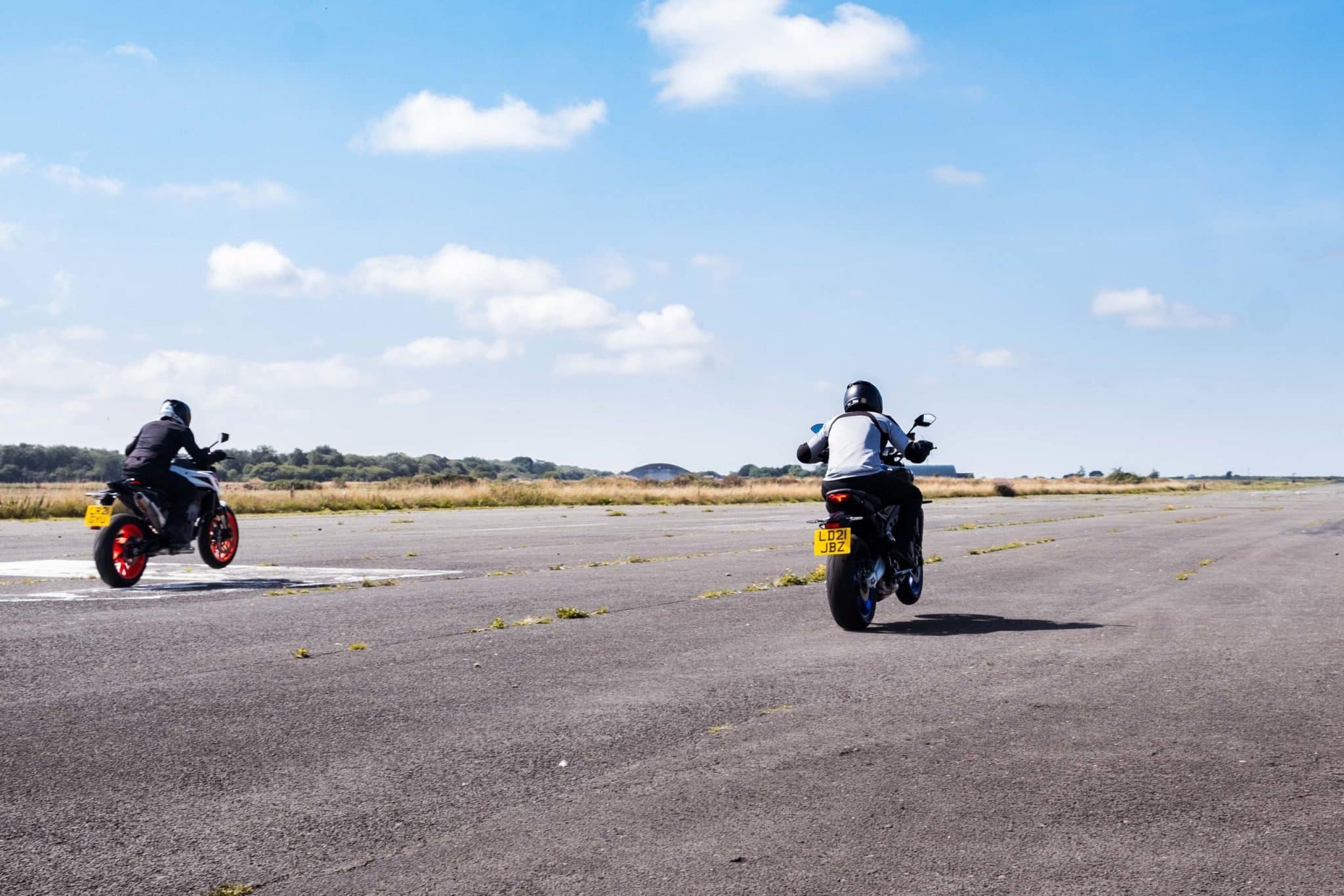 Within about 10 minutes of drag racing the bikes, we were in no doubt, there is almost nothing to separate these two machines in terms of out and out performance. We swapped bikes, tried different launch techniques, altered traction control settings, but it all more or less went to prove that there is very little difference between the two machines in terms of acceleration from 0-120mph and in gear from 40-120mph.
Both machines incredibly high performance. You would swear the KTM was faster with its parallel twin providing a hugely engaging punch out of the blocks, that is until you saw the MT09sp right next to it on every run! The MT09sp by contrast feels flat but it proved itself every bit as fast. The MT was also easier to launch hard and with LIF control set to 2-3, the electronics controlled the wheeling nature of the bike incredibly well. Surprisingly, we found the MT09sp the more stable machine even without a steering damper.
After our drag race, we remained at the airfield for some naked bike hooliganism! It's hard to verbalise how good these bikes are at having the type of fun that's hard found on 2021's latest machinery. The Duke's at home doing any motorcycle related stunt and the MT09's show piece is back wheel antics!
While our airfield session proved there was nothing between the 2 machines in terms of out and out straight-line performance, it initiated a contrasting picture that became clearer and more contrasting during our time with them… Two very high-performance bikes, but two entirely different approaches and feelings… and the differences we did discover were striking.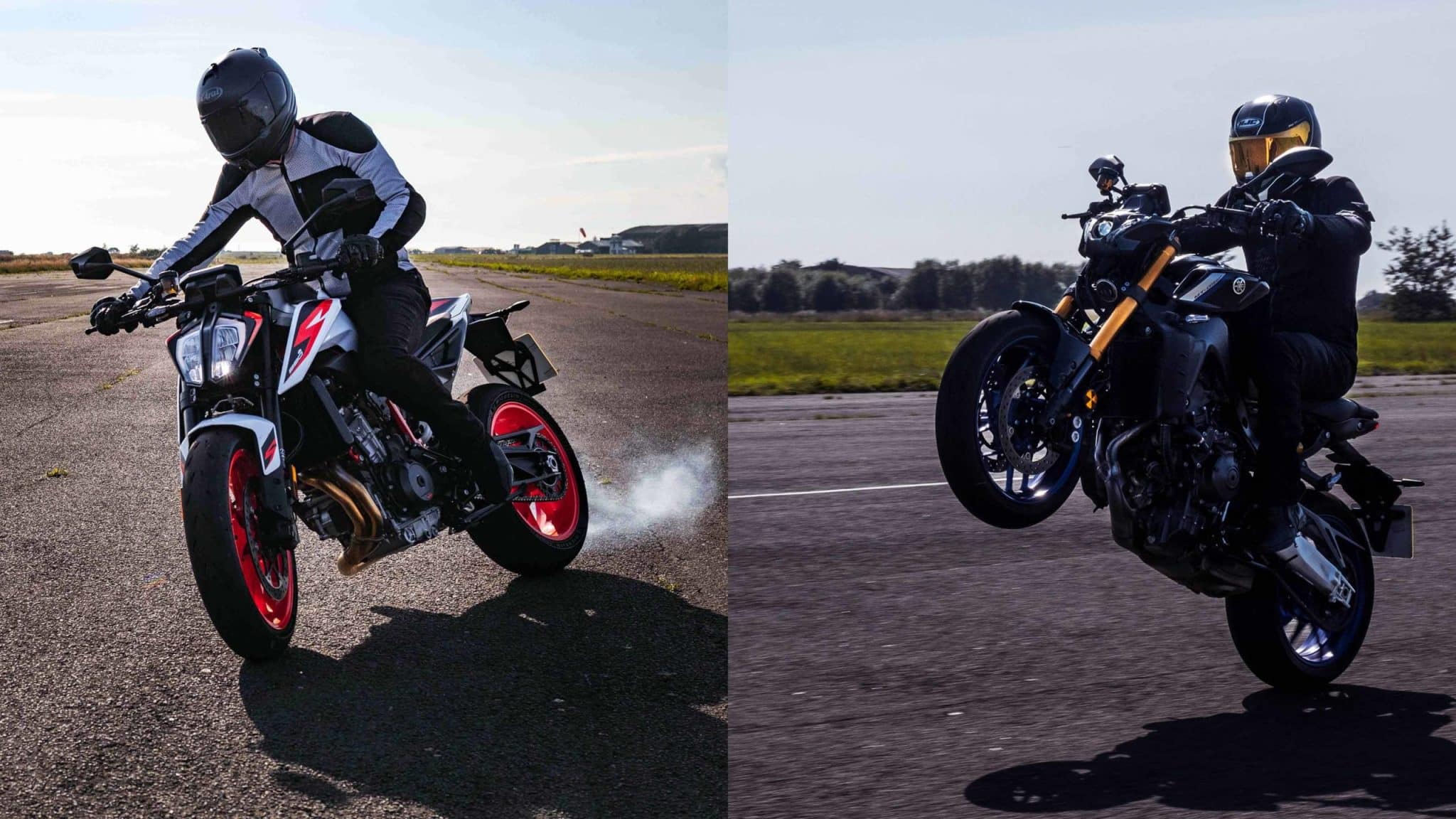 The 890 Duke R embodies the "Ready to Race" moto clearer than any other KTM machine. It's out and out performance is an athletic masterpiece, unlike any naked bike I've ever ridden.
The 120hp 890 parallel twin is barky, snappy, aggressively fuelled and always feels super eager to spit you out of a corner and compress the straight in front of you accompanied by an amazing soundtrack!
Its suspension and handling package is out of this world. If there is a stock motorcycle that handles like the 890 Duke R, I am yet to ride it. The only thing I can liken it to is my own GSXR 750 which is fitted with aftermarket race suspension – only more plush.
Eye up the corner in front of you and assess your maximum entry speed, then add another 10-15mph, that is how to get the most from the 890 Duke R, the harder you ride it, the deeper you find its reservoirs of ability. The WP suspension set up is taught, plush, yet supportive and provides a level of confidence and feedback that not only the MT09, but every other bike in the market wishes it had. The MT09sp is has excellent handing by any standards, its light, predictable and planted with its premium Ohlins shock and KYB tuned forks, but attempting to with keep the 890 Duke R on our twisty Lake District B roads, soon has it tying itself in knots and out of its comfort zone. On the other hand, the 890 felt like it was just getting started.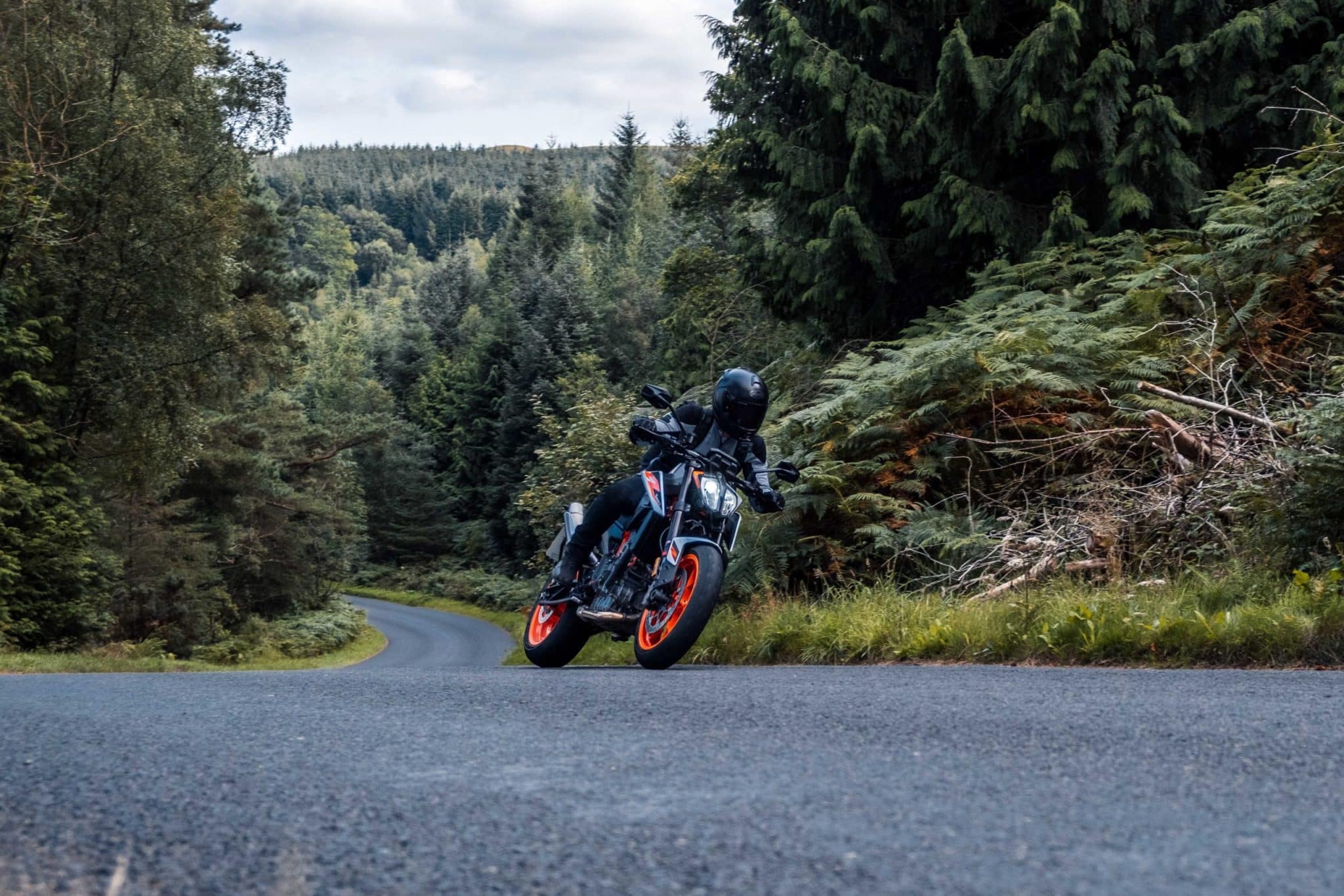 The Duke combines its amazing handling with incredible agility, turning significantly tighter than the MT09, which reveals itself in slow speed manoeuvres and tight switch backs!
And the brakes, just wow! This is the benchmark of how modern bikes should incorporate ABS into a braking system. Brembo stylema calipers with matching master cylinder and braided lines provide the hardware. With Supermoto mode engaged, you can not only brake as hard as you want, you can pull long rolling stoppies aided by a beautiful initial touch, feel and control with ABS only interfering if the front wheel actually is a risk of slipping. It's a class act.
This all comes together to make a bike that is not only unbelievably capable in a performance sense, but one that is constantly egging you on to put it through its paces.
The MT09 is totally different! Starting with its ergonomics, the handle bars are 6cm higher, seat 1cm lower and footpegs 3cm lower than the Duke. These differences may not sound massive, but they translate to a much more relaxed riding position and this plays into the MT's strengths. You sit on the KTM, you sit in the Yamaha with its big tank cosseting your legs.
If the KTM is a single-minded weapon, the MT09 is about as flexible as a rip-roaring naked bike could ever hope to be and is literally all things to all people. It's no wonder the CP3 triple motor is legendary and fitted in so many variants. In our opinion, it's one of, if not the most brilliant engine in motorcycling today. The way it behaves just boggles the mind, with flavours of vtwin grunt delivered with a flavours of smooth and refined 4 cylinder, fuelled to perfection and with the sound of a moto 2 bike to match!
I learned how to wheelie on an MT09 at Extreme Wheelie school and while on this test, the bike proved itself again as the ultimate tool for that job, happily and controllably lofting the front wheel from 1st all the way through the box up to 5th, but simply describing the MT09 as a wheelie machine seriously underplays its talents. Unlike the 890 Duke, it's as happy on the back wheel as it is pootling through town as it would be on the commute, or anywhere else for that matter.
It may feel more relaxed and less sporty ergonomics wise than the Duke but proved itself every bit as potent.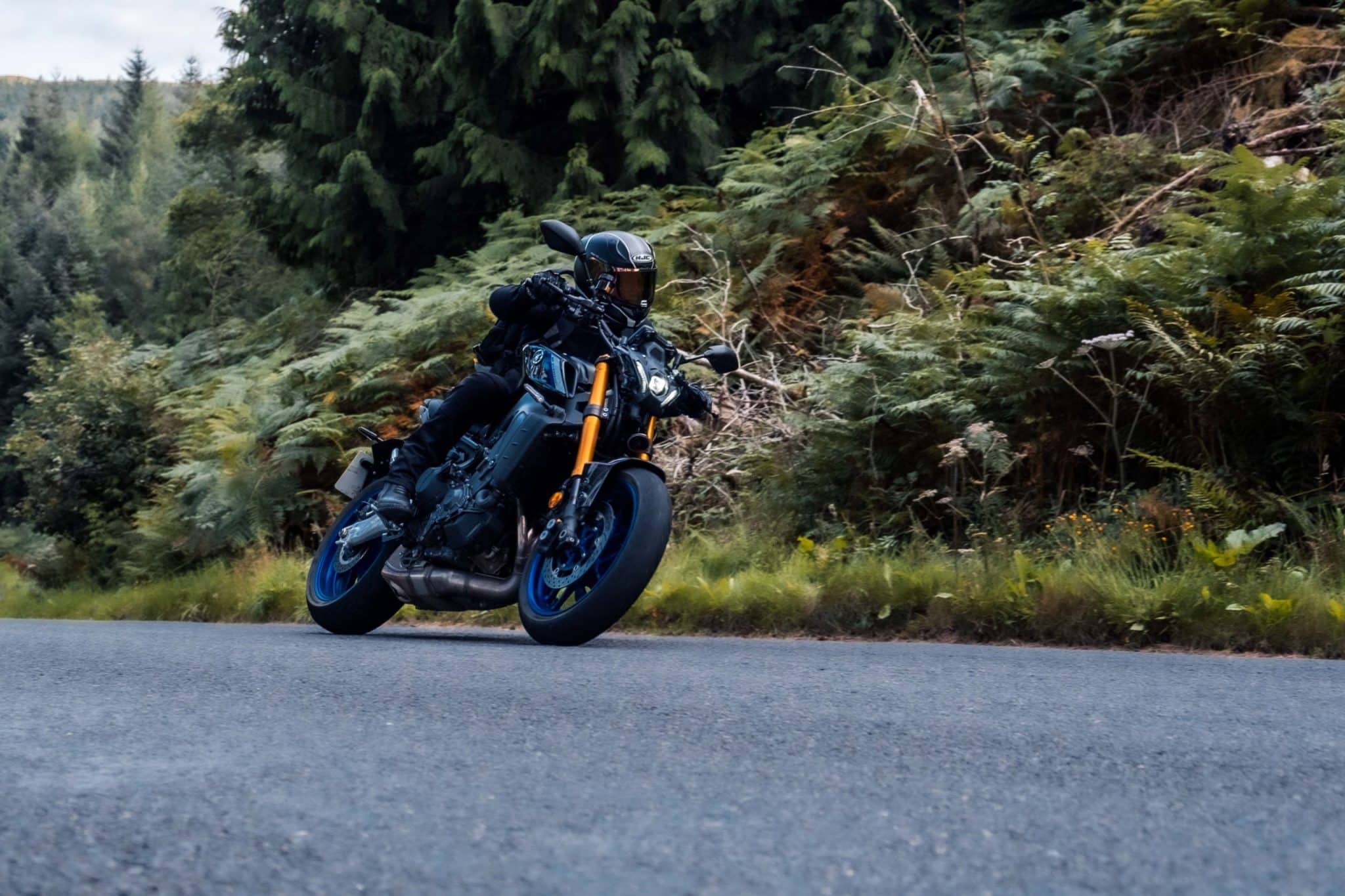 New for 2021 the MT09 has a market leading R1 derived electronics. They're super simple to operate, allowing the rider to float unaware on a cloud of sophisticated electronics that greatly enhance safety and riding experience. Lif control manages front wheel lift like no other package I've ever used. Snap the throttle in 1st or 2nd without lif control on and the MT09 will put you on your backside quicker than you can say coccyx. Select LIF 2 or 3 and the electronics will control the front wheel in such a stable and controlled manner you'd think you were riding a bike with a 6ft long swingarm. This contrasts with the 890's wheelie control which cuts power in a comparatively abrupt manner.
The Yamaha slide control system is also great, more sophisticated than detecting one wheel faster than the other and then cutting power, allowing burnouts, but interfering with slides seamlessly – it's a market leading package.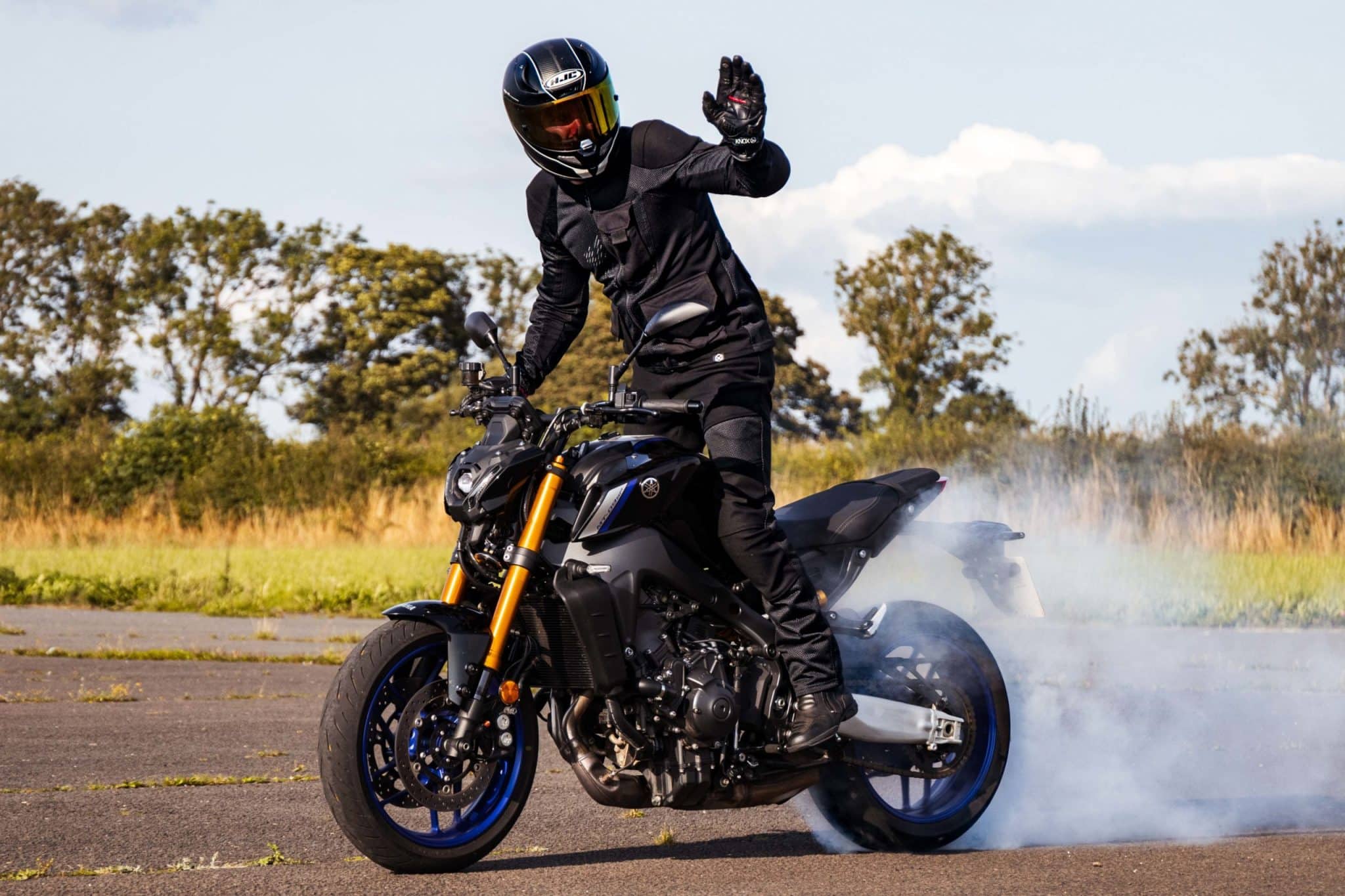 But while the MT09's electronic package leads the game, the stock braking set up lags far behind the Dukes. Apply the brakes hard and the ABS interferes in a such a way that it feels like you are propelling towards the hazard rather than stopping. The ABS integration is WAY too eager and any aggressive riding or track day work it would not only sap your confidence, but your enjoyment too. Luckily, we discovered an ABS disable hack and when the ABS was actually disabled, we found the braking hardware to actually be very good with transformed braking feel, power and stopping ability, even allowing a few 1/2 decent stoppies!
Aesthetically, both bikes look the business in our opinion, the Duke razor sharp, its looks matching its scalpel like performance, the MT09 bold and powerful, matching the Yamaha dark side of Japan mantra.
What started as an idea to find out which was the best naked bike in this uber competitive part of the market, actually uncovered that these two bikes are very different propositions. They play tit for tat with each other, both triumphing in different areas, the Duke with its out and out performance, handling and braking, the MT09 with its engine, electronics and all-round flexibility – making any outcome we could reach changeable depending on situation and rider preference.
Both bikes incredibly capable in their own right and both worthy of a place in your garage. They're a testament to how good the naked bike sector has become, and how lucky we are as riders to be alive in 2021!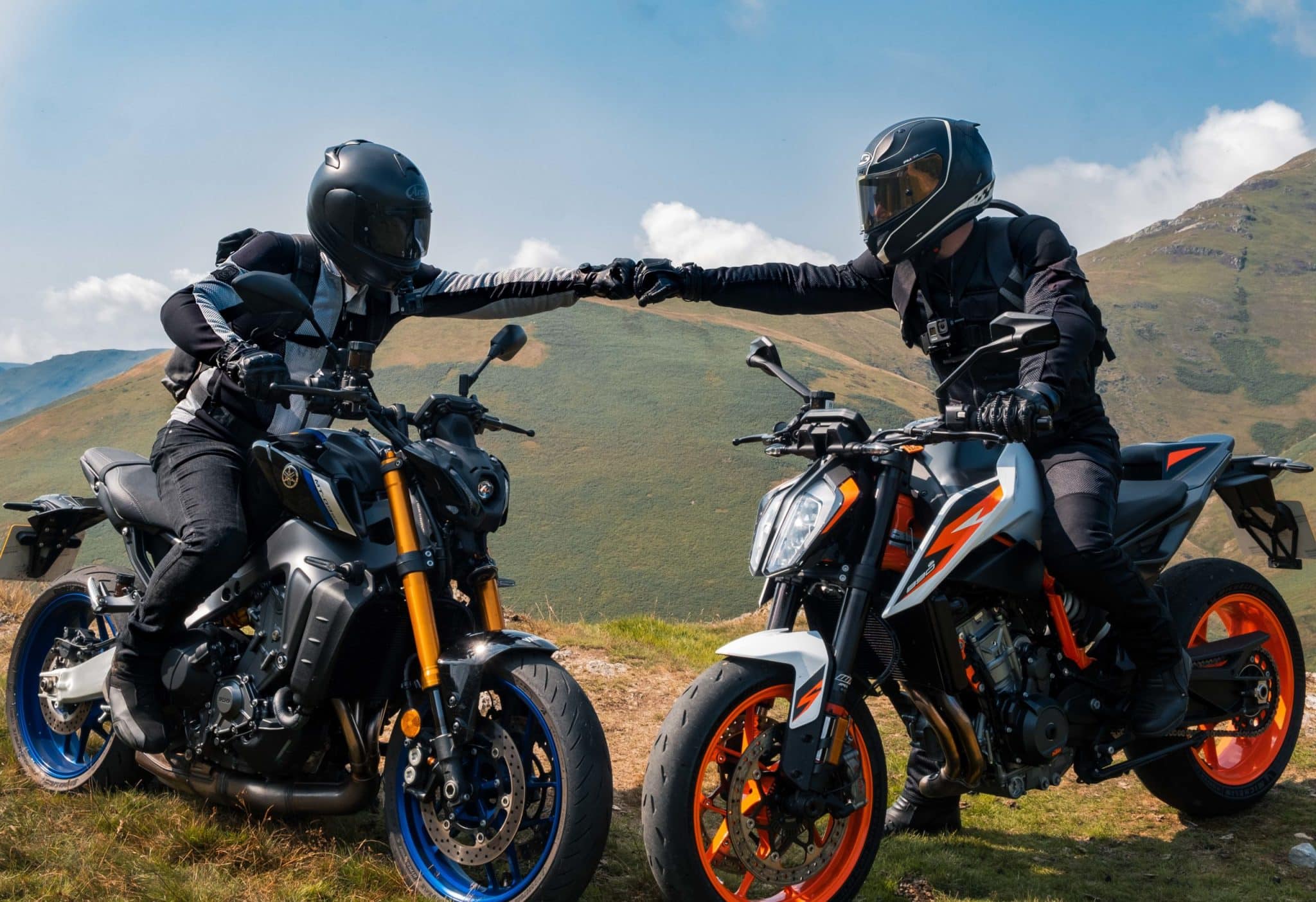 As you can probably imagine, we really enjoyed putting this piece together, from a riding and production point of view. It was fantastic to see how amazing these 2 bikes are and to put our own products to the test riding them.
Let us know what you think in the comments section and we'll see you next time!
Knox products we wore on test
Yamaha MT09sp vs KTM 890 Duke R Gallery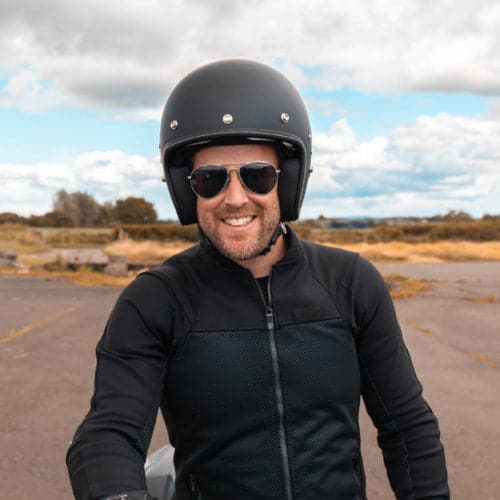 *Devitt Insurance Quote is based on Mr Average.
Mr Average is: Based on a 40 year old married Bank Clerk, living in LA13. Kept in a Garage, held full bike license since 2000. Bike has Biketrac and a Datatool S4 C1 Red security. No accidents or claims. Comp cover, 3000 miles, 5 years protected NCD and just SDP use Please see https://www.devittinsurance.com/.
Related posts