Super Adventure - Ducati Multistrada V4S VS KTM 1290 Super Adventure S
WRITTEN BY AARON TRAVELL
PUBLISHED: June 24th, 2022
It's fair to say that Adventure can be had on any motorcycle. All you need is 1 engine, 2 wheels, a tank of petrol, and a dream of where you want your adventure to take you.
But this test isn't about roughing it on cheap bikes and bunking in hostels. This is a clash of titan's test between the two most advanced Adventure motorcycles that have ever been made.
Ducati Multistrada V4S vs KTM 1290 Super Adventure S.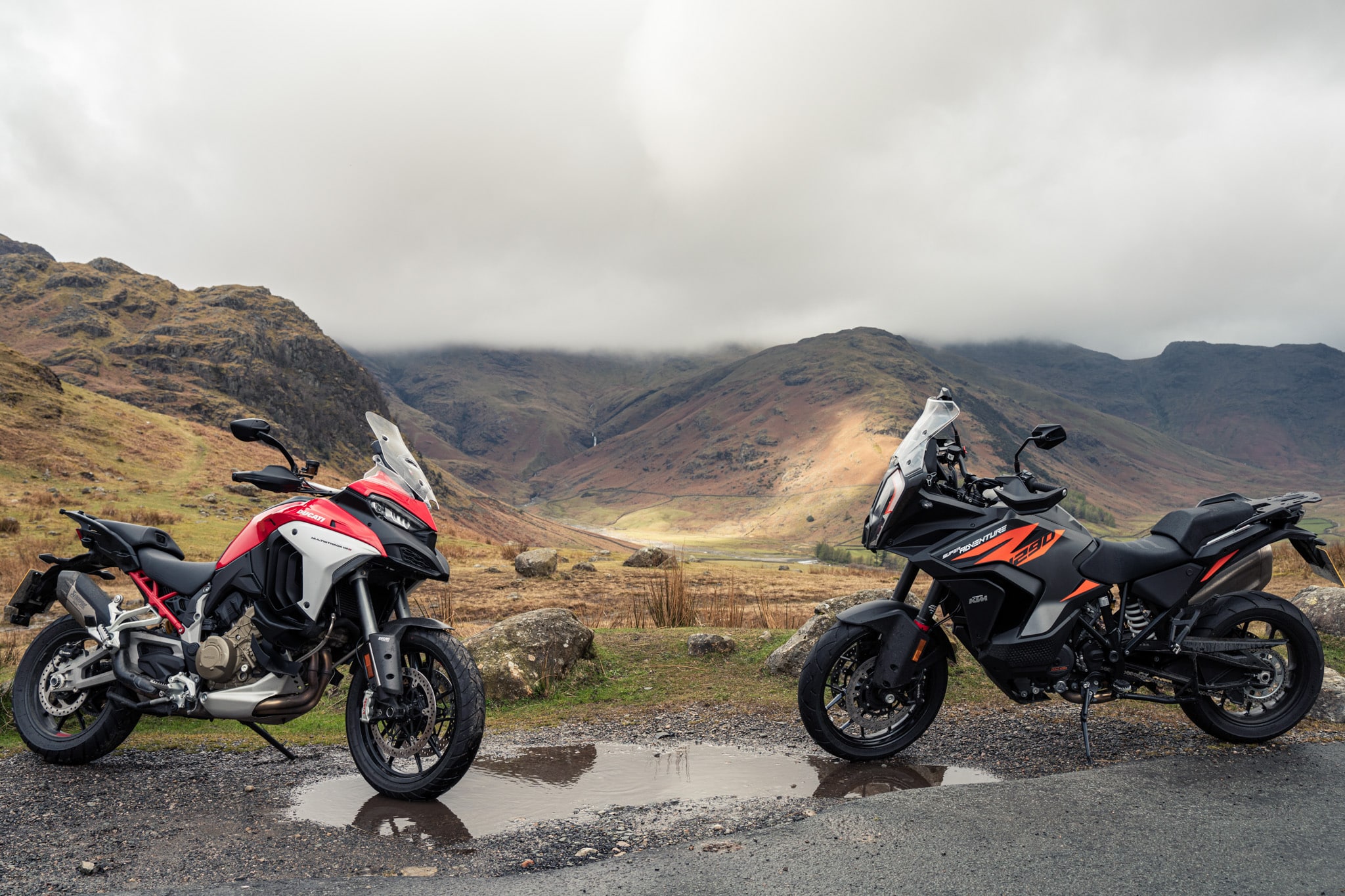 Like the naked bike and sports bike sector, the adventure bike category has different tiers, from lightweight low powered bikes, through to middleweights, through to large capacity adventure bikes like the BMW GS and the Honda Africa Twin. There is no doubt however, these two are in a different class, it's just that no one has put a name to it yet. I'm calling it a Super Adventure.
Why? Both of these machines have engines derived from either a full-blown Superbike or in the KTM's case, from a Super-naked and both machines have in excess of 160hp. That differentiates them. They also have more tech than the Starship enterprise, electronic suspension and even radar enabled cruise control. Think I've made my point. These aren't normal adventure bikes, these are something special.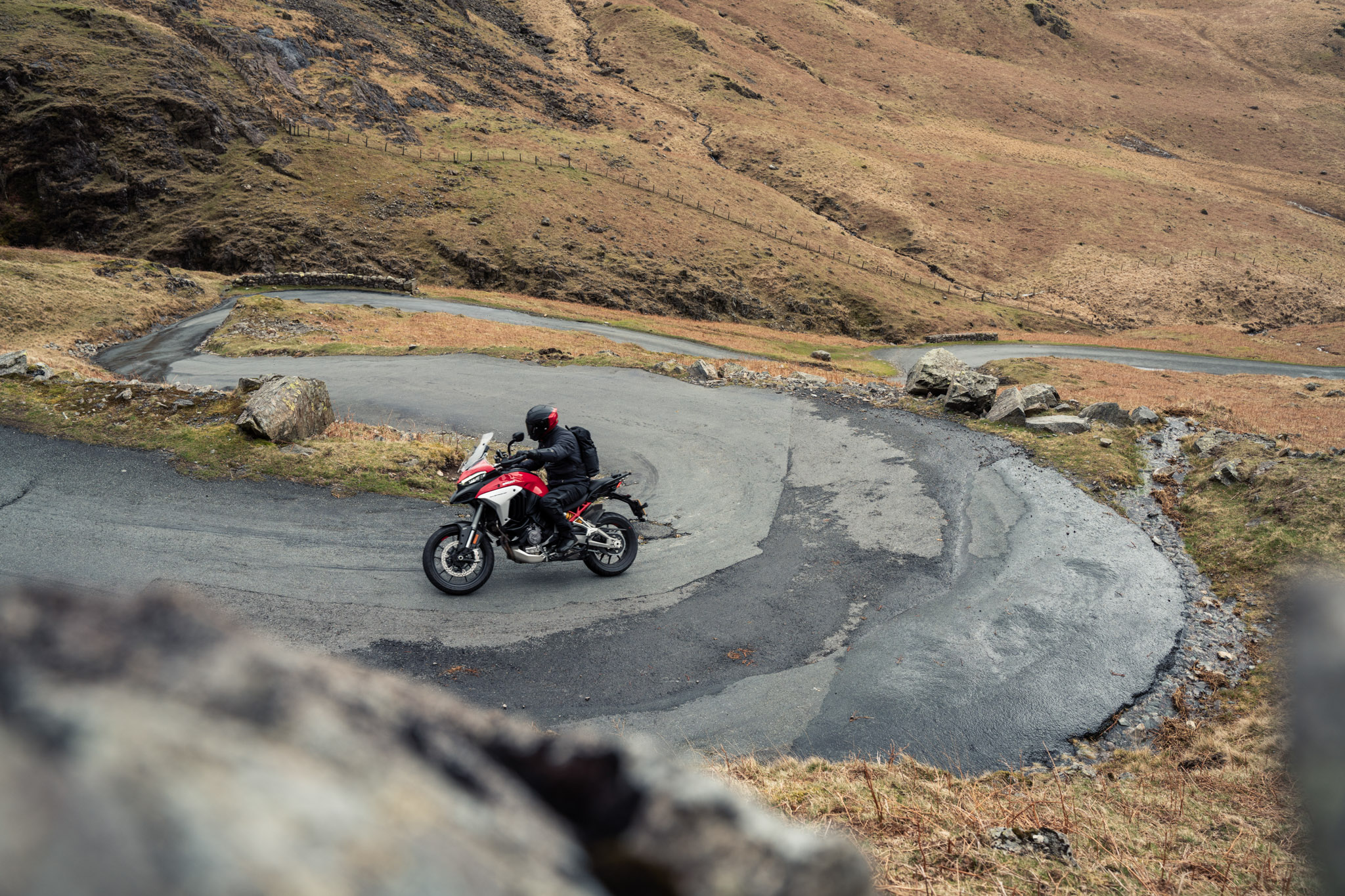 For 2022, The Ducati Multistrada V4s is in its 4th generation, designed to be simultaneously more sporty and more capable off road; all in the mission to "Rule all Roads".
For us, the Multistrada's claim to rule all roads meant more than just asphalt and set the tone for our Super Adventure test that would see us tackling some of the Lake Districts very best mountain passes, roads, beaches and trails.
The Ducati's 170 HP V4 Granturismo is fantastic. From crawling up tough trails to flat out on flowing roads, it's amazing to think this engine is derived from the snarling Panigale V4 Superbike. Surprisingly, it's incredibly easy to ride, as soft as butter when you want, goes like a stink when you don't. We had no issues with overheating, a feature normally synonymous with Ducati V4's, and the engine was impressively resistant to stalling, ideal for riding off road terrain and low speed manoeuvres.
Matching the brilliant engine is its handling. Just wow. The concept of an adventure bike may conjure up thoughts of skinny tyres, vague front ends, and wallowy long travel suspension. Ducati has taken that perception and thrown it out the window, the Multistrada handles like a proper sportsbike. Crisp steering, a connected front end feeling, fantastic stability at high speed, combined with strong engine brake to make it hold a tight line.
Our V4s sport model came fitted with a top-of-the-line Brembo braking system and an excellent ABS system. Loads of power, excellent feel and disabling the rear ABS allows skids and rear wheel lift. Track daying an Adventure bike wouldn't be at top of my list, but the Multi would be at the top of that list by a fair margin.
The KTM has a monster in its closet, a BEAST! The 160hp v-twin may be down 10hp to the Ducati, but write it off at your peril. It was more than capable to match the V4 motor on every acceleration test we did, thumping hard out of the gates every time. There is almost nothing between these 2 in terms of outright performance. V4 vs V-twin, while they feel and sound a bit different, it's a tough one to decide which is best, both equally fast, incredibly refined, playful, with both bikes being able to wheelie off the throttle in 3rd gear. I'd challenge anyone to ride one of these hard and want any more of anything.
Perhaps the only way we can separate the power plants is the fuel range which is an area the Ducati struggles. Our worst tank on the Mutli yielded 106 miles, our best was 140. Comparatively, the Super Adventure comfortably manages over 200 miles. If we were putting 17ltrs in the Duc's 22trs tank, we'd be consistently topping the KTM's 23ltr tank with 11trs. The Multi consistently uses 50% more fuel.
There is no doubt that the 1290 is a peach of a bike to ride. KTM machines always steer clear of sensible, hanging around on the wild side of the spectrum, which in part makes them so endearing. But the KTM Super Adventure introduces a level of sophistication not experienced in some of their other models. Don't get it wrong, the KTM will happily wheelie, stoppie and powerslide until you've had your fill, but its more than that, this is a refined, do everything Super Adventure machine.
Our experience was slightly hampered by the Mitas tyres fitted to the machine. While these are mostly OK in the dry, a lot of our test was done in the wet and on loose terrain. On wet tarmac, the rear starts stepping out with little encouragement, the front goes vague and you lose confidence and off-roading on wet mud, they were pretty much useless. With a better set of tyres like the Pirellis fitted to the Ducati, the 1290 would have been much closer handling wise.
Although the Multistrada felt more oriented towards carving up mountain passes and clipping apexes, the widely adjustable electronic suspension settings and fork antidive and on the KTM meant it was never lagging far behind. That being said, it felt like the 1290 could be adapted to excel better on the rough stuff than the Ducati. It would be well suited to knobbly tyres, some engine bars and bark busters to bring out its off-road capability.
Both machines have the excellent radar enabled Bosch adaptive cruise control. If you haven't used this system yet, it is incredible, enabling excellent and relaxing long-distance travel. Set your desired distance to the vehicle in front of you, the max speed you want to travel at, and the technology simply manages your speed and the relationship your bike has with the other vehicles around you. It keeps you calm, safer and ready to compress the long trip ahead of you. The Multi compliments this with an additional radar in the back that powers the blind spot indicators incorporated into its mirrors. In practice they are really helpful.
Then we set about trying to understand the objective differences. Similar to their performance, they are closely matched against the tape measure.
It's as if both manufacturers actually benchmark each other's bikes… which of course they do and probably why they are so close in this regard. The main difference is in the handlebar width, the Mutli has super wide bars. Ridden in isolation the KTM's handlebars are perfectly fine, but both test riders preferred the comfort, feeling and leverage provides by the wider bars on reflection.
The Multi tipped our scales at 242kg with pretty much a full tank. The KTM was 7kg lighter at 235kg fully fuelled. It's not drastic, but the weight management of the KTM felt slightly better to us, it's easier to kick off the side stand and easier to pick up off the ground too.
While the Ducati makes a slightly tighter turning circle, you can't complain with either bike in this regard, they're both super easy to swing around a tight switch back or turn in a trail.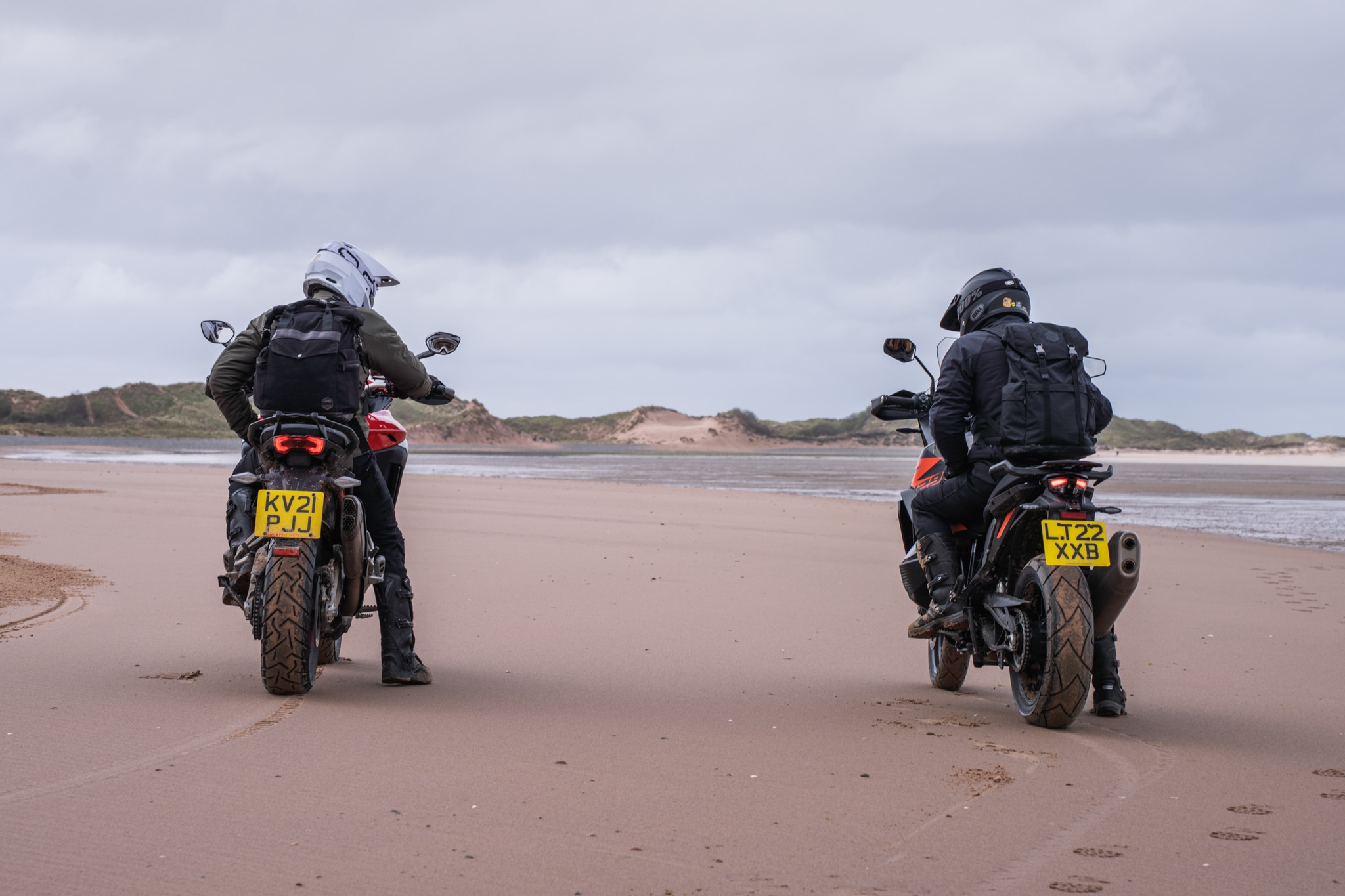 There is only one way to describe the Ducati's electronic package – sophisticated. Like the skyhook suspension system which has a claimed 400 possible combinations of settings, the reality is that in dynamic mode, with adjustments for rider modes, it just does everything great in the background. The traction and wheelie control is similar, it's sophisticated system, smooth, nice to use. Our Lake District mountain passes are enough to send any traction control system into overdrive, particularly when wet, bumps, steep inclines combine with low levels of traction.
It must be said the KTM manages these challenging situations in a less seamless way, initiating a kangaroo effect of hard power cuts when the rear wheel breaks traction. The KTM wheelie control is also less intelligent, lacking a bit of consistency, sometimes cutting power early, sometimes allowing an aggressive high wheelie leaving you thinking it hasn't quite caught on with the mono being initiated. In this regard, in some extreme settings like our mountain passes, it can make for a better experience to turn TC off on the KTM, whereas on the Ducati you can tweak a setting within the electronics suite enabling a good experience within the comforting mirage of electronic protection.
Comfort wise, you aren't going to complain about either machine, both armchair like as far as a motorcycle is concerned. The KTM could do with the optional heated comfort seat to match the Ducati's level of comfort, but that is a reasonably priced upgrade from their official accessory book.
Despite their large front ends, 1 area where Adventure bikes seem to suffer is wind buffeting, they simply do not cut through the air with the same efficiency as a sports bike for example. The adjustable screens fitted are designed to reduce the effect, the Multi featuring a clever 1 touch adjuster, the KTM is operated by a turning wheel. Admittedly, it's clearly a tough area to get right but the Ducati has the edge in our opinion, pushing the wind slightly higher over your head as opposed to never being 100% right on the KTM.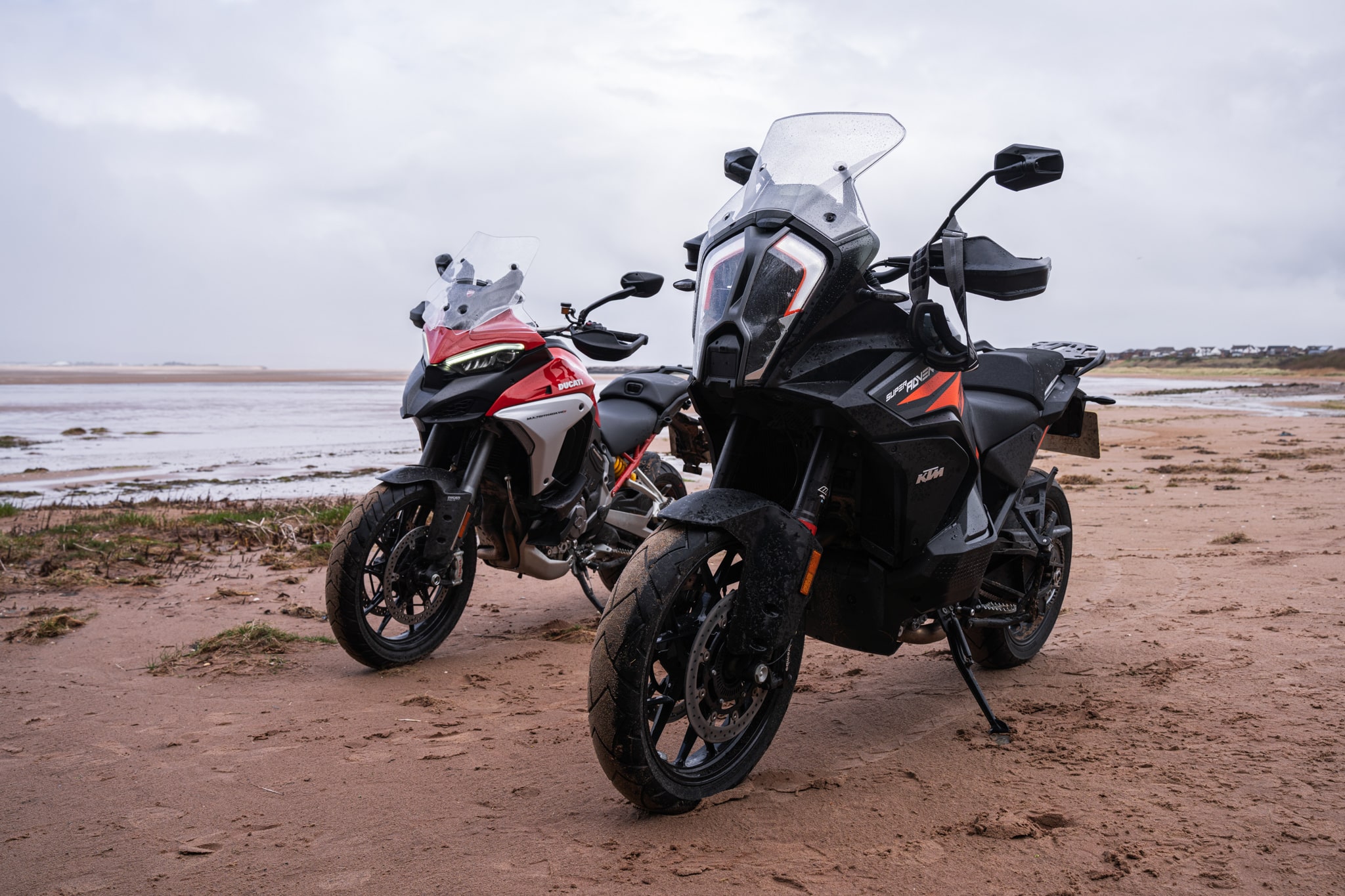 Both bikes look excellent in our opinion, the KTM is powerful, robust looks to match its robust performance. When you look at it you get the feeling that it was engineered to get the job done and keeping the weight low was up on the agenda which is backed up with its performance on the scales. The Ducati by contrast is sleek, with careful lines, excellent paint finishes, well balanced front to rear, its top spec components matching its beautiful finish.
Our V4 s Sport spec Mutli costs £23,695, and for that you get the Panniers, Centre stand, Heated Grips, Heated seat, Radar system, Akrapovic exhaust, Carbon front mudguard. Our KTM costs £16,865 inc tech pack and heated grips. Both Super Adventure machines are rightly premium on the price front, but the fact that the KTM costs nearly £7k less than the Duc is significant. Both bikes have crash bars available from the accessories list and would undoubtably be an excellent addition for adventure riders going into the unknown.
It was the first time either myself or Olly had ridden on a beach and certainly doing so on a big Adventure bike was a new experience, but it didn't take us long to figure out the amount of fun on offer. With electronic packages set to off-road modes, socks pulled up, it was time to stick a leg out, open the throttle and attempt a few power slides. Needless to say, we had a lot of fun and ticked another thing off the bucket list.
For the off road part of the test, I made the classic mistake of doing some of my scouting work at the desk, selecting a certain trail that looked like a goer from a YouTube video posted a few years ago. In reality, it was much rougher than expected with a mix of steep inclines, loose rock and wet slippy grass even though it probably doesn't look it on camera. While both machines mostly managed it, ultimately, there were lines we weren't prepared to cross with these stock Super Adventure machines. The 2-3ft deep ruts we encountered presented too much a challenge for us to tackle with £20k motorcycles shod with unsuitable tyres and that aren't built to crash like enduro bikes.
In this regard, I think we reached the limits, even if it was us deciding to turn around back down the trail. End of the day these bikes are so capable, but no matter of how much confidence you build up you can't hide 240kg, slick tyres and breakable plastics.
Both bikes ridden in isolation are marvellous, there were parts of this test where we just had to pinch ourselves and imagine how our adventure could get any better, irrespective of what bike we were on. The answer was, we weren't on an adventure, we were on a super adventure!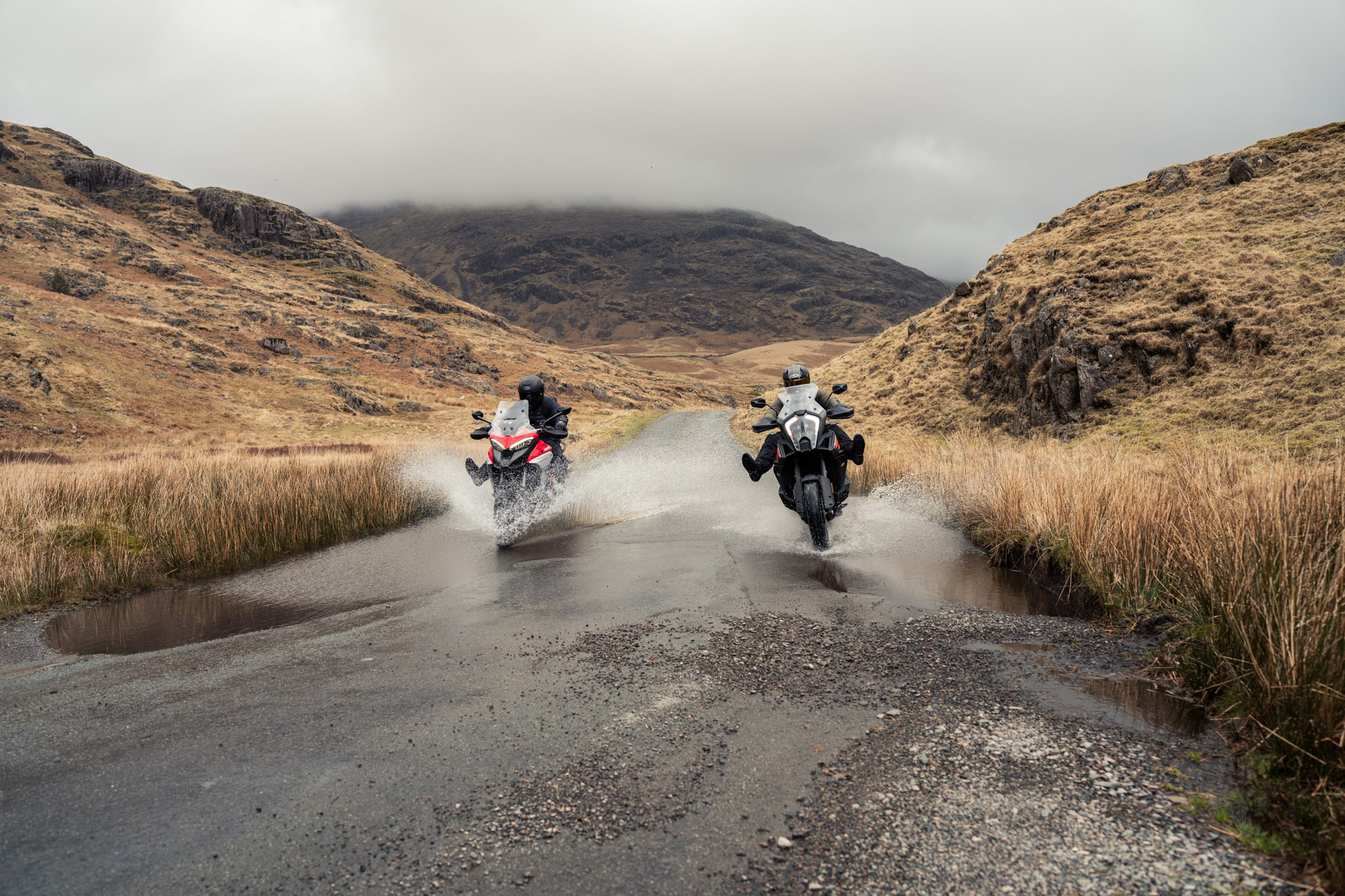 In the end, from riding them on every conceivable terrain, both the KTM and the Ducati have earned their stripes as far as we're concerned as the most super of the adventure bikes.
Although these machines are at the top of their game, they can't have it all. For the KTM, its nemesis is that the MultiStrada V4 exists and is so incredibly brilliant at pretty much everything. And for the Multistrada, it creates its own Nemesis when the fuel reserve light comes on again about 80 miles too early, a factor that may put potential owners off.
But the real goliath these two bikes have is that large parts of the market are blissfully unaware of just how good these Super Adventure Bikes are. Do we need a super adventure bike in our life – the answer is we probably do!
Super Adventure Test IMAGE GALLERY
Knox products worn on test!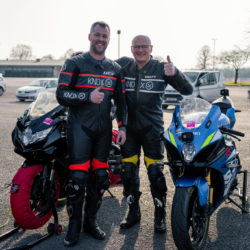 Related posts