Honda NC750x - 20,000 mile motorcycle review
WRITTEN BY CHRIS MOSS
PUBLISHED: May 10th, 2022
Honda NC750X – 20,000 mile motorcycle review.
They say life's full surprises. One of the biggest I've ever experienced, in biking anyway, is developing full affection for, wait for it, Honda's NC750X. I never expected to even like the modestly-powered, parallel-twin engined roadster, let alone really develop a soft spot for it. But after riding two of them for a total of 20,000 miles, I can keenly and honestly sing plenty of praise for the hard to understand Honda. Let me explain how a complete, and totally unexpected change of opinion has come about.
When I first rode an NC750X back in 2015, I was told by the magazine which hired me to road test it fully for around two weeks, and put over 500 miles on the clock. It didn't start well. Just 15 miles into a 200-mile round trip to Wales to get it photographed, I began to suffer – from depression! 'God this bike is so dull', I constantly muttered to myself. The lack of inspiration probably came from the lack of engine power, with a peak of just 54bhp. Just as disappointing, because it was a semi-auto DCT version, the Honda also felt really uninvolving. I didn't want a computer deciding when to change gear for me. In truth, I didn't want to be on the bike at all. Being professional (and thinking of the money) I carried on. Reluctantly.
The prospect of riding it for another 5-6 hours that day alone completed the negativity. The idea of then having to test it for two or three weeks after that heightened the despair still further. I searched my conscience, feeling I must have sinned badly to be punished this way.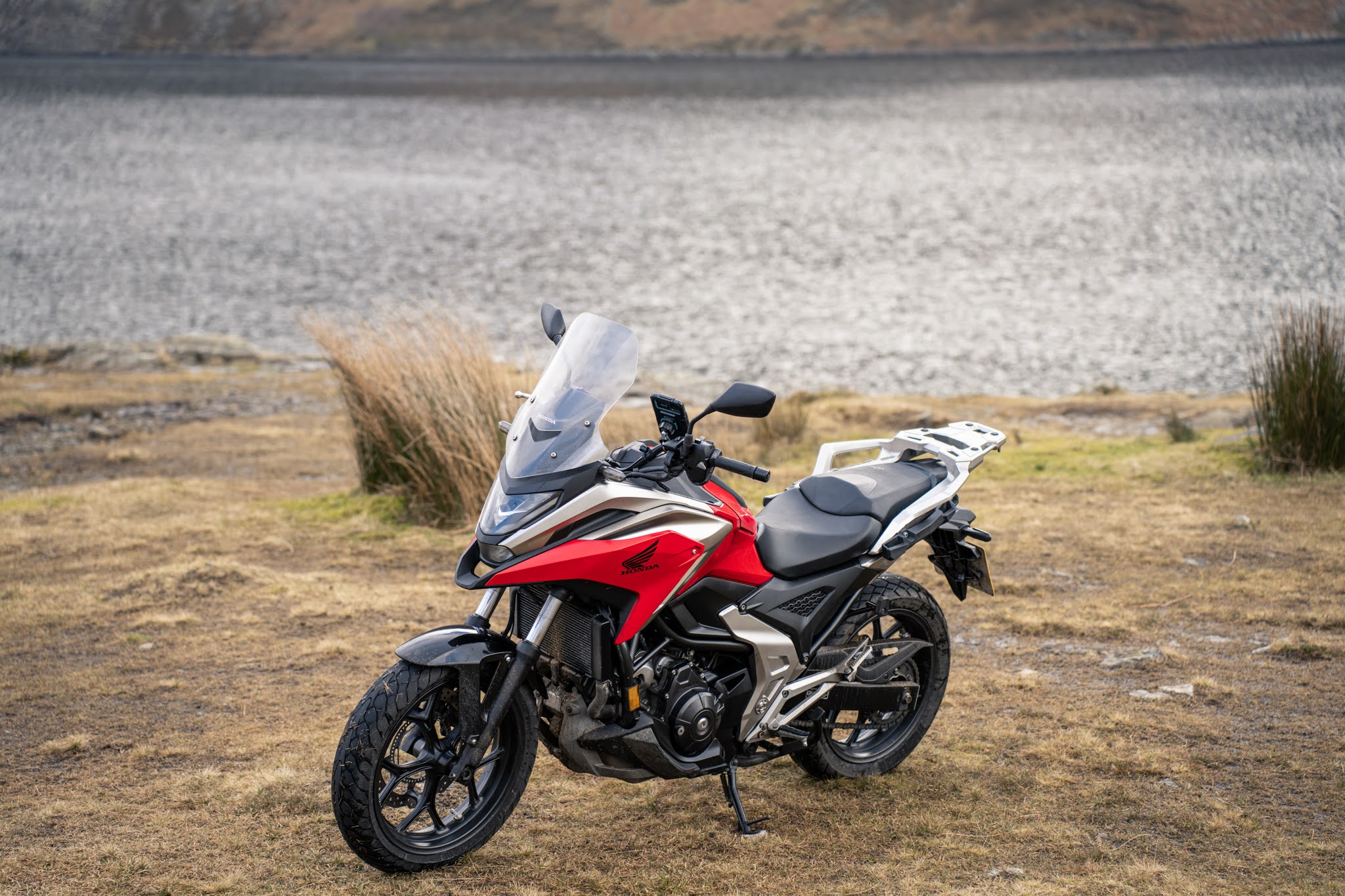 However, after I'd despatched the Welsh trip, and started to clock up more and more miles, I soon learned the very worst way of assessing an NC750X DCT is to take it for a quick spin. The fact is, the Honda does have multiple virtues. But it's vital to take enough time to discover them. Ideally you have to do what I did, and ride one for over 500 miles. Do that, and you might well, just like I did, become converted enough to want to do a lot more. In short, and it's something I'm going to elaborate on in this piece, the Honda is superbly user-friendly by being effective, convenient, practical, comfortable, economical, and all those other useful things a 'sensible' motorcycle is. The very clever DCT arrangement is worth a page of praise alone.
I'm going to fast forward a little now, and tell you at the end of that first test, because I could envisage the wisdom of living with an NC, I ended up calling Honda and requesting one as a long-term test bike. Doing that just two weeks after 'hating' it so much on the way to Wales seemed unthinkable, but that's what I did, and luckily, I got one for a whole year. Bringing things much more up to date, because I ended up enjoying 9000-miles on it, when the chance to have a 2021 model came along, I quite happily took it. Now, after 11,000 miles since June last year on the improved '21 machine, my affection for the bike still very much remains. Let me explain more about why I rate it so much.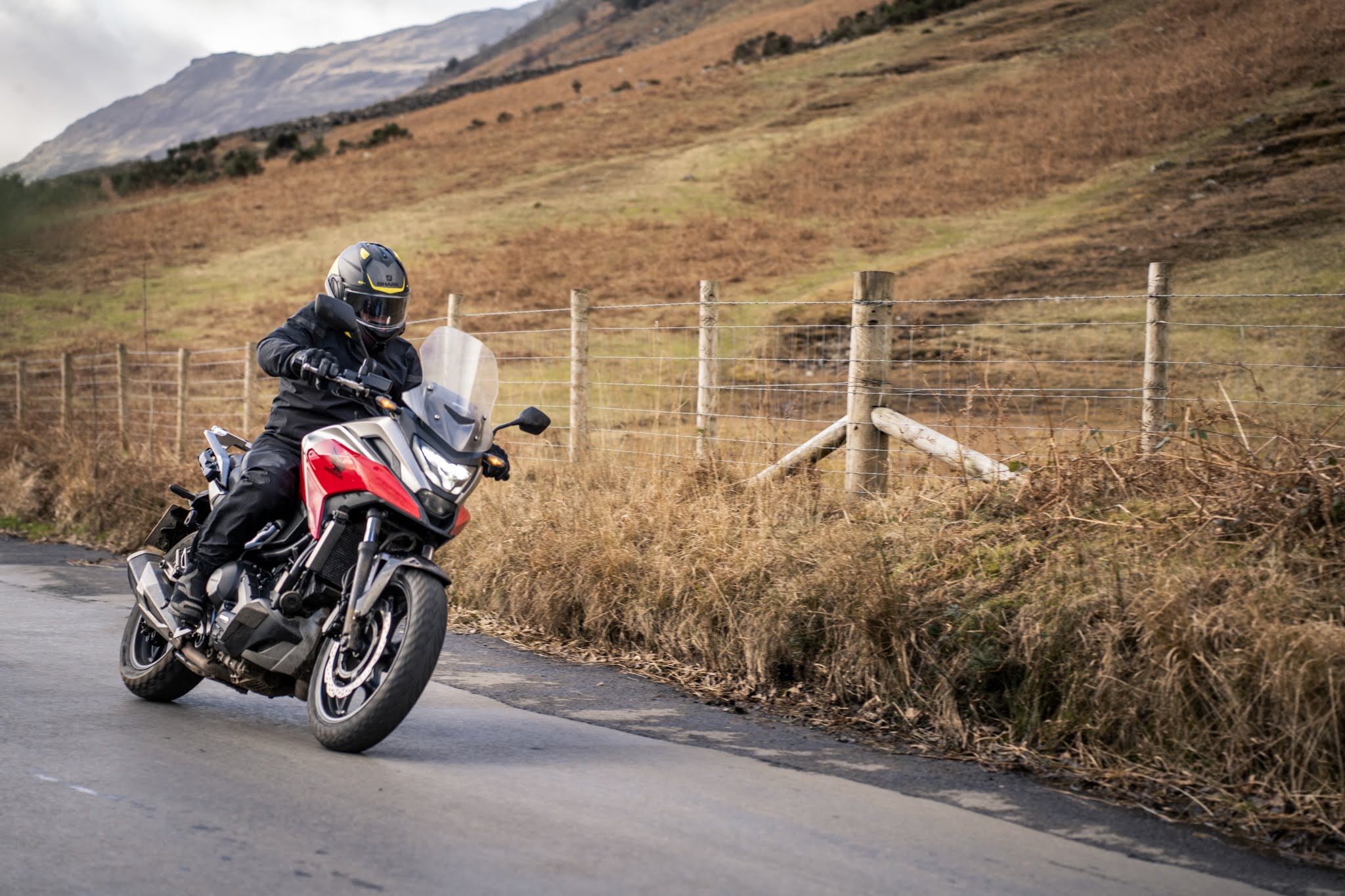 Its fantastic versatility, is probably its biggest virtue. Knowing that it'll more than competently cope with all sorts of trips ranging from nipping to Aldi, to a grand tour up to Aberdeen and beyond is a real strength, and something that counts a lot for me. I think my ten years as a former London despatch rider probably accounts for this. When you're spending 10-12 hours on a bike for 5-6 days a week, it's essential have something as easy and dependable as the NC. I've not forgotten the value of those qualities. To make the bike even more agreeable, I've had a few extras fitted, with hard luggage, a centre stand, taller screen, and heated grips added early on definitely boosting its all-rounder potential all the more. I think the reason I've clocked up so many miles on the Honda in the nine months I've had it, is simply because it's fit for so many different purposes making it a good choice for virtually any type of journey. As a result, I've picked its key up just as often as I would a utilitarian four-wheeler.
It's a curious bike in many ways, and despite its aforementioned accolades, it's not exactly what you'd call stimulating, and I've never got off it after a ride and even thought, let alone said, wow. Appreciation for it isn't instantaneous, it's much more of a slow burn. The engine really underlines what the NC stands for. The latest model might have another 4bhp more than the original, but with a peak of just 58bhp, as you can imagine, it can't produce any thrills. Instead, as it's such a slow-revving motor (with a redline of just 7000rpm), with plenty of flexibility, low rpm throttle response is stronger than you'd think. Think of it producing its power more like a diesel engine, and you'll understand what it's like to ride more. There are power four modes to choose from; Sport, Standard, Rain, and User – a customisable setting which can also use to adjust the engine braking and traction control settings. The power settings effectively adjust the timing of the gearchanges according to how high the system allows the engine to rev before selecting the next higher gear. Overall, it's a far more agreeable engine than you might expect. The only time I want for more is when I'm riding in fairly busy traffic along main routes. Under those circumstances it would be useful to have another 10-15bhp to allow more decisive overtaking. As it is, I often just go with the flow.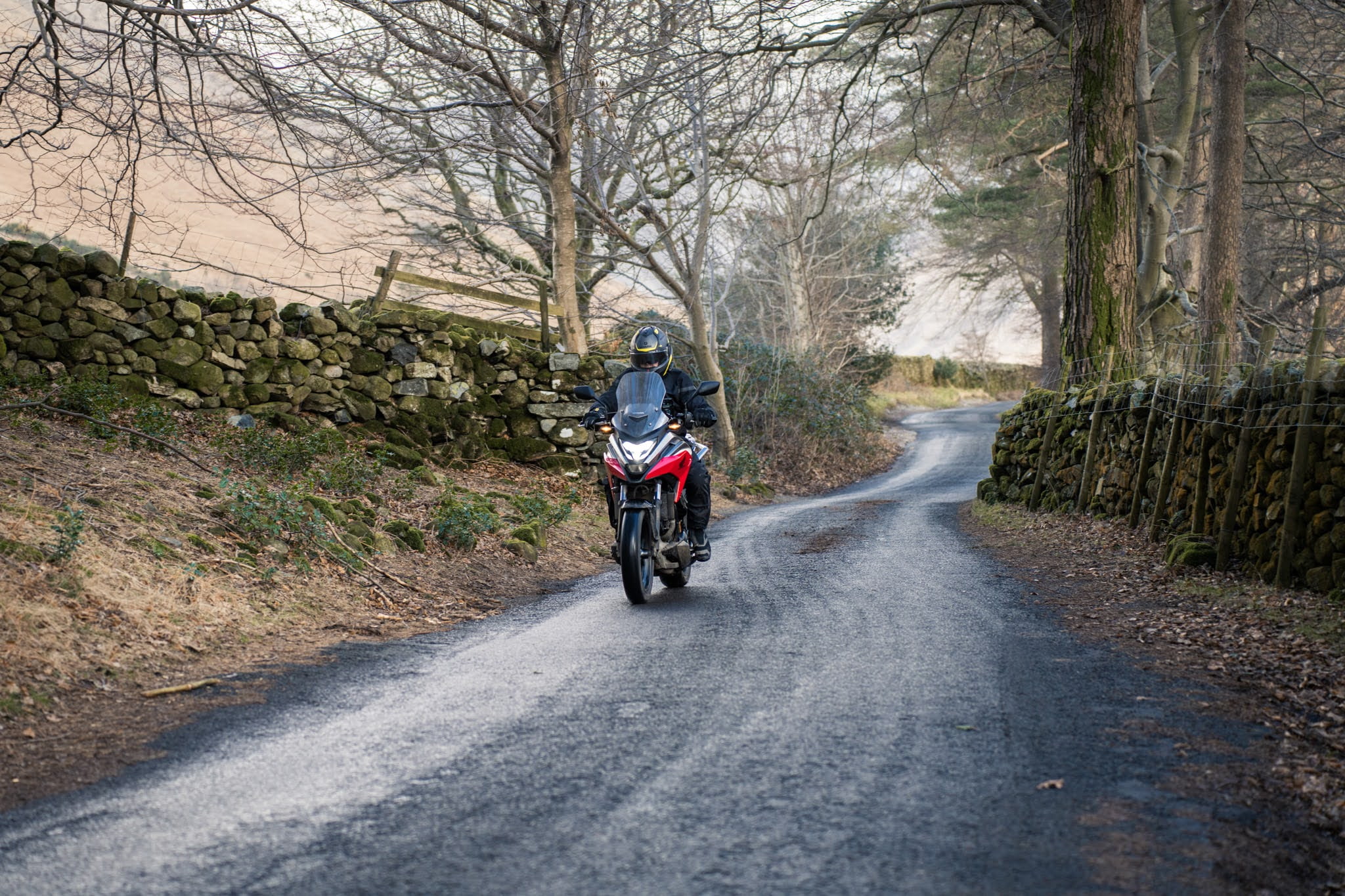 In saying that, one of the advantages of such a relaxed style of motor is its easy-going manner, and very frugal nature. Fuel consumption varies from 45-75mpg, averaging around 60mpg for me. Given the price of the stuff these days, that's a welcome financial relief, and certainly something a commuter would be pleased with. I'd expect its low-revving character will lead to a very long engine life too. Tank range varies from 140-230 miles making it all the more useful for touring – something I've done on the NC several times. The tank itself sits under the seat, giving the Honda one of the very best features in biking, a 23-litre storage compartment where the tank would normally be positioned. I cannot tell just how brilliantly useful this is, being big enough for a helmet, shopping, extra clothing…..you name it, makes it a real winner. Any time I test another bike, I really miss this feature! The position of the filler cap, accessed when you lift the pillion seat isn't to everyone's liking, particularly if they strap luggage to the seat, but I'm OK with it.
What I'm really impressed with, though like the bike itself this takes a lot time to appreciate, is the DCT (Dual Clutch Transmission) semi-automatic gearbox. Again, I wasn't too keen on it at all when I first used it, preferring to choose which gear I selected and when myself. But with more time I learnt to appreciate the system, and given you can override any computer-controlled decision whenever you like simply by hitting an up or down change button, the more I liked it. Considering how quick, fuss-free and seamless the cog-swapping is, I found it hard not to like. Getting back on a bike with a conventional gearbox makes me groan when I have to go through the 'ordeal' of having to use clutch and gear levers! As for juggling the revs and clutch biting point to get away from a standstill cleanly, well that's just a chore compared to the DCT system, where you quite simply twist and go. It lets you win the vast majority of traffic light starts. The engine cannot be stalled.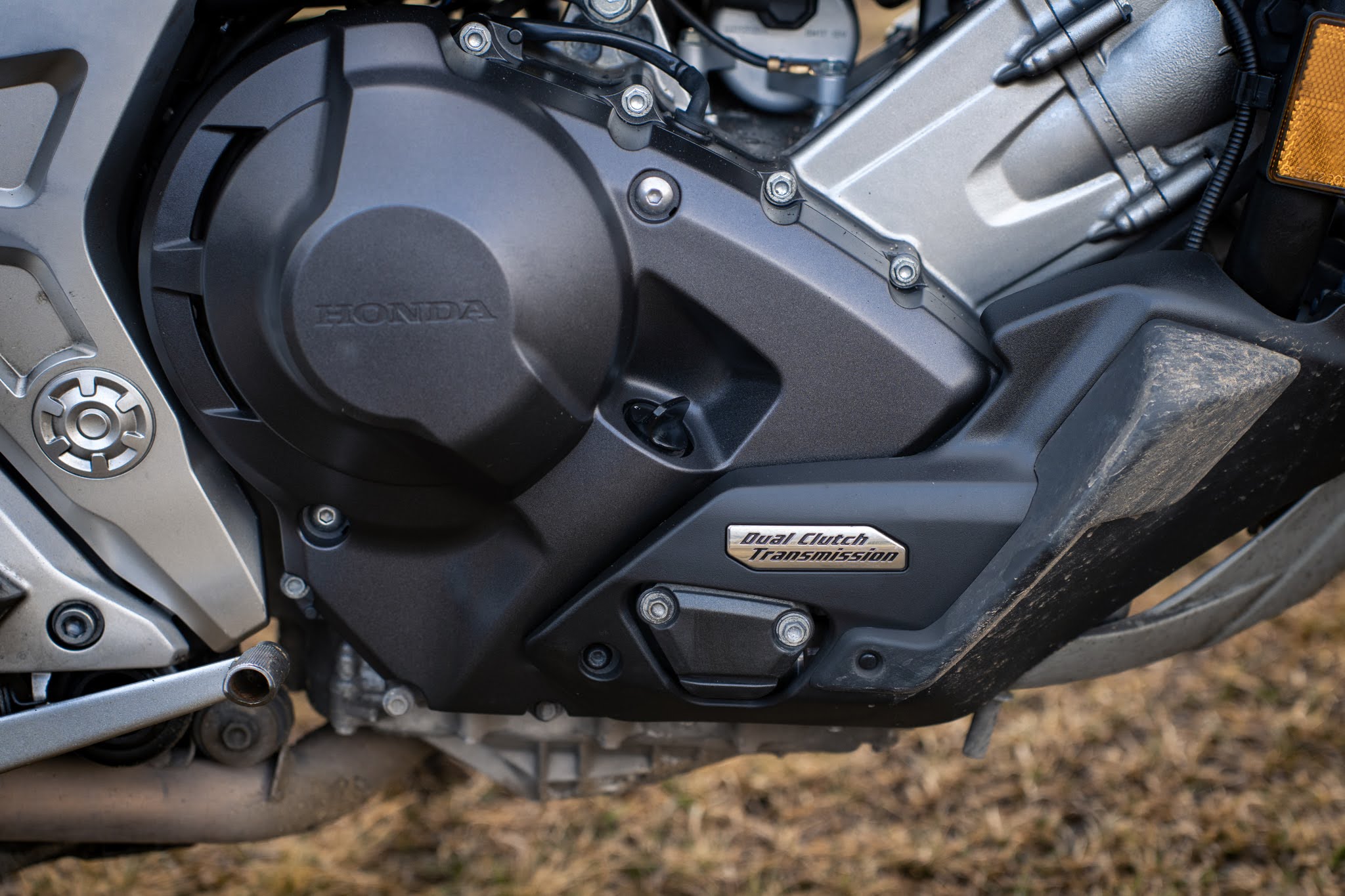 Slightly less impressive, is the way I'd describe the Honda's handling, in standard trim anyway. The OE tyres on my first long-termer were decent enough, but that didn't stop me swapping them for some much better rubber as soon as I could. Before I even starting to ride the second bike, I had Honda fit some Dunlop Mutants. They give excellent grip on all conditions, and as I ride all-year round they suit me perfectly. More significantly deficient, to me at least, is the suspension. I'd done around 18,000 miles in total on both bikes before I decided to finally do anything about it, but after clocking that mileage, at last I got around to improving things. For too long I'd moaned about the sloppy wheel control of the forks and shock over bumps. It led to skipping and wallowing, and more often than I'd like, bottoming out whenever a lot was asked of either end.  The solution came in the shape of an expensive multi-adjustable shock (£647) and fork spring kit (£127) from Hyperpro. The difference in the way the Honda now rides is utterly remarkable, with its vastly superior action making the tyres, brakes and even the engine perform more effectively. No longer do the forks or shock 'crash' over bumps, making the ride quality far better. And as they help the NC to stay on line when cornering harder over rougher surfaces, they improve the bike's safety appreciably too. I doubt a typical owner might want to spend quite as much, but Hyperpro also offer a cheaper spec shock (£430) and rear spring only (£91) which are also claimed to improve things markedly.
Fitting some aftermarket EBC HH brake pads has made the front brake noticeably sharper, though only after I'd had the caliper cleaned up and the disc deglazed, proving how important brake maintenance is. With all those chassis modifications, the 750 can now be ridden much quicker and more safely. OK, it can still feel a little weighty at times, but it steers nicely enough to be hustled along surprisingly quickly. Do that on the right sort of tight and twisty roads and you can raise the heart rate!
Continue with that sort of riding for as long as you fancy, as unlike some sportbikes, you won't need to stop for any physical recuperations. I've had several 500-mile + days and felt pretty much as fresh as when I started at the end of them. There's no doubting the taller Honda aftermarket screen helps with fighting fatigue, but the relaxed riding position and plush seat also play a big part in being able to munch miles so easily and comfortably.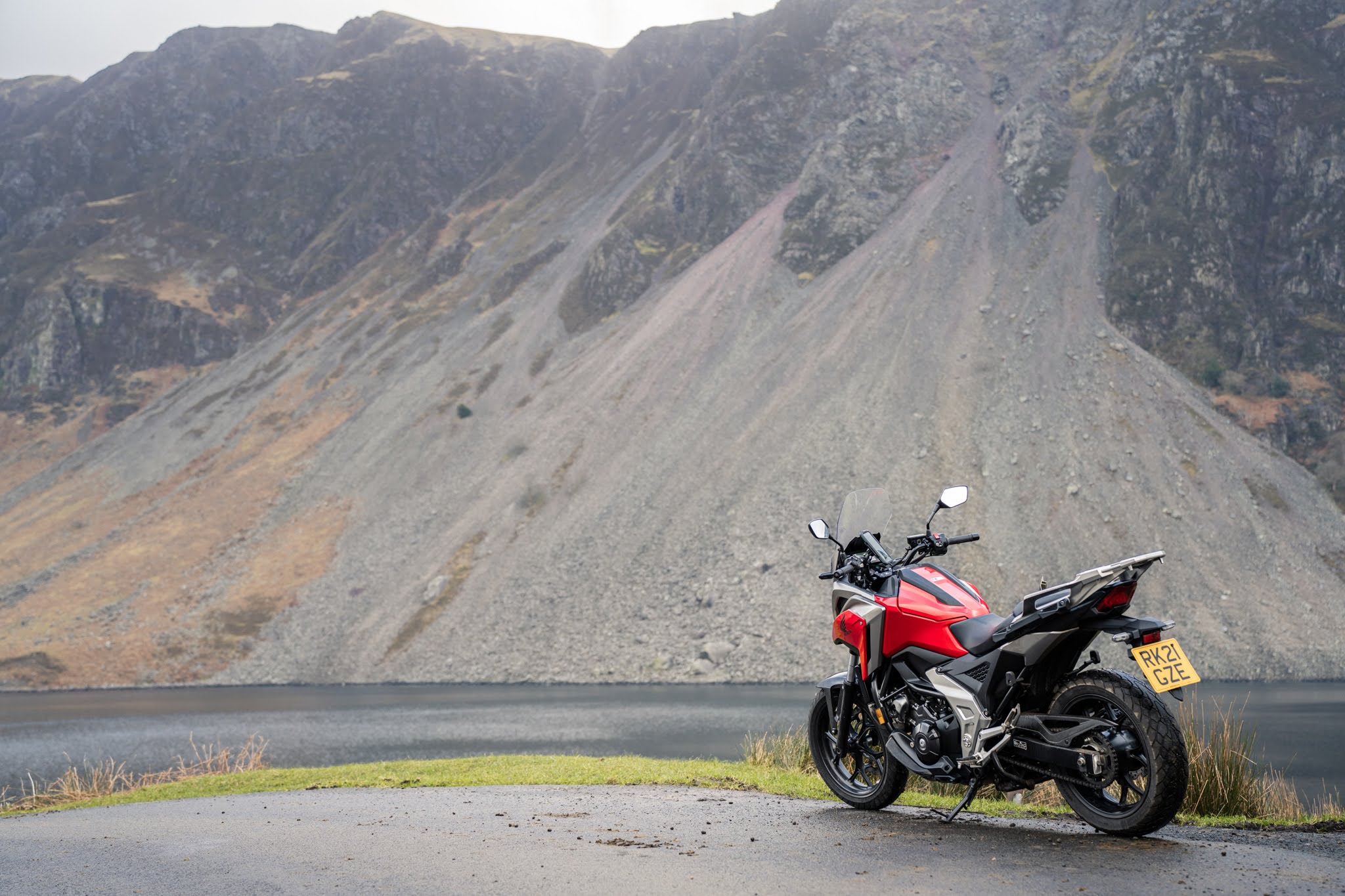 As with every bike, quite naturally not everything pleases me. Its dull reputation makes explaining what it's like to people tricky sometimes. As for praising the NC, well that's nigh-on impossible unless you're talking to an understanding and discernible audience. I wish oil checking was via an inspection window rather than a fiddly dipstick, and given I ride it in all weathers, and for longer distances an ambient temperature gauge and miles-to-go readout for the fuel would be very helpful.
They're minor complaints of course, and in the context of the whole bike don't count for much at all. If you're looking for a fuss-free workhorse offering massive versatility then Honda's do-it-all NC750X is well worth considering. Though believe me, there was a time when I never thought I'd say that!
2021 Honda NC750X DCT
Engine: 745cc, liquid-cooled, sohc, 8v, parallel twin
Power: 58bhp (43kW) @ 6,750rpm
Torque: 51lb/ft (69Nm) @ 4750rpm
Transmission: six-speed DCT, chain drive
Frame: steel-tubed diamond
Suspension: (F) 41mm inverted forks, no adjustment (R): rising-rate monoshock, fully adjustable
Brakes: (F) 320mm disc, two-piston radial ABS calipers (R) 240mm disc, single-piston ABS caliper
Tyres: (F) 120/70-17; (R) 160/60-17
Seat height: 800mm
Wheelbase: 1535mm
Kerb weight: 224kg
Fuel capacity: 14.1 litres
Honda NC750x IMAGE GALLERY
Knox products worn on test!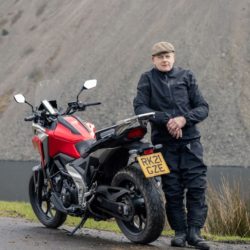 Related posts