Ducati Streetfighter V4
The review from KNOX
WRITTEN BY AARON TRAVELL
PUBLISHED: January 4th, 2022
Over the last few years, the Super Naked sector has gone mad, they've gotten faster, harder and are unbelievably capable on road and track. But like all sectors, there are Super Naked's, and there are Super Naked's. The Ducati Streetfighter V4 is the latter!
Before we get into it, let's get a few specs out of the way with our Streetfighter V4s model – 208hp, 178kg dry, £20,955… enough to tell you that the Ducati Streetfighter V4s not only packs the hardest punch, but is pretty much the most expensive of its rivals.
But like all spec sheets, there is more of a story to tell.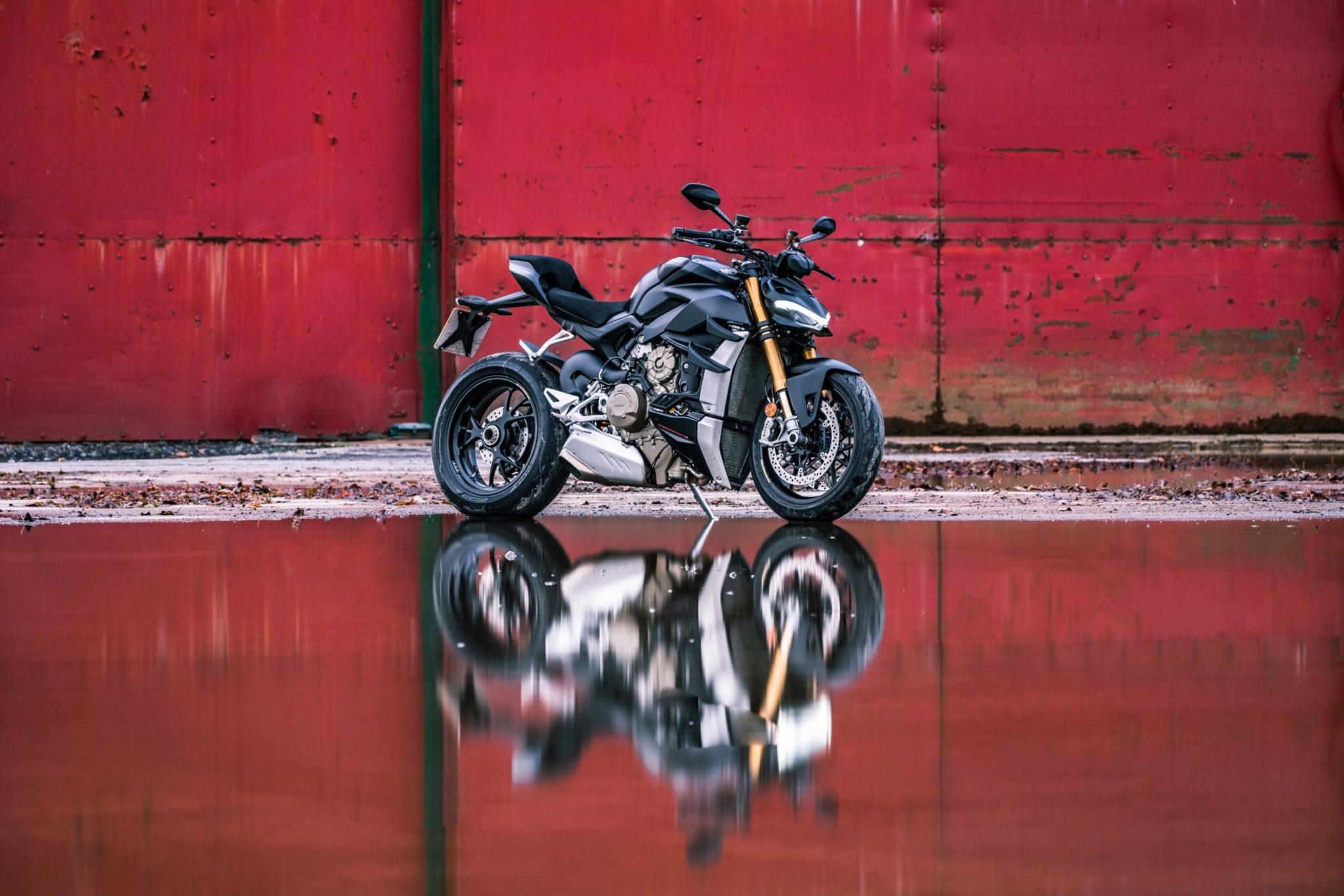 I found the Streetfighter incredibly confidence inspiring and easy to ride. Perfectly balanced front to rear, loads of mechanical grip, a planted front end, easy to turn in and the bike held a lovely line especially with the engine braking set to high. While our test conditions rarely rose above 5C, I was able to take real liberties with it, it just rides like a very well set up machine. The ohlins suspension was beautiful, plush, yet supportive enough to get a lick on. Dynamic mode on the electronic suspension uses inputs from the 6 axis IMU to adjust compression and preload damping based on how you are riding. While I may stray to a manual setting on track, the Dynamic mode felt great to me. On the road, I opted for street or road throttle mode, softening the throttle incredibly well and mellows out the monster 208hp V4 motor which should, on paper at least, be an animal to ride. At around 32mph in 4th gear, ½ of the engine even shuts off, furthering the road going refinement of the V4s.
Comfort wise, it was amazing, the riding position was perfect for me for a supernaked, comfortable for all day riding, but sporty enough to feel like I could engage with the corners in front of me. The seat is also one of the most comfortable seats I have used, just the right width, size and lined with gel.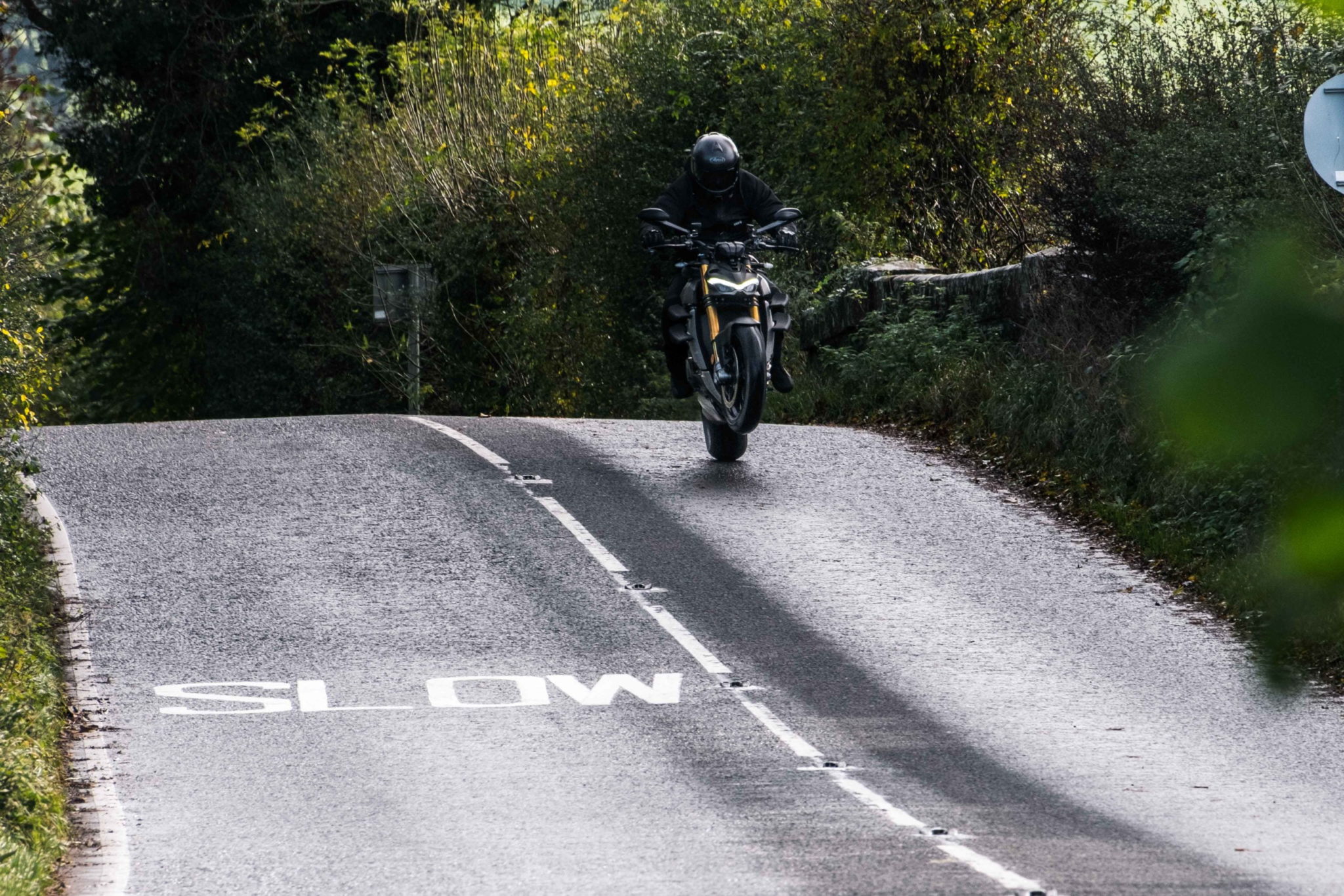 Traction control was kept at the lower settings, while I tried stronger settings, they mostly just flashed at me without actually needing to interfere, so setting around 2-3 felt about perfect to me, even in wet and cold conditions. While it's a powerful motor, there is such mechanical grip on offer, unless you are riding erratically, they are mostly in the background. I am sure the electronics would have more to do on track, especially with the Pirelli Rosso Corsa 2 tyres fitted, which even have my comparatively limp GSXR750 spinning up in 3rd gear after a few hot laps.
I loved riding the Streetfighter on the road, it just felt right. There are only a few bikes that make me feel that "just right" feeling and Im pleased to add the Ducati Streetfighter V4 to that special list.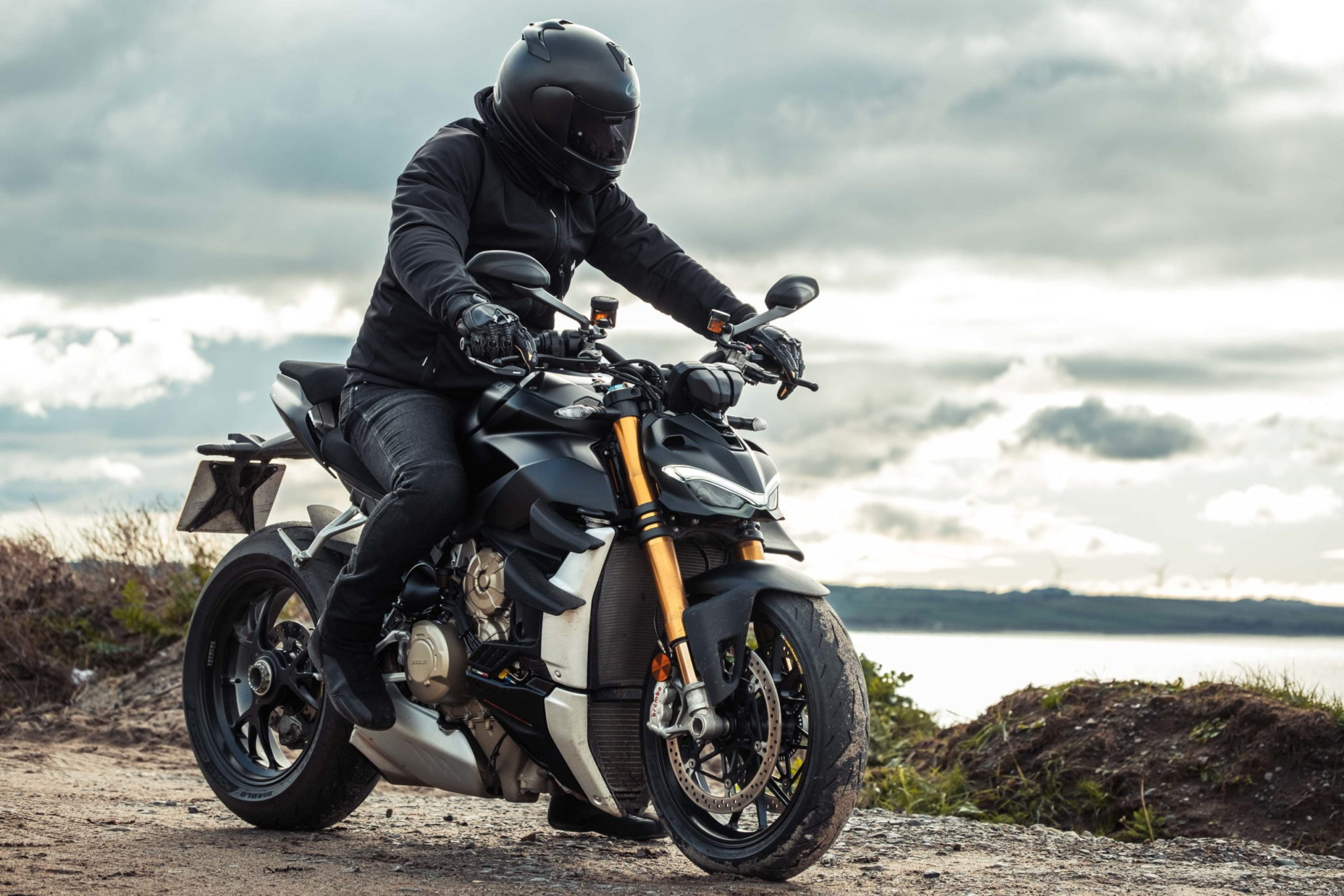 You'll notice I haven't spoken about the engine yet. There is only so much you can tell about a 208hp V4 by tickling the throttle on the road. So we took it to somewhere we could stretch its legs a bit.
Conclusion – The streetfighter V4 is fast! Not just naked bike fast, it's modern 1000cc SuperBike fast! Its go bags of power everywhere and is super revvy, making power right up to around 14,000rpm. And the sound, just wow. You can hear snippets of its vocal chords on the road, but when its singing, the Ducati V4 motor turns into Pavarotti and blasts out a tune worthy of a standing ovation.
But way more impressive (to me at least) than the blisteringly fast motor, is the way the Streetfighter handles the power. I've tested most of the Super Naked's out there and when doing full throttle work, its always a cocktail of wheelies, slapping bars and a good dollop of fear. They're often hard work and Im not too proud to say they can be more than a bit scary. The streetfighter on the other hand was awesome! Nailed against the throttle stop from launch, its able to get its power down to the tarmac with composure and brutal efficiency. Race mode, full power, TC setting 1, wheelie control 1 or even off, you can more or less hold the throttle to the stop, bang up the quick shifter and it is simply brilliant. If you tried that without wheelie control on a SuperDuke R, you'd be on your backside. If you tried going full throttle to the stop on a ZH2, you'd be tank slappered onto another planet.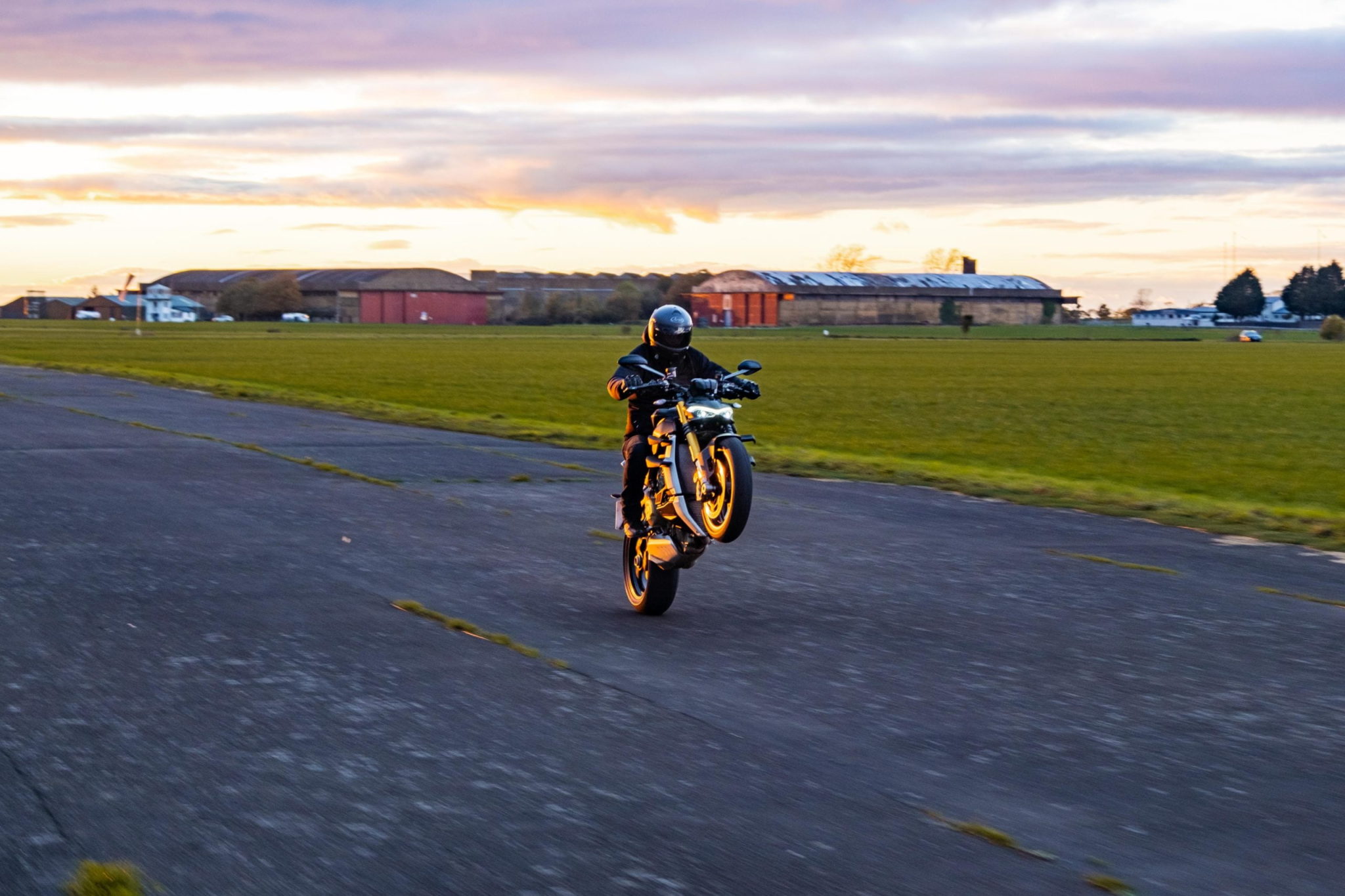 I have heard other reviewers say the Streetfighter V4 isn't as playful as its piers. I think what they really mean is that the front wheel doesn't go skyward the second you open the throttle. The streetfighter is way too accurate for that and the engineering priority has clearly been for ultimate speed and stability, hence the wings. But you can't have a bike that has a planted front wheel and one that launches it at the slightest wiff of the throttle.
But don't get wrong, the streetfighter loves to throw a few shapes!
The streetfighter v4 loves a bit of hooligan fun just as much as any other naked I've ridden, you just have to be deliberate with it. It loves a good wheelie, and with ABS set to level 1 you can pull skids, slides and of course rolling stoppies.
And while we're on stoppies, the full Brembo brake set up with stylema calipers were next level and the ABS set up was awesome allowing seriously hard braking with no ABS interference. I loved doing a few stunts on the Streetfighter!
I guess the litmus test for how much I enjoyed riding it was the fact that I put more miles on it than I ever have done with a press loan bike.
But on a motorcycle I'm so taken by, are there any downsides to the bullet from Bologna?
Firstly, the fuel tank range is pretty bad. During our test, we averaged 80-90 miles before the reserve light came on, irrespective of how hard we rode it. Like an electric motorcycle, unfortunately a bit of range anxiety creeps in and makes longer rides less relaxing than it should be. On track, this bike will go through fuel like a raging alcoholic through a liquor cabinet.
Secondly, not really a bad point, more of an observation. The Streetfighter V4 is an incredible piece of engineering, but unfortunately the degree of craftmanship Ducati have gone to with the V4 means you could do with being a brain surgeon should you want to do any work on it. Fitting my friends Streetfighter V4 with radiator guards took 3 hours – no joke, and we certainly weren't smiling when we finished. Its not a bike I'd be comfortable working on, where I'd normally do all my own mechanic jobs including valve clearances and the like.
Thirdly, again not a downside, more of an appreciation of how fast it is. I'd love to see some sort of speed limiting devise or cruise control, not that it's a requirement for a Super Naked, but the Streetfighter V4 is so fast, its just not always easy to keep within speed limits on the road.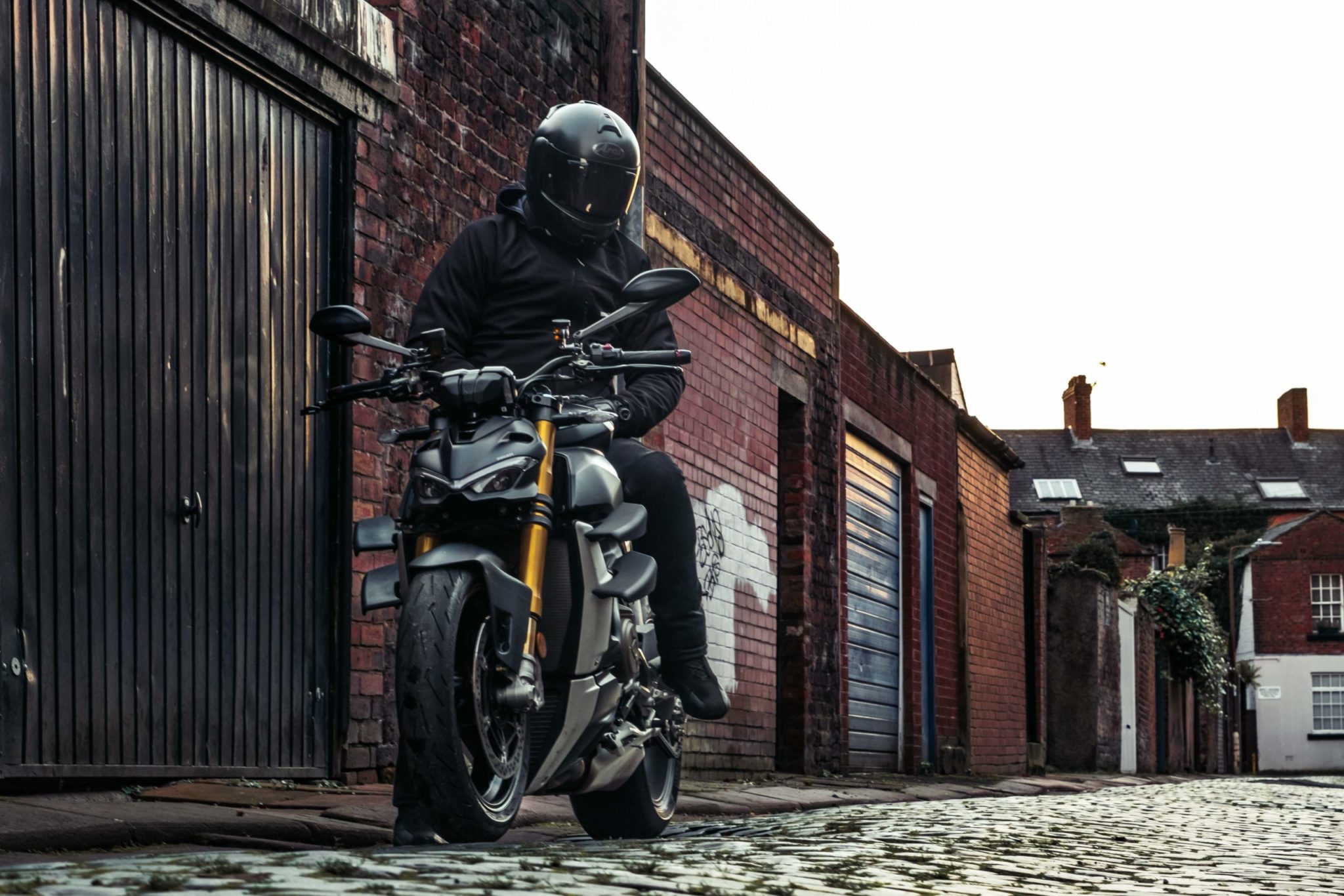 But, like any motorcycle, they all have pros, cons and compromises, and the only one I mentioned that is really of consideration to buyers is the fuel range which isn't great. But the pros far outweigh the compromises. It looks the part, rides the part, and more importantly makes you feel the part!
From the street, to the open road, to slammed against the throttle stop, it frankly blew my socks off. The Ducati Streetfighter V4s is the real deal and in my mind at least, the very best supernaked available to purchase today.
Ducati Streetfighter V4s gallery
Devitt, our Insurance Partner provided an indicative quote for this machine of £486.25.
*Devitt Insurance Quote is based on Mr Average. Mr Average is: Based on a 40 year old married Bank Clerk, living in LA13. Kept in a Garage, held full bike license since 2000. Bike has Biketrac and a Datatool S4 C1 Red security. No accidents or claims. Comp cover, 3000 miles, 5 years protected NCD and just SDP use Please see https://www.devittinsurance.com/.
Knox products worn on test!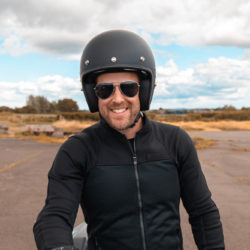 Related posts