Yamaha R1 vs Suzuki GSXR 1000 - Knox Superbike Shootout 🔥 P.1 The road.
WRITTEN BY Aaron Travell.
PUBLISHED: September 16th, 2022
In this 2 part superbike shootout test, we put the Yamaha R1 vs the Suzuki GSXR 1000 head to head, on the road and on the track!
Though in recent decline, Superbikes are still the pinnacle of motorcycle advancement, performance, technology. They represent the biggest thrill in the motorcycling and are designed to do just one thing, go fast!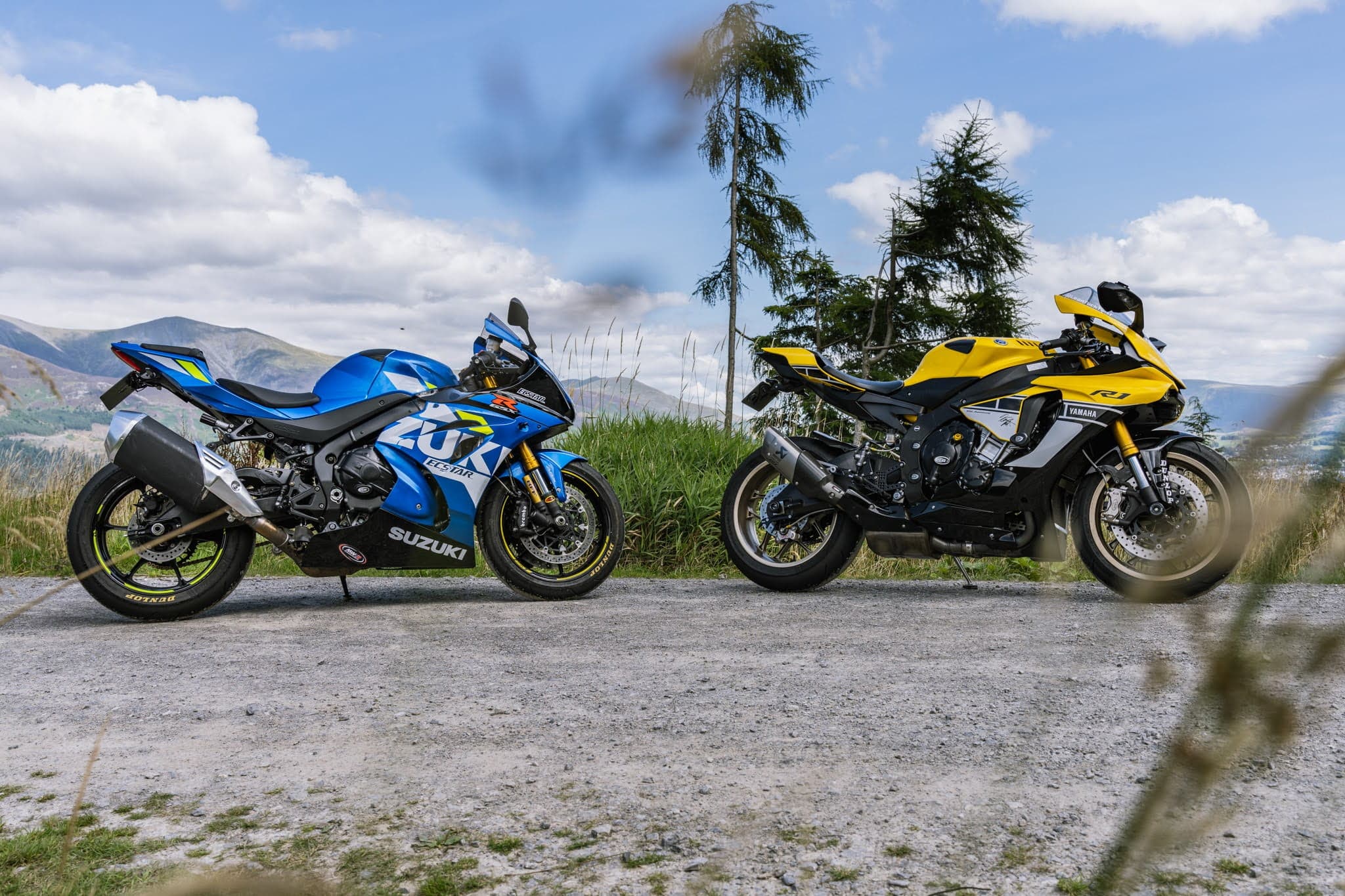 Harking back to 2001, the GSXR1000 is legendary. Throughout its history, it's won and lost championships, been plagiarised, battered and bruised and is currently facing extinction by the Eurocratic powers that be. But the GSXR in this test will endure, only facing death by thrashing or crashing! Most recently updated in 2017, our GSXR has a 200hp inline 4 motor with VVT, 200kg wet weight and sports an exhaust the size of a nuclear bomb.
Yamaha's R1 is equally famous, the latest edition packs a 200hp wizz banging cross plane crank 4 cylinder. The modern R1 is a no compromise weapon and has experienced huge amounts of success in racing and in the showroom since its 2015 introduction. With sharp and compact looks, a sound more akin to a MotoGp bike and a top drawer electronics package, it's a tough bike to beat.
As both bikes in this test are owned and not part of some press fleet, like most owned motorcycles, they've had more than a bit of fettling.
In the case of our GSXR, since ownership, we found the stock bike more than a handful. Its monster engine combined with a bargain basement shock and steering damper ensures the moment its ridden hard, instability, tank slappers and near death experiences are never far away. In our case, a 140mph tank slapper crash at Snetterton last year put the nail in the coffin for us in terms of our opinion of the stock GSXR. However, with some dedication and spanner work, she's back to life, straight as an arrow and fitted with completely new chassis components from Nitron and a Bitubo steering damper. This has fixed all the stability issues. We've complimented this with a Brembo RCS master cylinder and a new Starlane race dash as the original was smashed to a million pieces. So, while it's had a potted history, she's now mint and ready to go!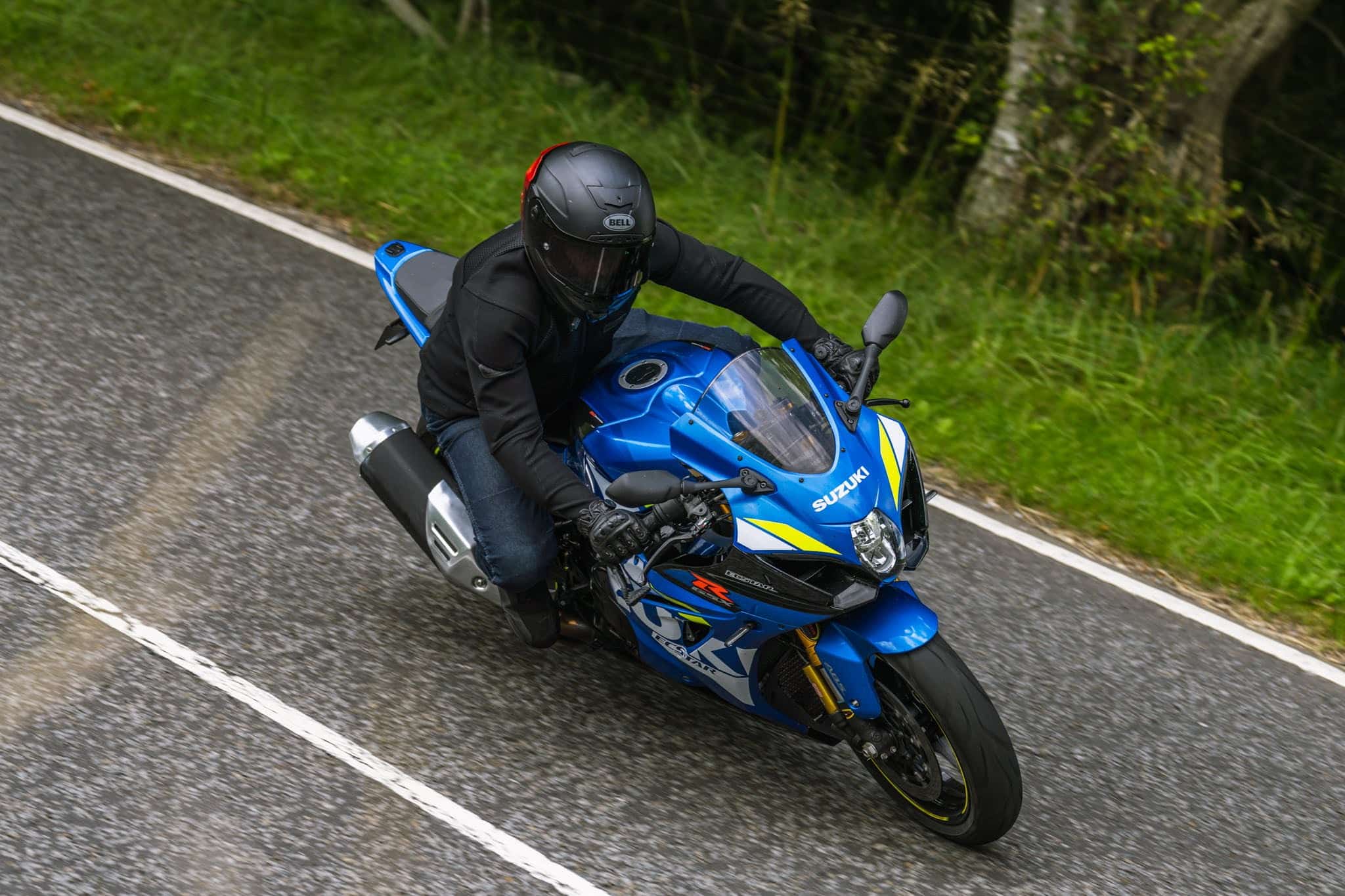 The Yamaha R1 in this test a 60th anniversary edition which Olly has owned for 2 and half years. Olly has owned nearly all the Japanese litre sportsbikes, and also a gen 2 BMW s1000rr. So far, the R1 has been his favourite delivering some serious smiles per gallon! However, like most bikes it's not without its flaws… After a demo ride on the R1, Olly found the standard brake setup poor, especially coming from the BMW. A snatchy throttle and poor battery performance meant a few modifications had to be made. In terms of upgrades, aesthetically, a few things, grips, bar ends, carbon bits here and there. Olly has updated the braking system to a full HEL setup, full crash protection & rearsets from R&G, and also paint protection film to prevent chips on the beautiful bodywork. An Akrapovic decat system is usually installed, however for this test the catalytic converter was reinstalled to quiet it down a bit.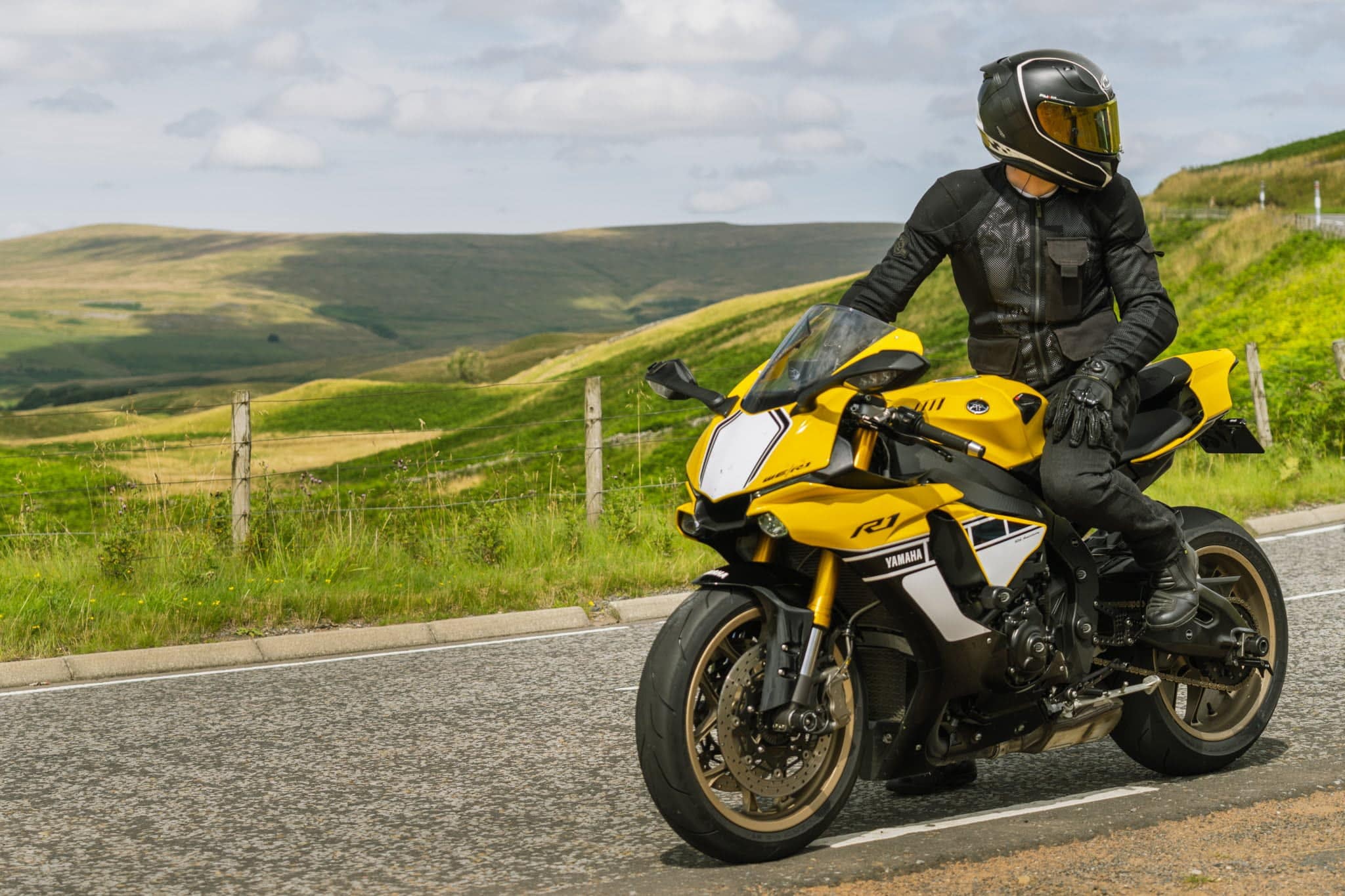 First thing to say about superbikes is that they're now often branded as irrelevant for the road. The consistent narrative is that they're too fast, too stiff, and riding them for any period of time will see you booking into your nearest chiropractor and turn your wrists to mashed potato.
The reality is that Superbikes can do pretty much everything any other road going bike can do. Nick Sanders circumnavigated the world in 19 days on his 2005 R1, covering 19,800 miles and averaging 1,000 miles per day. Bruce Smart of Teapotone spent 442 days riding his GSXR1000 through 54 countries and covered an incredible 74,000 miles!
On Day 1 of our 2 day road test we covered 170 miles… But importantly, every one of those 170 miles counted, we were engaged and alive for all of them, not wishing we were on anything else as we carved corner to corner through mountain passes.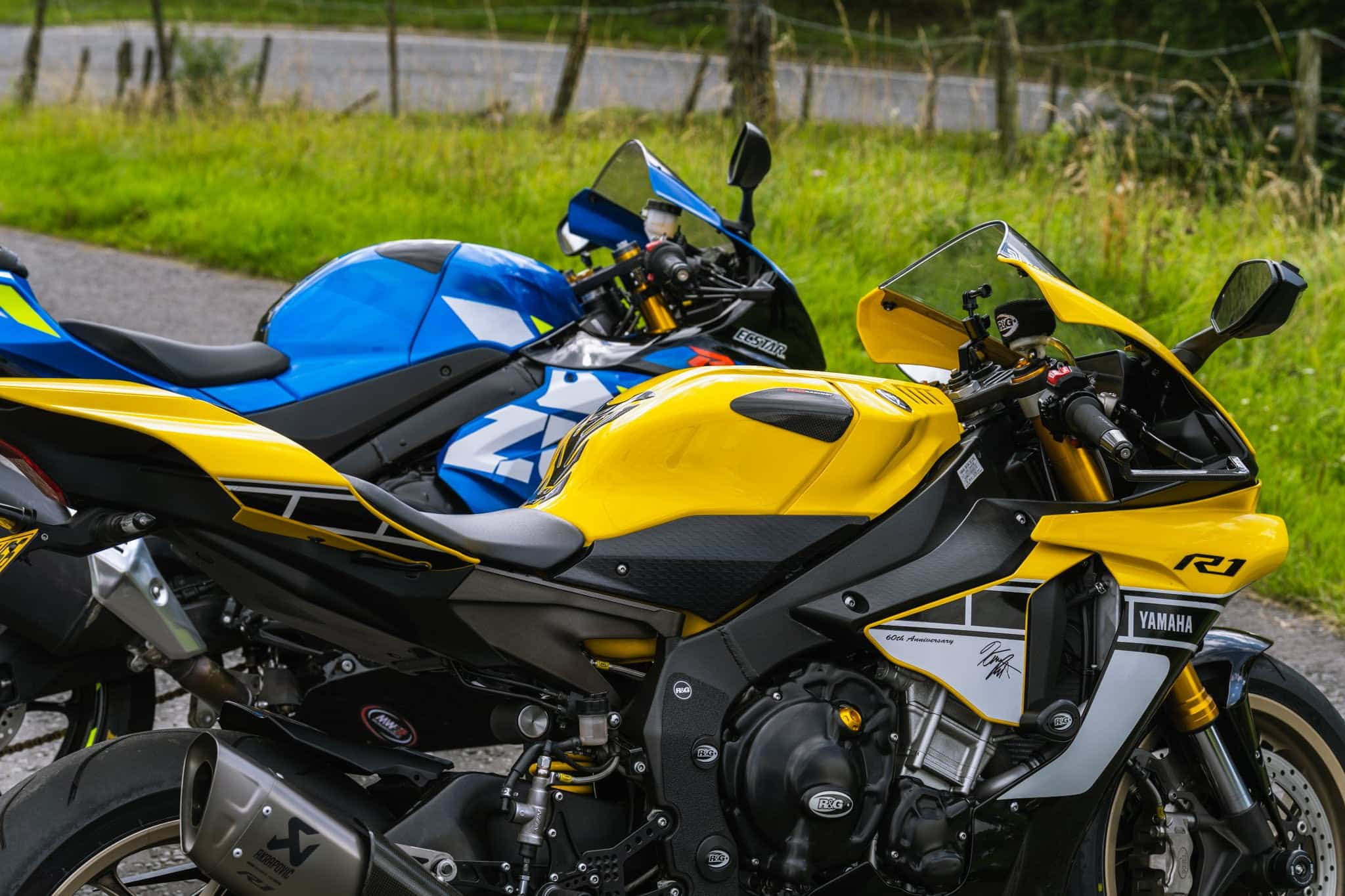 The GSXR is probably the most familiar to most riders swinging a leg over one. It sounds conventional, has a familiar riding position, is light and flickable to manoeuvre at slow speeds, handles in a predictable manner and has a smooth and confidence inspiring motor to use. Jumping off my own GSXR 750, it is quite familiar… that is until you open the throttle! The Suzuki GSXR engine is an animal, it has monster power and drive everywhere in the rev range due to its VVT trickery. This means you don't need to rev the nuts off it to get it going and you can be lazy with your gearing if you want to be. But once you do get it going, you'd better strap yourself in, because this thing is about to go warp speed! Although it's hard to fully experience it on the road, the top end power of the GSXR is unbelievable, it is so fast and you feel every single one of the BHP on offer. Although the GSXR has a silencer that is more visually aligned to a submarine than a motorcycle exhaust, the noise it makes is incredible. Combining with an awesome quickshifter blipper, the audible experience is simply fantastic and matches its powerful performance.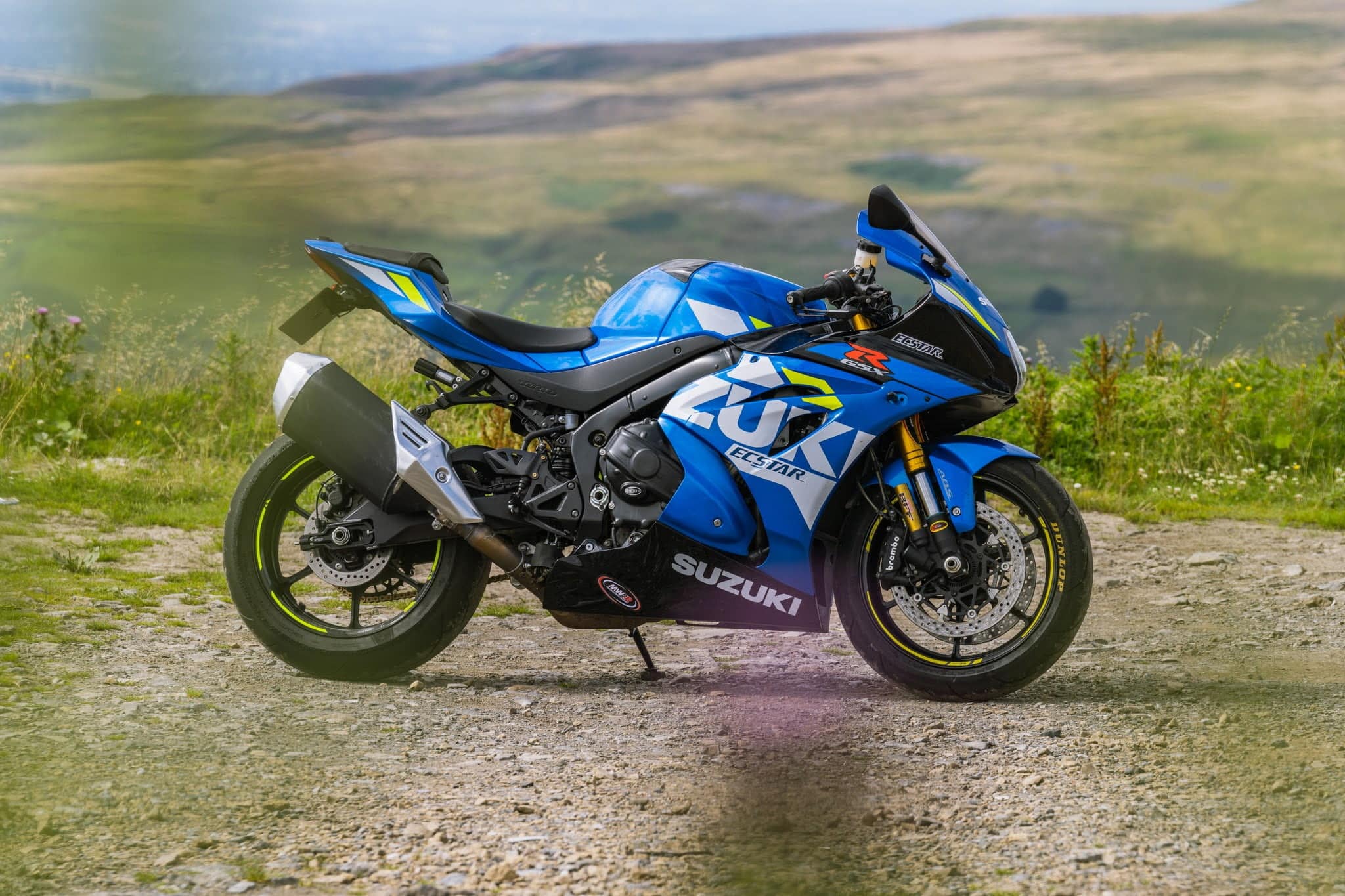 The R1 is comparatively less familiar, its wizz banging cross plane crank engine ensures your riding experience is uniquely R1. A bit of a pig to start, easy to stall, harder to manoeuvre and riding at slow speeds has us slipping the clutch in 1st gear at speeds less than 30mph. If this all sounds bad, it's forgotten the moment you leave car park and town centre, because once up to speed its fantastic. Its compact frame and engaged riding position suddenly make sense and you feel at one with the bike and the road in front of you. Ironically, Olly has a "WeR1" motif applied to his tank. It's ironic because that is how you feel with the R1, bike and rider together as one.
I spent most of my time re-calibrating how the Yamaha was in reality compared to my expectations. I had an expectation the motor would be an animal that was wheeling every time the throttle was opened. In reality, it was smooth, amazing drive, but not in any way intimidating and the bike was planted. I expected it to be crippling based on some of the online reviews I'd seen, in reality, it was more than acceptable. I expected the stock suspension to be poor in comparison to the aftermarket hardware on my own bike and the GSXR 1000 in this test, but the reality was, it handled great, if a little less plush and controlled in this road going environment to the GSXR's Nitron set up.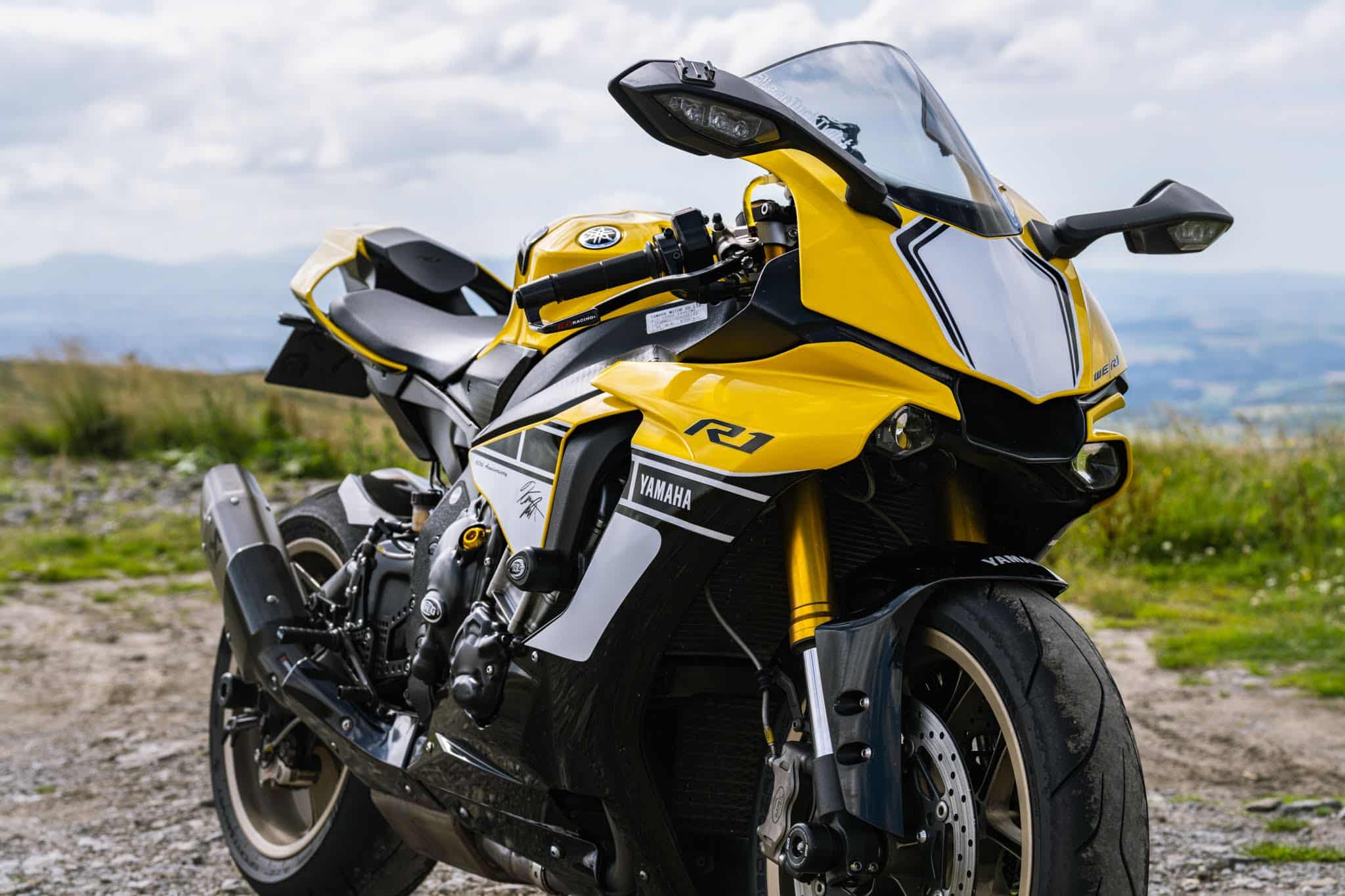 As if often the case, feeling is one thing and reality is another. So, we put them up against the tape measure and the results matched our feelings.
The R1 has a 1cm higher seat, 2cm lower bars, 3cm higher pegs and the combination of these 3 measurements put you in a more racy riding position, higher seat and pegs with lower bars, although the aftermarket rear sets fitted to the R1 may skew this slightly even though they were on the lowest setting. Objectively against the tape measure, the GSXR has a more relaxed riding position and that makes road riding on it more comfortable. The seat was also an interesting one, both riders sure that the R1 was a harder unit, but against our Shore hardness tester, they were equal, although the GSXR has a thicker amount of padding and you definitely feel its extra comfort on longer stints. On the weighing scales, the R1 really impresses, with a 194kg weight vs 199kg of the GSXR, both bikes weighed with tanks that were a 20 mile ride from being brimmed with fuel. It's not hard to see that in race spec, the R1 would be a really light bike.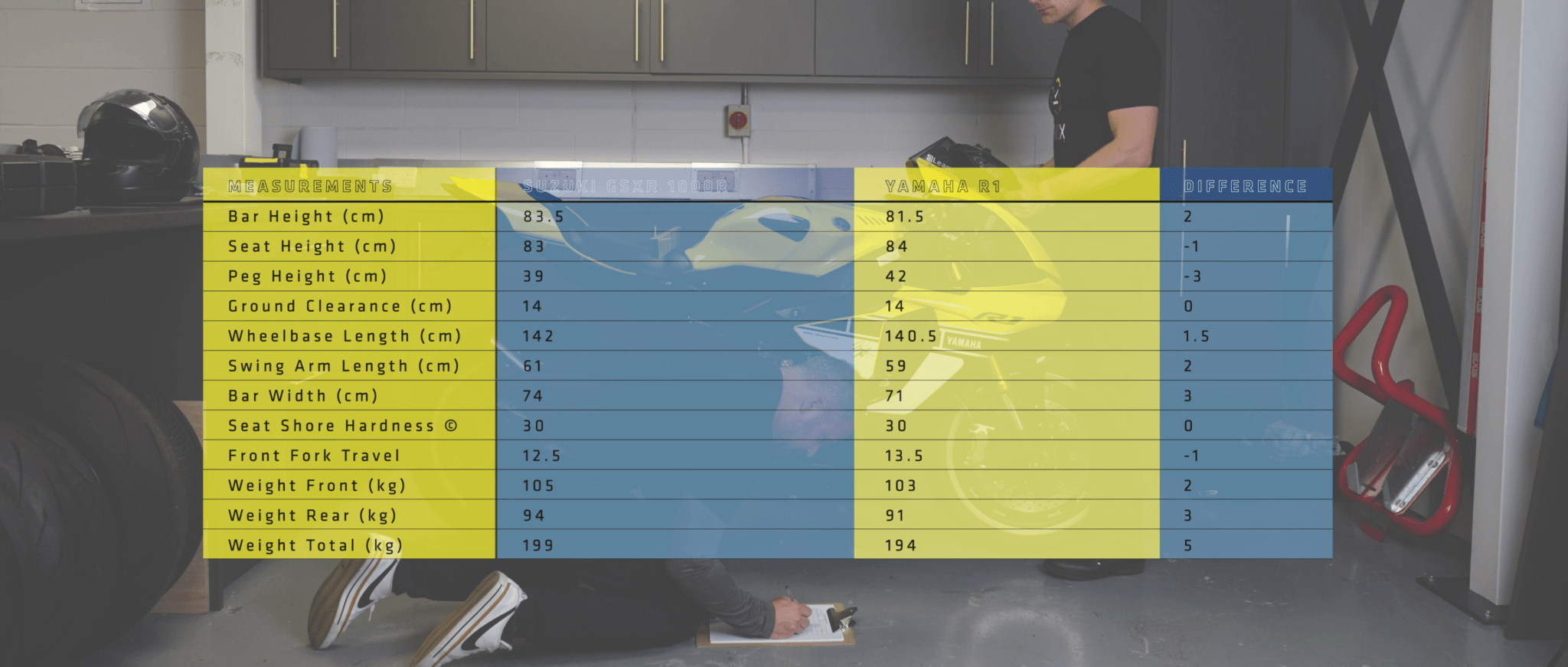 Fuel wise, the R1 is slightly worse than the GSXR, its fuel light appearing consistently around the 90 mile mark, in comparison to the GSXR's typical 110.
Japanese bikes are often and rightly criticised for their braking performance, a mushy compromise of huge vein like lengths of rubber brake lines leading to ABS pumps, with said pump controlled by electronics that feel about as modern as a Commadore 64. Brake hard and ABS interference rears its head all too quickly leaving you feeling like you are heading for the grass verge instead of actually stopping. In the case of the R1, Olly resorted to a fully revised HEL set up yet opted to retain ABS for legality purposes. This hardware investment has significantly improved matters, and our R1 now has excellent road going braking, lots of feel, power and rear wheel lift is possible with minimal ABS interference.
Similarly, Geoff's GSXR is fitted with a Brembo RCS19 master cylinder. This seems to have remedied some of the weakness here too, combining with a better fork strength from the Nitron suspension to reduce dive and improve performance. Rolling stoppies are now possible on the GSXR1000 even with ABS on!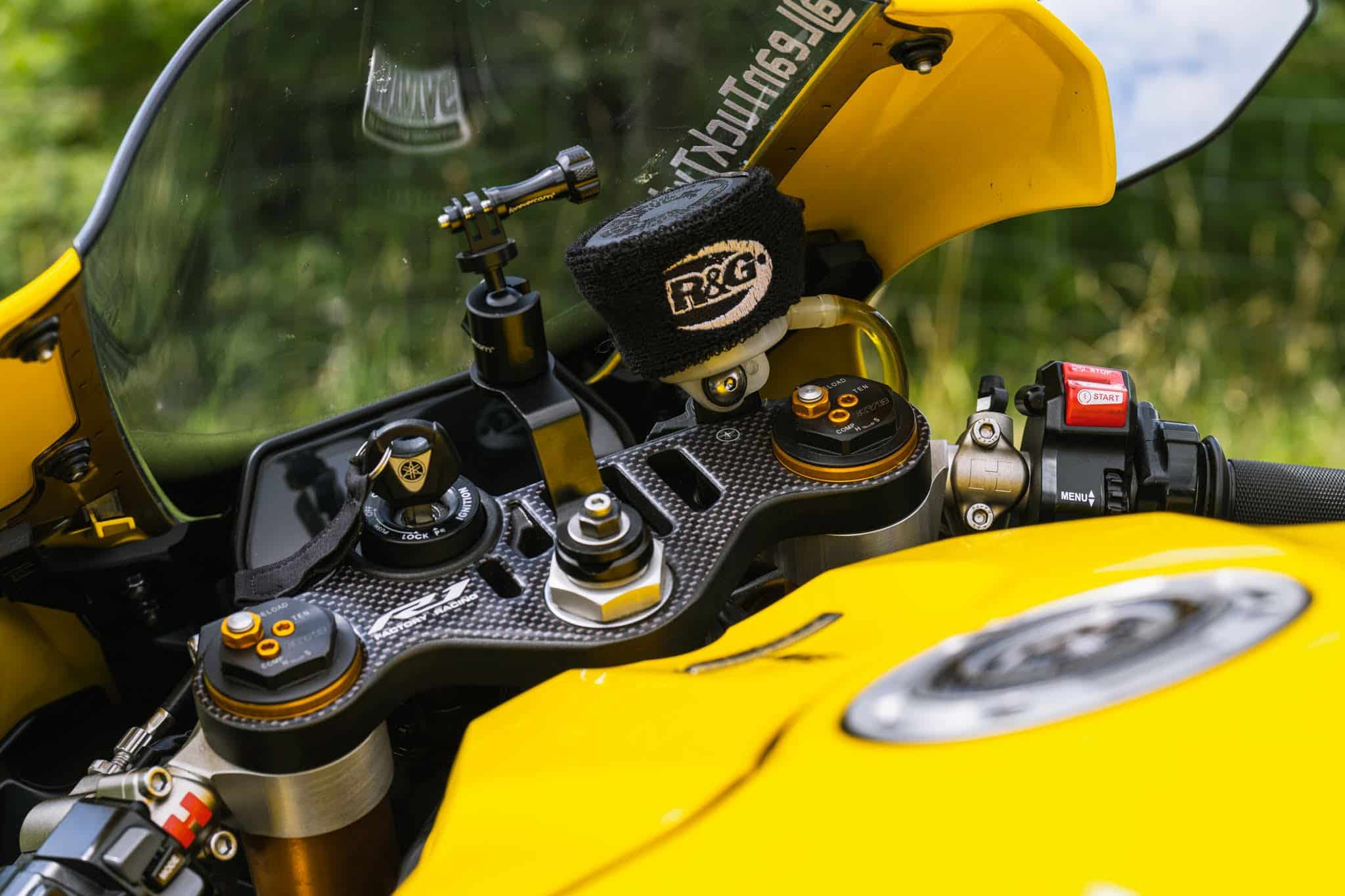 On the road both bikes do a phenomenal job in the handling department, the GSXR is light on its feet, flickable and tracks a beautiful line, sitting slightly taller in the front than the R1 means cornering downhill on the road gives a more comfortable feel, less like you are pushing all your weight through the front tyre.
In terms of the R1, there is something very right going on handling wise. Unable to put a finger on exactly what specifically it is, it's enough to say "it just corners really well" and holds a beautiful cornering line, feeling perfectly balanced front to rear. The engine braking seemed the ideal balance of allowing the corner to flow with enough resistance to hold a tight line.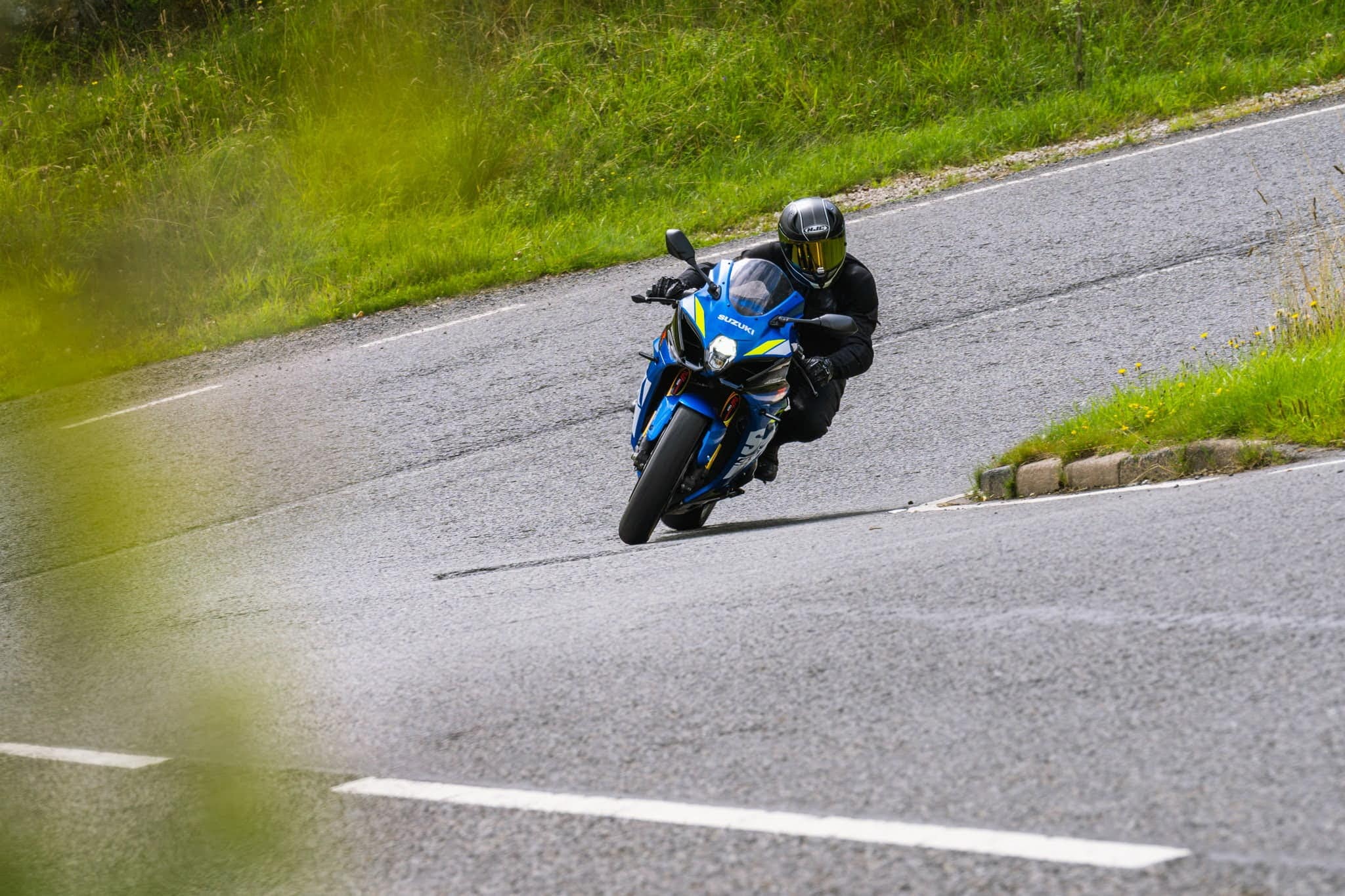 Looks wise, both bikes look great in our opinion, the Suzuki has a bigger stature matching its increased comfort, the R1 compact and arguably has some nicer designed finer details. Its noteworthy that 80% of our Instagram followers preferred the R1 looks wise.
Its fair to say that electronic aids are a massive part of superbikes these days. In this road test, its also fair to say that most of the time, they were untroubled, and we'll leave full evaluation until the track test. Even on the road though, the R1 undeniably has the edge with many more setting possibilities in comparison to the Suzuki's +/- traction/wheelie control set up. On the GSXR, I ended up opting for level 1 which allowed me to do what I wanted and was the closest experience to the non-TC bike Im used to.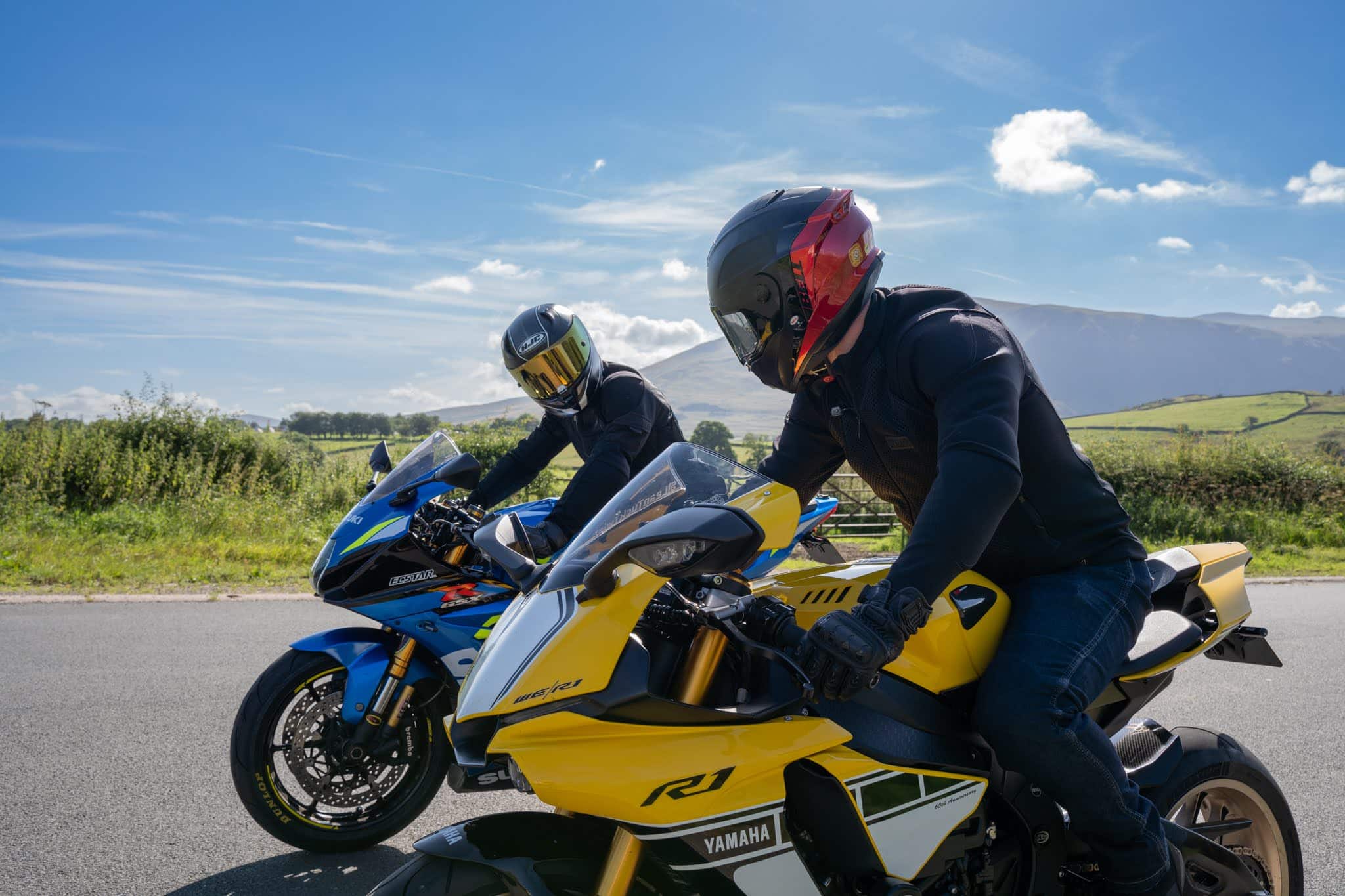 But in the end, our 2-day road test just felt like the start of something. The R1 and the GSXR have their distinctives, strengths and weaknesses on the road, but these are Superbikes at the end of the day, and both of us reserving full judgement until the next part of the test, the track!
Thanks for reading part one of the Knox Superbike shootout. In the next article, join us we turn the heat up, take a deep breath and twist the throttle till it won't go any further at arguably the UK's most gnarly track, Oulton Park!
Knox products worn on test!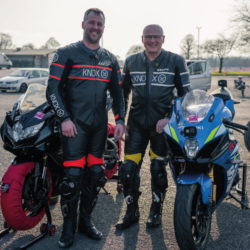 Related posts