2022 Honda NT1100 DCT by Chris Moss
Pictures by Chris Moss
PUBLISHED: June 28th, 2023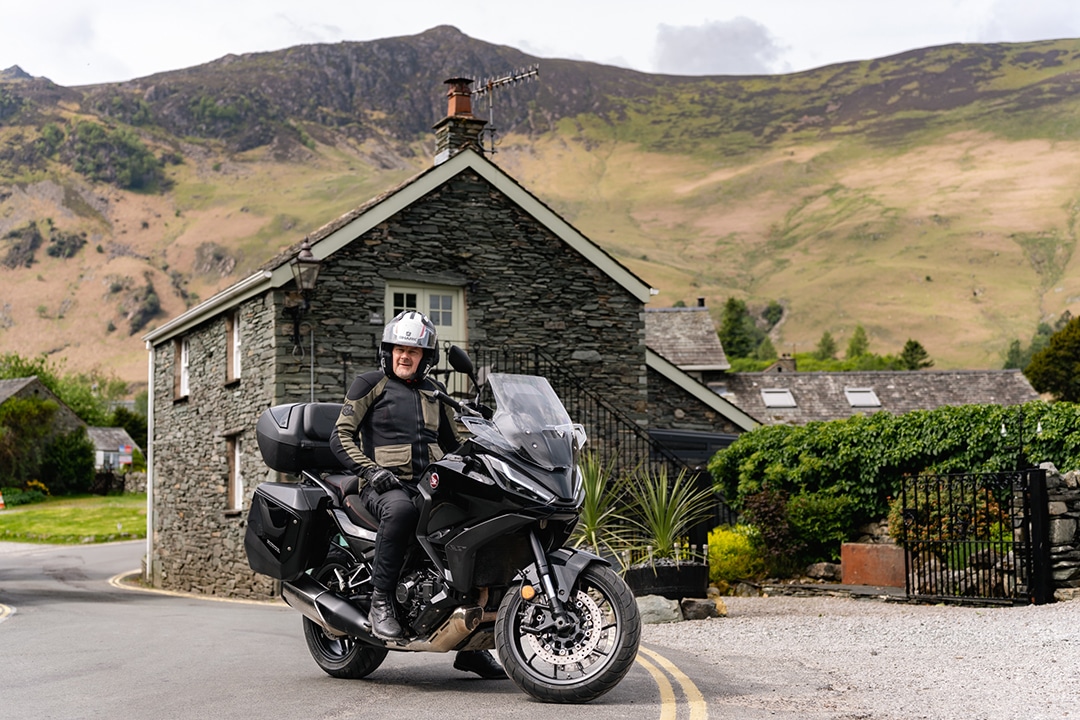 After serving as my only form of transport and taking me on all manner of different trips far and wide totalling 7000 miles in eight months, I can say my NT1100DCT has done its job well, though not without me cursing it on a regular basis!
Following on from the highly admirable NC750X which viewers of the Knox channel will know I used for a year and ended up becoming a big fan of, I expected the NT to be a bigger and better version. That didn't quite turn out to be the case.
However, as there's plenty to praise the 1100 for, let's start with some of its positives. As a tourer – which Honda insisted is what I needed to view the NT as right from the moment the bike was handed to me – the 1100 scores very highly. Several longer, all-day rides were always despatched easily and in really impressive comfort. With one of the very best fairings and screens I've tried, not only do you get protected from energy sapping wind, but when the weather's not at its best, it also keeps you a lot warmer and drier. In fact, so effective is the shelter, when you're riding in lighter rain, provided you're moving, the chances of getting wet are very much reduced. Combined with the roomy riding position and excellent (though quite tall) seat, taking on bigger trips isn't a physically daunting prospect, guaranteeing an ability to walk just as well at the end of the ride as you did at the start. It really is a great mile-eater.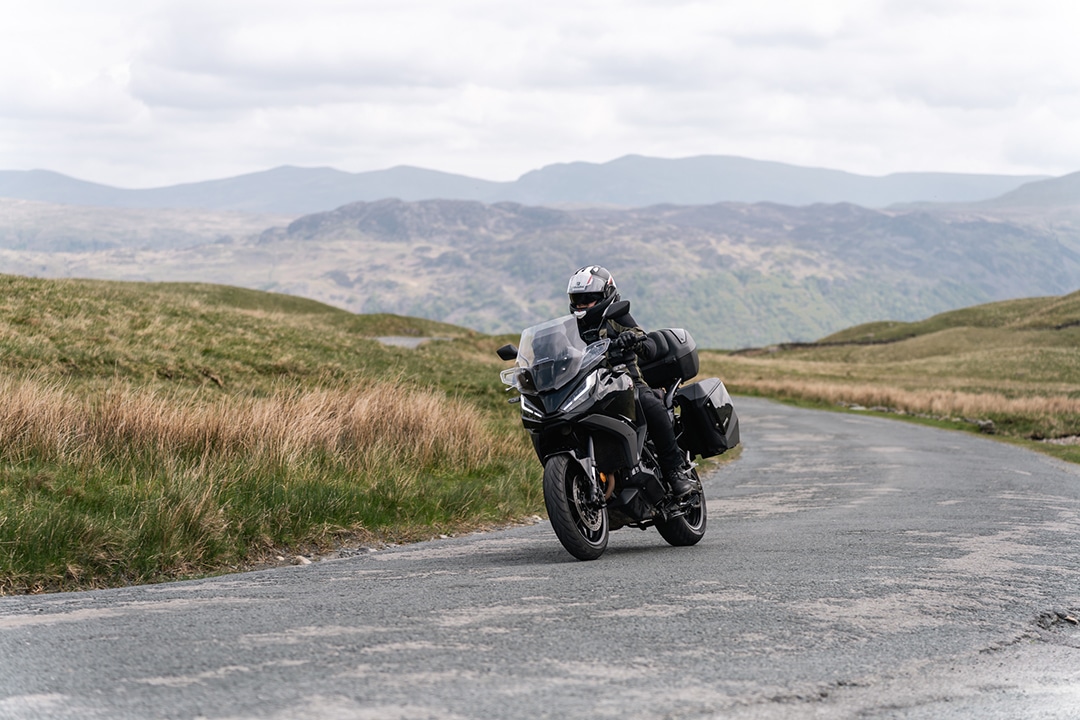 Before I continue with my praise, I'll now balance the opinion with some curse-inducing criticism. That screen, the one that offers so much wind protection, is also adjustable, which is obviously another great feature. Trouble is, you can't adjust it while you're riding! The friction device holding the screen in the desired position is too strong for you to be able to alter its height from the seat. Instead, you have to get off the bike to make the adjustment. In reality, that means whenever you want to move the screen, just as you do when the weather, or your personal requirements change for example, you must stop and get off the bike to do the job! It's really annoying, and I for one can't understand how it was passed fit for purpose. Other manufacturers like Triumph, Yamaha and Ducati have screens you can adjust from the seat, why can't Honda I wonder.
Anyway, back to the good bits. The punchy, real-world engine is fully deserving of a compliment. Generating very usable power, spread broadly with midrange clout just where you need it means throttle response is strong and prompt. It gives the 270° parallel twin a very flexible and relaxed character. It's pretty frugal too, returning between 45-65mpg to give a very useful fuel range of 200-300 miles. There's a choice of three pre-set rider modes, and two custom options which allow you to fine tune the power delivery, engine braking, and traction control. Also influential on the engine's behaviour is the DCT (Dual Clutch Transmission) arrangement. As a fan of the system, I chose to have the DCT option which costs another £1000 and adds another ten kilos. I've not cared for it quite as much on the NT as I have on other Hondas though, but that's mainly because of another issue I don't like about the bike overall. We'll come to that later. In the meantime, I'm still very keen on the semi-automatic gearbox's swift, slick and generally seamless changing. It takes time to become fully accustomed to its way of working and needs many rides and miles to do this. But once achieved, you can revel in just how well and cleverly it operates. There are various settings to choose from, and I always selected the Sport 2 (of 3) option to time the changes at the rpm and throttle position I prefer. In Drive for example, the DCT changes up far too early for my liking. But the beauty of the arrangement is you can fine tune it (with the option of altering the auto setting on the move) to suit your tastes. You can also, and it's something I've begun to do more and more often, override the system altogether by either selecting the fully manual setting, or by just hitting a button on the bars to instantly go up or down the box as and when you fancy. Doing that soon has you realise just how much better the DCT changes gear than any human can, a feature that's especially appreciated when you instantly need to drop a cog to seize the rare opportunity to safely overtake traffic along busy roads. It's just like the seamless system the MotoGP bikes are equipped with, but without the need to swap cogs with your foot. Think of it as the best quickshifter you've ever tried, and you'll get the picture. Not being able to stall the motor means you get away from the traffic lights in record time too.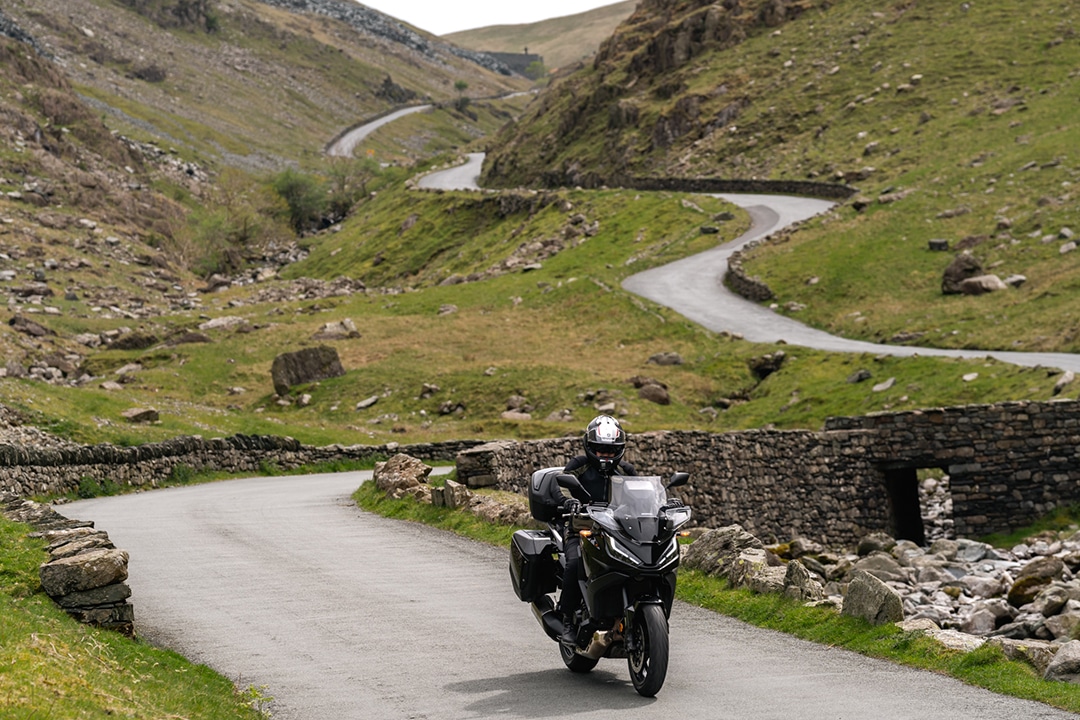 The only time I don't like it on the NT, is when you're riding across more challenging terrain, such as a campsite or gravel car park for instance or executing a tricky manoeuvre such as a U-turn in a congested place. Controlling such a tall and weighty bike on the throttle alone isn't always easy, something I realised all the more when I tried an NT with a manual gearbox. Having a clutch lever to fine tune progress helps appreciably when the going gets a bit more testing. In saying that, my overall verdict on the two bikes still had me favour the DCT version.
The NT's aforementioned size and weight often had me on edge, though only in particular circumstances like trying to park the bike. You really need to take care under such circumstances, especially if you're a bit of a shortie like me. If you lose your footing or general grasp of the bike you might struggle to keep it upright. I never dropped the NT, but I've had a few close shaves and was always wary of the bike's bulk and weight.
In saying that, once you're aboard and the wheels are turning the Honda handles a lot better than you might think a machine weighing nearly 250 kilos should. It's extremely stable and gives a very planted and reassuring feel. Only when you start pushing the NT outside the pace a typical owner would, will you discover some shortcomings. First limitation are the standard tyres. Luckily for me, when I first took stewardship of the bike, it had good aftermarket rubber already fitted, which I then swapped for a set of some of the latest Dunlop Roadsmart IV sports touring tyres. But while the new Dunlops perform superbly in all conditions, when I tried the NT with the manual gearbox fitted with the OE Dunlop GPR300s I wasn't impressed. Admittedly Dunlop claim they're not a premium tyre, but they certainly underlined how much better the aftermarket Roadsmart IVs are. So too was the aftermarket Hyperpro fully adjustable shock I fitted. The original unit isn't bad, and its soft underdamped nature gives your bum a nicer ride on smoother surfaces. But at speed, with a heavier load, such as a pillion for example, it can bottom out too easily when weighted suddenly over bumps and undulations. With the superior replacement shock in place, control is appreciably improved, and the NT feels a lot more capable. I tried to replace the fork springs as the originals are too soft and fork dive is quite pronounced under heavy braking. I didn't get the opportunity to swap them and ended up getting used to things in due course, but I'd expect the heavier springs would have given better support. Those brakes are hard to fault though, and even when the Honda is getting a move on, they slow the bike down well and very controllably. Given how much weight they're having to pull up, they have to be rated highly.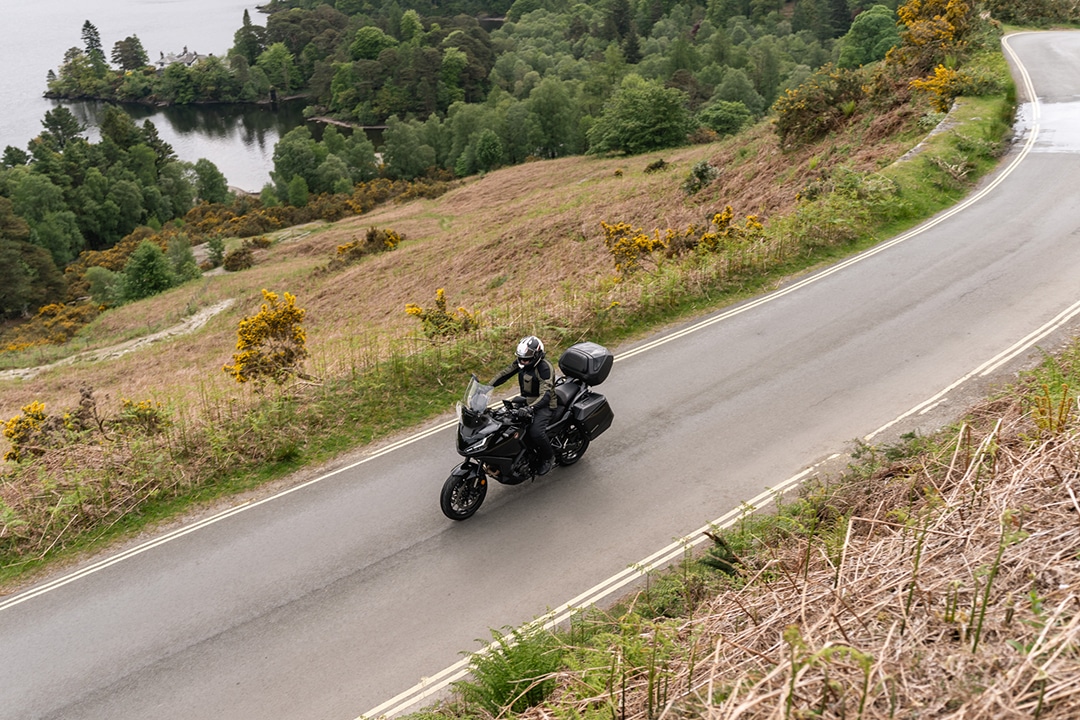 Back to the other end of the praise spectrum, and something that's all the more obviously below par when you're riding harder, or anytime when you need to give a warning to other motorists is the design of the left-hand, bar-mounted switch cluster. With a massive 17 buttons to choose from it's not always as easy to press the one you want. Instead of hitting the horn you can catch the DCT gearchange button, or indicator switch for example. It's an ergonomic failure and has led me to curse and, on occasion, worry I haven't been able to trigger what I wanted. It's made even worse at night as the buttons are unlit. It might seem a bit disproportionate to be so critical of something so seemingly minor, but believe me, at the time of error it can be very frustrating.
More helpful is the Honda's standard fitment luggage. Those panniers are excellent in terms of their capacity with the bonus of not being too wide to handicap filtering through traffic. Unfortunately, they can't accommodate a full-face helmet, though I've added a large top box to deal with that. It's actually big enough to hold two of them, though at just over £500 it should do! Regarding price, given how well equipped this version of the NT is with its DCT, cruise control, heated grips, twin power sockets, centre stand, and TFT dash with phone connectivity I reckon it offers decent value for £13,499. It's nicely built, and its finish is decent. Given how poorly I treated it, it still came up fairly well when I gave it a courtesy clean just before handing it back to Honda.
Overall, I rate the Honda as a good, easy to ride, very capable machine, I'll miss its versatility and have many memories from the numerous places it's taken me including locations ranging from Lidl to the Lake District. I'd view it much more highly if the screen was more easily adjustable, and the switchgear easier to navigate. And the NT would be more preferable if it was a bit lighter too. Yet all in all, the 1100 is still an excellent tourer with superb comfort, a strong and useful engine, and a chassis well equipped enough make it handle well. I didn't get on with it quite a well as I did the NC750X and it wasn't the next step up that I expected, but as an everyday bike it served me well and dutifully.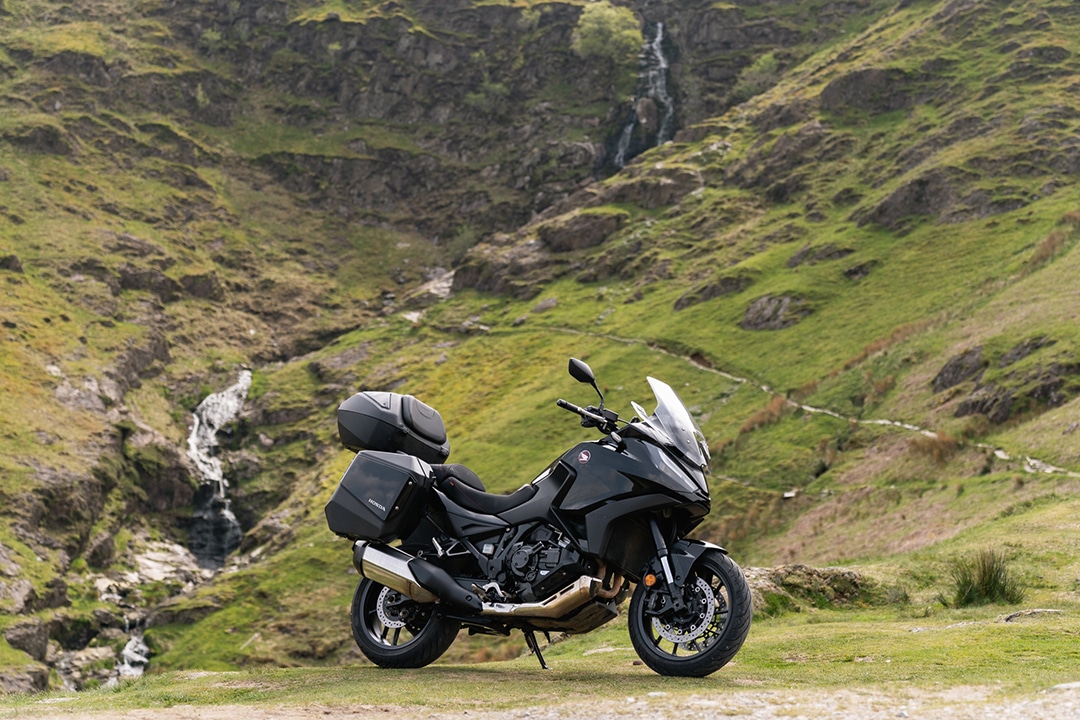 2022 Honda NT1100 DCT
Engine: 1084cc, liquid-cooled, 8v, sohc, 270°parallel twin
Power: 100bhp (75kW) @ 9250rpm
Torque: 77lb/ft (104Nm) @ 6250rpm
Transmission: six-speed DCT, chain drive
Frame: steel-tubed double cradle
Suspension: (F) 43mm inverted forks, adjustable preload (R): rising-rate monoshock, adjustable preload
Brakes: (F) 310mm disc, four-piston radial ABS calipers (R) 265mm disc, single-piston ABS caliper
Tyres: (F) 120/70-17; (R) 180/50-17
Seat height: 820mm
Wheelbase: 1535mm
Kerb weight: 248kg
Fuel capacity: 20.4 litres
Knox products worn on test!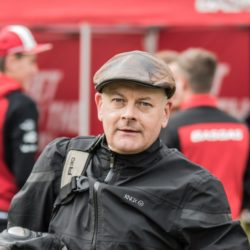 Related posts