Yamaha MT 09
The review from KNOX
WRITTEN BY AARON TRAVELL
PUBLISHED: November 25th, 2021
Forged from the Dark side of Japan, the Yamaha MT 09 has hit legendary status in the motorcycle world. Its snarling engine and unconventional design setting the benchmark for naked bikes. 2021 sees the Yamaha MT 09 and MT 09sp reborn. An all-new engine, heavily revised geometry, and R1 derived electronics. It's loaded to the teeth and ready to fight it out against the very best in class. But have they done enough? let's find out!
To say the Yamaha MT 09 has been a successful project would be a massive understatement. They may not have won every press test or proved to be the outright fastest middleweight naked around a race track, but you only have to go to a few bike meets to figure out that loads of people bought them.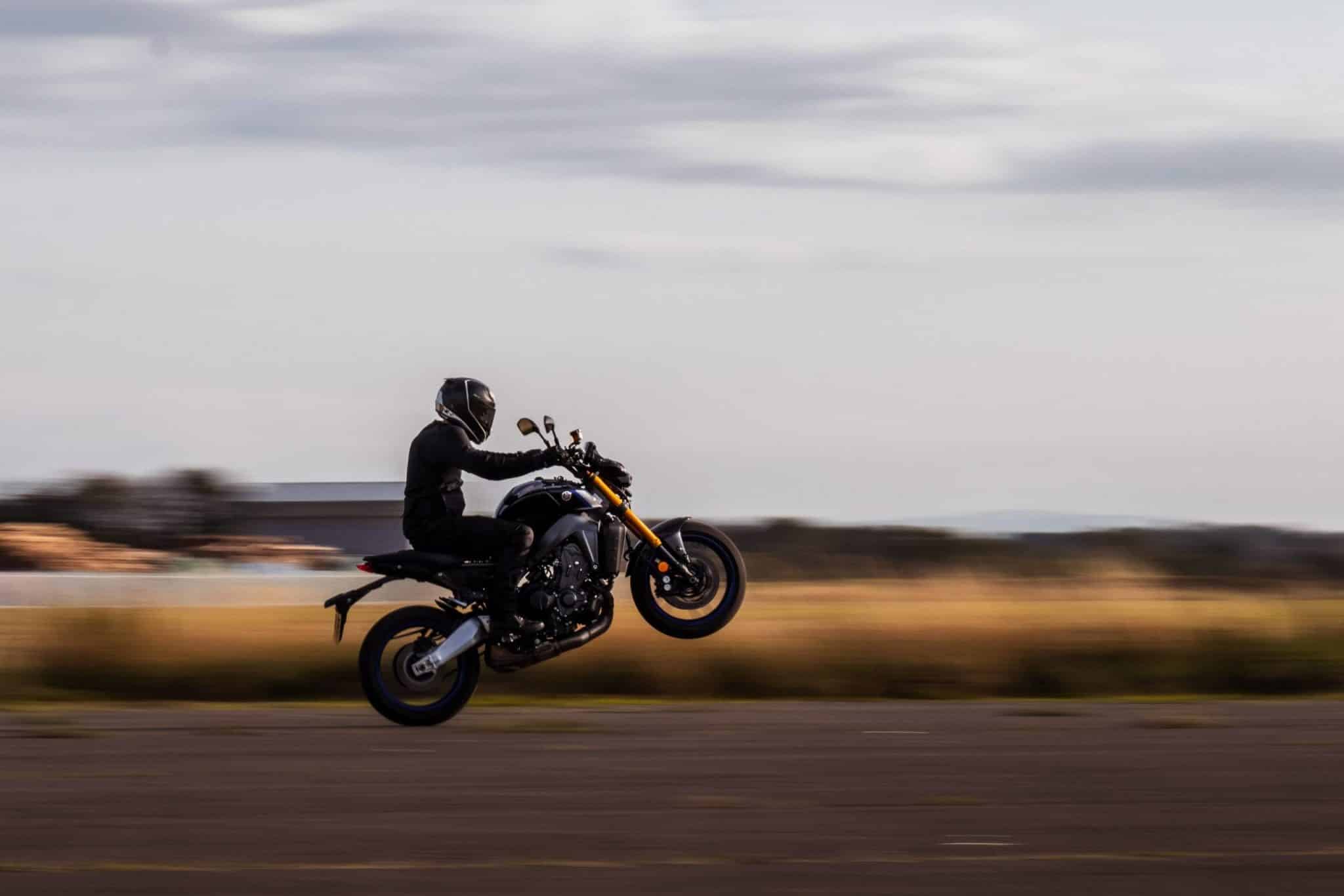 So what is the new 2021 version like?
Initial impressions of the MT 09sp we had on test are that its bonkers, brilliant, and just about everything you'd want from a naked road bike. It's exciting, fast and it makes you want to ride like a hooligan. The MT09 was inspired by the Dark side of Japan, and it lures the dark side out of you as a rider.
We must start with the engine, it's one of the finest engines in motorcycling! If I could find a way to stick the MT 09 engine in my GSXR750 frame I'd do it. The prospect of an upcoming R9 may be speculation right now, but gut feeling is it would make an amazing sportsbike!
The Yamaha CP3 triple is legendary for good reason and the new one is fantastic. The way it behaves just boggles the mind, flavours of v-twin grunt delivered with flavours of smooth and easy to ride 4 cylinder. People say that's how a 3-cylinder motor characteristically behaves, which is a bit like saying a Michelin star steak dinner is just beef. The Yamaha chefs have served up a Michelin star dish with this engine, and as a rider I want to come back for more. It just pulls and pulls from anywhere in the rev range and makes for a very exciting motorcycle. Any reports of snatchy fuelling in previous models have been resolved, its lovely with no need for an aftermarket remap. It also provides a fantastic soundtrack!
On the airfield, we clocked the Yam at 0-60 in 3.5 seconds, 0-100 in 6.5 and 0-120 in 9.5. In our experience it's hard to get much faster to 100mph than that on any naked bike, irrespective of engine size and power figures with more powerful bikes only pulling away at speeds above 100mph.
The MT09 has a reputation as a wheelie machine, it is the machine of choice at the Extreme Wheelie school and the machine I learned on there. Back riding one again on this test, it proved itself the one-wheel king, allowing huge and controlled wheelies down the airfield. The MT09's ability to do this is a by-product of how much snap the motor has and simultaneously how easy it is to modulate the power.
Connected to the hugely potent engine are the all new R1 derived electronics and are a real distinctive of the model, class leading in our opinion. Super simple to use from a rider's point of view, yet super sophisticated. Not being familiar with Yamaha's latest electronics, it initially took me a while to get used to, mainly from the point of view that I couldn't feel anything working. Normally with modern electronics turned on, try clutch up a wheelie with wheelie control turned on and the engine cuts abruptly slamming you to the floor. Not so with Yamaha electronics, LIF control turned to 2 and a beautiful controlled and uninterrupted small power wheelie can be had, 3 onwards and the front wheel is planted, yet with no feeling of power reduction. The Yamaha electronics package was quite eye opening as to what is possible with the latest motorcycle technology.
This single feature made our acceleration tests vs the KTM 890 Duke R a doddle, on the airfield we were pinned to the throttle stop from launch without risk of looping it and this combined with its excellent stability to make the Yamaha the most consistent and easiest machine out of the two to ride fast in a straight-line. It's a beautiful combination, a snappy, hooligan capable engine with an electronics package that can tame it in such a way that anyone of any ability would feel confident riding it.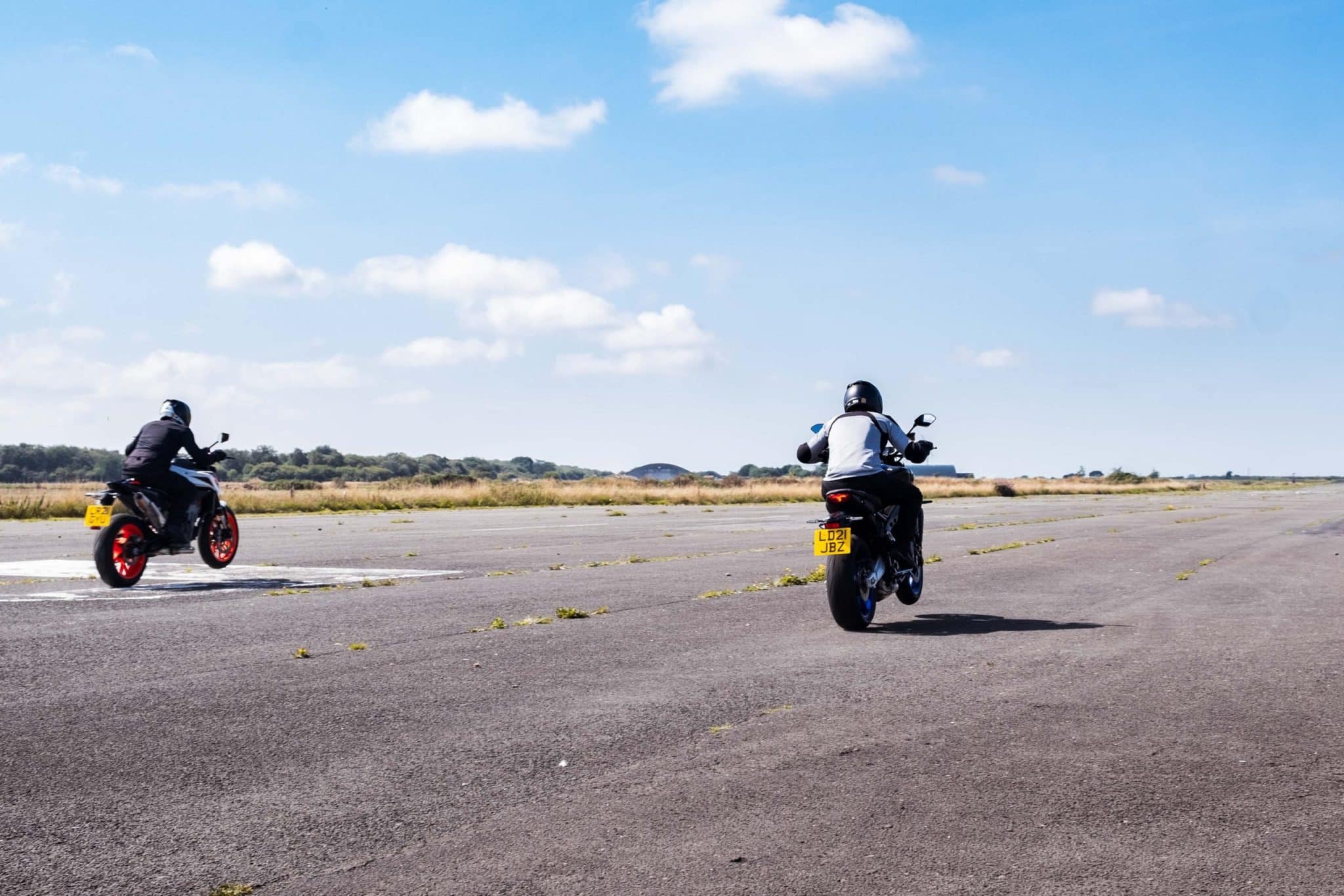 The flexible and refined nature of the MT09's engine and electronics package play into the way it feels to ride. This is one of the most relaxed naked bikes I've ridden with a very upright riding position, high bars, low seat and low foot pegs. Its genuinely all day comfortable and wouldn't be out of place as a touring machine.
On the looks front, it's fair to say the new MT has divided opinion. But we love it, it's powerful, aggressive, and fits with the Dark side of Japan mantra. The quality of the paint work is lovely and matches the gold ohlins shock and fork tubes. The underbelly exhaust system fits with the bike, but does take a bit of maintenance to keep it looking right. Our press bike had 1000 miles on it and was already quite corroded, but with a bit of elbow grease and some Harpic, it polished up nicely. I think owners would want to keep on top of this as the exhaust system is open to the elements and is very visible.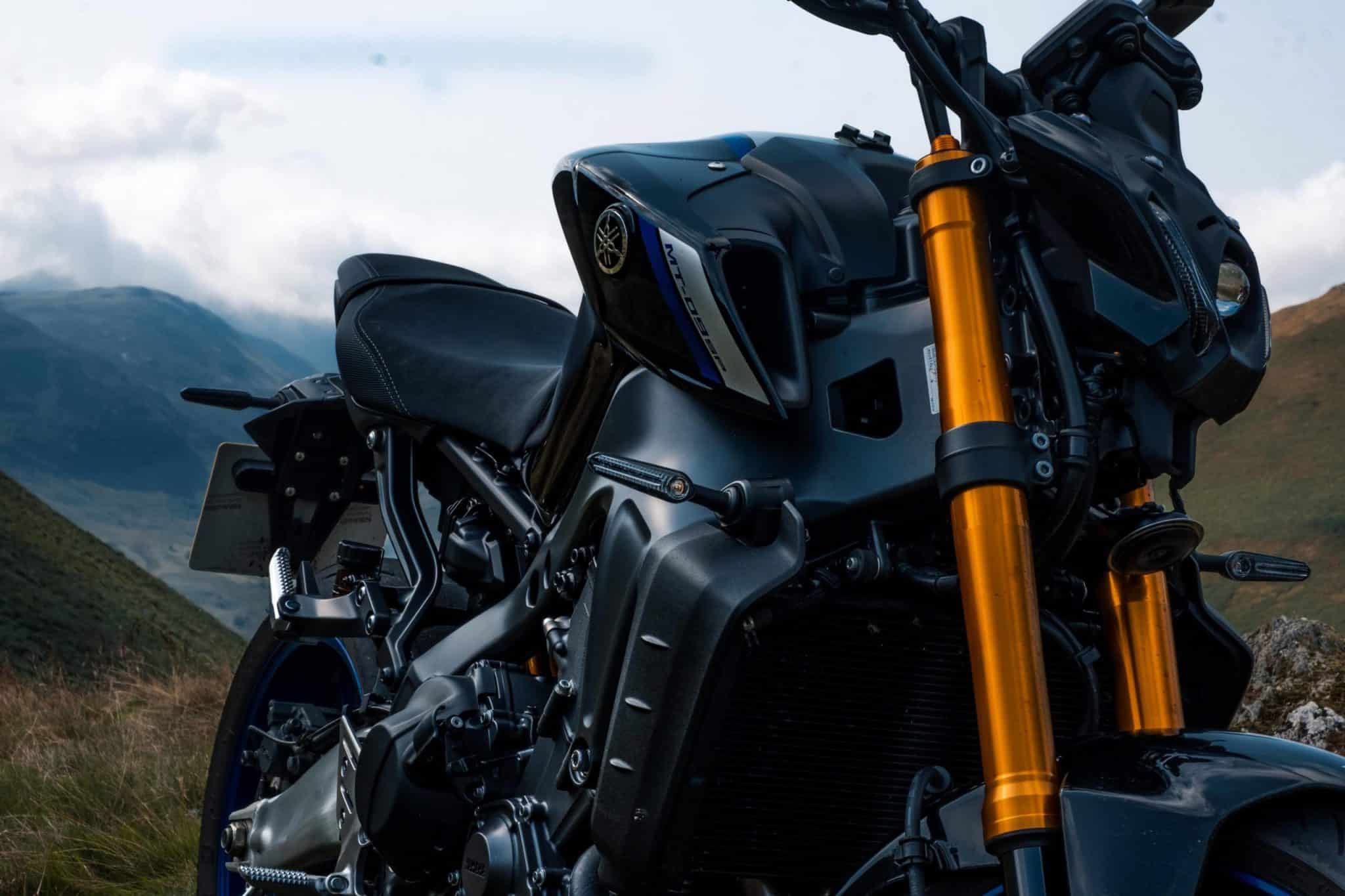 Handling wise, the MT09 used to come under some criticism, but this has been addressed with a mix of new suspension and big geometry changes for 2021. Our SP model sports an Ohlins shock and KYB premium forks. It's a supportive ride that is very predictable, has light steering and is planted – a quality job. I think with a bit more time with the bike and with a professional set up to weight and riding style, we could have got the bike better.
Having recently seen my Dad have a 140mph tank slapper and cartwheel down a race track, its fair to say Im a bit wary of bikes not fitted with steering dampers. Therefore when taking the MT-09 on the airfield for high speed testing, it was definitely in the back of my mind. However, in comparison to the 890 Duke R fitted with said damper, the MT09 was the more stable machine and the front end was incredibly planted! However, for serious track work, we would want to figure a way to attach an aftermarket one. And speaking of track work, there are clearly intentions there, the MT09 is the only bike I can think of other than my GSXR750 to come with height adjustable rear sets, improving ground clearance for track work and higher lean angles!
Topping off the amazing things about the 2021 MT09 is the way its priced, making it super accessible to most riders who are looking for a new motorcycle. Our Devitt quoted Insurance prices for Mr Average are also spookily affordable at £187 and reported reliability from owners is excellent.
The MT09 is an incredible machine and in our book battles neck and neck with the KTM 890 Duke R as the best middleweight naked available in 2021! But are there any black marks against the bike from the Dark Side?
Like all bikes, it isn't perfect and here are some of the things we picked up.
1). The Brakes and the ABS integration is not good.
Apply the brakes hard on the Yamaha MT09 and the ABS cuts in in such a way that you feel like you are propelling towards the hazard rather than actually stopping. The system is way too keen, doesn't allow any rear wheel lift and is a pretty big downside in our opinion. We did find a way of temporarily disabling it by either doing a burnout, running the rear wheel on a paddock stand, or pulling a long wheelie. Disabling the ABS on the Yamaha MT09 transforms the brake performance with much more power and feel than with it turned on, leading me to believe the hardware is actually quite good, it's just the ABS integration that is bad. I think for track work or any aggressive type of riding off legal roads, I would want to disable the ABS as it just spoils the fun.
2) Turning circle.
Secondly, the turning circle on the MT09 isn't great. This isn't a problem in normal riding, but during low-speed manoeuvres and tight switch backs, it feels more like a sportsbike rather than the agile and flickable naked it should be, and you often run out of turning space. You wouldn't want to do a moto gymkana on this bike that's for sure!
3). Final finishing.
The last downside we picked up was a bit of a surprise. We own a Yamaha Wr250f enduro bike and Olly owns an 60th anniversary R1 special, and the final finishing on both bikes is beautiful giving a high-quality feel. Having recently seen the new R1m in the flesh that is next level again.
Unfortunately, parts of the 2021 MT09 are a bit scrappy in our opinion. Whether that's part of the revealed wiring loom that are messily taped together, the horn that very obviously on show, or the lambda sensor that pokes awkwardly out of the exhaust downpipes. This is quite different to the R1 where massive effort has clearly been applied to hide some of this stuff.
It doesn't feel like a result of cost cutting, it's more a lack of care on the last few % on the design front and that's a shame as the rest of the bike is amazing including the beautiful paint scheme!
But again, the 2021 MT09 is such a brilliant bike, we're sure prospective owners will overlook these downsides in the hunt of one of the purest and most brilliant naked bikes ever produced. We think it's amazing and we're pretty sure everyone who gets to own one will too!
2021 Yamaha MT09 SP gallery
Knox products worn on test!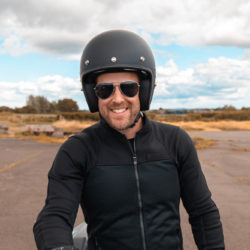 Related posts