BAGS OF IDEAS
The origin of the rucksack collection begins with our founder, Geoff Travell, who always wore a rucksack for overnight travelling and day visits to racetracks. He became hugely frustrated with the rucksacks that were available as the strap system never fitted very well, resulting in rucksacks sagging and the weight was worn too high, getting heavy and uncomfortable very quickly. This made him determined to fashion something for himself,  which inevitably became a great product in our line-up. The range is now 3 rucksacks strong, and they are an important complementary accessory in the Knox collection.
BAGS OF STYLE
We let Knox customers do the talking about our line-up of Studio, Trekker and Ryder Bags.
The Trekker, Ryder and Studio are all designed with a great strap system, and weight is designed to sit well down in a load bearing area of the body, to minimise back ache. The shoulder straps are padded for comfort and are designed to fit snugly, with adjustable fittings on the waist and chest straps for a secure fit when riding. There are no annoying, loose flying straps to whip you on the arms in the wind, as all can be neatly tucked inside elasticated housings.  This is a thoughtful line up of stylish rucksacks, each one feature rich and different in design and functionality, so there is one to suit every type of rider and riding style.
BAGS OF ROOM & COMPARTMENTS
The rucksacks are spacious and are designed to be big enough for a day or weekend away with 25L or 20L capacity. There is a wealth of sensible pockets and cleverly designed compartments to make packing of gear easy.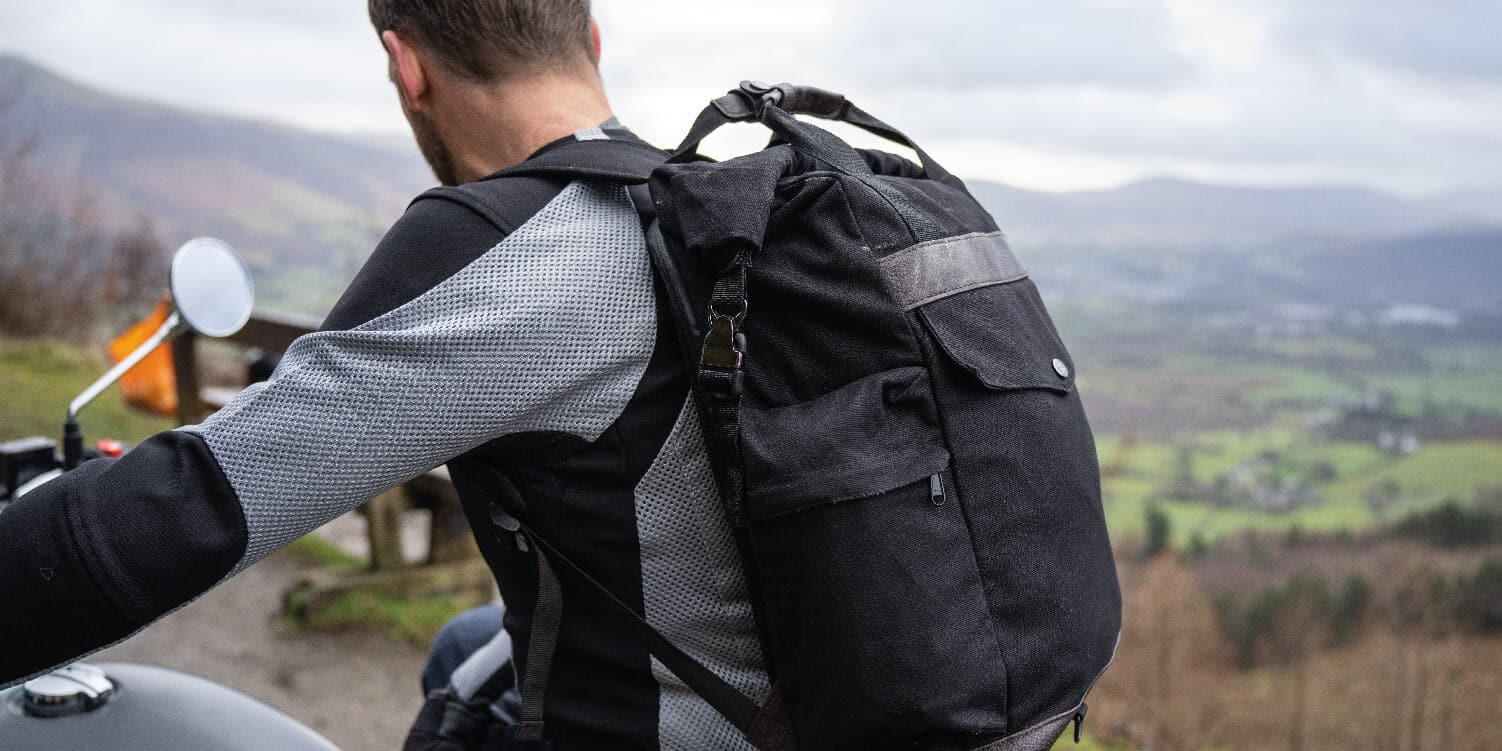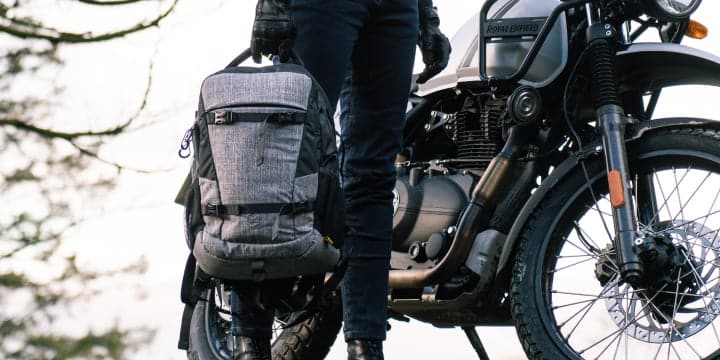 STUDIO
"Finally… the best backpack"
The Studio Rucksack is a best seller that has already become a classic in the range.
This bag is a waterproof, roll top rucksack, made from tough 600 denier nylon and leather.  Simply fill it up, then roll it down as far as you need to before clipping it securely closed and it will keep everything safe from the elements.
The base of the bag is made from strong and luxurious leather. Its base is complemented with hard wearing studs for extra wear resistance and lined with Knox Micro-Lock which gives extra protection to the rucksack's contents.
TREKKER
The Trekker Rucksack is a smart, stylish 100% waterproof, roll top rucksack.  Big on looks, it is perfect for everything from travel to adventure or just for everyday use.
All Knox products are made with sustainability in mind and the Trekker body is made from rugged 14 ounce cotton canvas which is carefully detailed with contrasting faux leather panels and base. The base is also fitted with Knox Micro-Lock which gives extra protection to the rucksack's contents.
RYDER
A place for everything and everything in its place!
The Ryder has amazing storage, practicality, and a great look.
It is also the sportiest rucksack in the collection.  It has three compartments, each big enough to hold a 15" laptop and an A4 diary.  One section is simple storage, the next has a pocket for a tablet and the third has a zipped inner pocket with storage for a wallet, a set of pens and even a couple of USB sticks.  All three sections come with a secure locking zip to add security. A waterproof cover is housed in a zipped pocket in the bottom of the rucksack.  The base is also lined with Knox Micro-Lock which cleverly helps to protect the bag's contents from being accidently damaged if the bag is dropped.