Out of stock
Wave Women's Glove
inc VAT
Size Guide
Women's short cuff leather glove with scalloped detailing on the back of the hand.
Made from 0.8mm goatskin with MICRO-LOCK knuckle protection for impact resistance and touch screen compatible fingers.
Stretch accordion detailing on the fingers.
New Lift and Lock wrist strap for easy and secure fastening.
Patented low profile Scaphoid Protection System on the palm.
CE Approved
Style Notes
Women's short cuff leather glove with scalloped detailing on the back of the hand.
Made from 0.8mm goatskin with MICRO-LOCK knuckle protection for impact resistance and touch screen compatible fingers.
Stretch accordion detailing on the fingers.
New Lift and Lock wrist strap for easy and secure fastening.
Patented low profile Scaphoid Protection System on the palm.
CE Approved EN 13594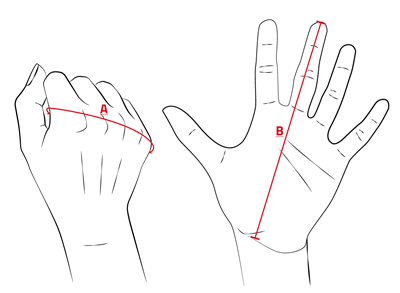 Palm Circumference (A): Palm circumference is the total measurement around the widest part of the palm and over the knuckles. Put the tape around your palm and make a fist, then note the measurement.
Hand Length (B): Measure from your wrist crease to the end of your middle finger.
Measure your hand length and width and choose size the closest to your measurements. This should fit your hand correctly. If your hand fits one measure but not the 2nd, or if you prefer a looser fit, we would advise choosing the next size up.
| Women's Hand Size | XS | S | M | L | XL | XXL |
| --- | --- | --- | --- | --- | --- | --- |
| Palm Circumference (mm) | 184 | 194 | 204 | 214 | 224 | 230 |
| Hand Length (mm) | 170 | 177 | 183 | 190 | 197 | 202 |