Available on back-order
Storm Winter Gloves
£99.99
Size Guide
Find in Store
Style Notes
The Storm Waterproof, Winter Gloves by Knox is the ideal piece of hand armour for wet winter conditions. Combining a luxury Goat skin and textile outer with a waterproof Hipora mebrane Knox have created a warm, dry glove that also brings with it a high level of protection for the rider.
This feature-rich pair of gloves come with MICRO-LOCK technology that is focused on the finger and knuckle area. This means the Storm is layered up with armour that has been designed to be super streamlined and soft to touch but will lock to absorb impact when you need it most. Further protective credibility comes in the form of a low profile version of Knox's unique SPS technology. Otherwise known as the Scaphoid Protection System, this part of the glove is made up of clever sliders located on the palm which allows the wrist to slide freely against tarmac in the event of an accident. The purpose of this is to avoid the typical Scaphoid injuries motorcyclists often sustain due to standard gloves gripping the surface in a crash and causing a break due to overextension.
Another feature built in by Knox is their alternative lift and lock wrist closure system. This has been created in order to allow riders to spend less time fiddling and fighting with their gloves and more time on the open road. Practicality for those winter months is also furthered with a handy touch screen friendly finger pads, a thumb mounted visor wipe and reflective safety detailing.
Details & Fit
Goat skin and textile
Waterproof winter gloves
Hipora mebrane
MICRO-LOCK protection over fingers and knuckle area
Reflective detailing on the fingers and cuff
Low profile SPS (Scaphoid Protection System) on the palm
Knox lift and lock wrist closure for quick and easy cuff adjustments
Touch screen compatible fingers
Visor wipe on thumb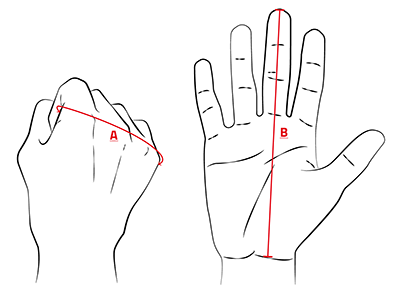 Palm Circumference (A): Palm circumference is the total measurement around the widest part of the palm and over the knuckles. Put the tape around your palm and make a fist, then note the measurement.
Hand Length (B): Measure from your wrist crease to the end of your middle finger.
Measure your hand length and width and choose size the closest to your measurements. This should fit your hand correctly. If your hand fits one measure but not the 2nd, or if you prefer a looser fit, we would advise choosing the next size up.
| Men's Hand Size | S | M | L | XL | XXL | XXXL |
| --- | --- | --- | --- | --- | --- | --- |
| Palm Circumference (mm) | 215 | 230 | 245 | 260 | 275 | 290 |
| Hand Length (mm) | 186 | 193 | 200 | 207 | 214 | 221 |
People also bought
Need help selecting products that go well together? Use Live chat or email us at: sales@planet-knox.com