Available on back-order
Covert Gloves MK3
£139.99
Size Guide
Find in Store
Style Notes
A non- bulky 3 Season Soft Leather 100% Waterproof Motorcycle glove.
Made from tough goat skin with a durable water repellent film, the waterproofing is guaranteed by Knox Seal, a highly breathable laminated membrane, guaranteed to give 100% waterproofness and wind protection.
Perfect spring/summer/autumn glove without adding bulk.
Details & Fit
Flexible Knox Seal sits directly below the glove shell, leaving the rider drier and more comfortable.
Increased Dexterity – because the membrane is bonded to the shell this makes the glove thinner giving greater feel and sensitivity.
Goat skin with DWR repellent film and additional cow hide panels for extra abrasion.
Adjustable web slider to reduce the cuff when used under a jacket sleeve.
CE approved to EN13594:2015
Patented low-profile Knox Scaphoid Protection System (SPS) on the palm (Patent No EP1594378) to eliminate the grab effect that occurs when a leather palm makes contact with the road, reducing the risk of hyper extension which can be the cause of a broken scaphoid.
Soft Micro-Lock knuckle.
Amara Silone grip pad on the palm.
Amara touch screen on 2 fingers and 1 thumb.
Topside Velcro wrist closure for ease of use and a more secure and comfortable fit.
Expanding cuff zip used for ease of use when putting on/taking off the glove.
Accordion stretch panels on fingers, thumb and top of hand for increased flexibility.
Strategically placed 4mm Micro-Lock panels placed on thumb, top of hand and outer wrist.
Box construction fingers for increased dexterity.
Low profile cuff section of the glove so that it fits well under jackets.
Colour – Black
Sizes S – XXL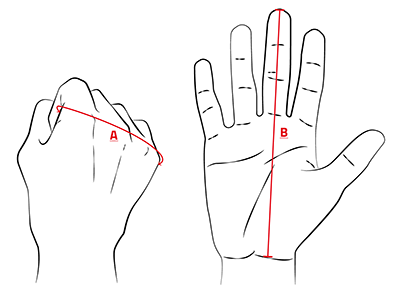 Palm Circumference (A): Palm circumference is the total measurement around the widest part of the palm and over the knuckles. Put the tape around your palm and make a fist, then note the measurement.
Hand Length (B): Measure from your wrist crease to the end of your middle finger.
Measure your hand length and width and choose size the closest to your measurements. This should fit your hand correctly. If your hand fits one measure but not the 2nd, or if you prefer a looser fit, we would advise choosing the next size up.
| Men's Hand Size | S | M | L | XL | XXL | XXXL |
| --- | --- | --- | --- | --- | --- | --- |
| Palm Circumference (mm) | 215 | 230 | 245 | 260 | 275 | 290 |
| Hand Length (mm) | 186 | 193 | 200 | 207 | 214 | 221 |
People also bought
Need help selecting products that go well together? Use Live chat or email us at: sales@planet-knox.com