Knox GSXR1000r Superstock Bike
First Ride Report From Portimao
PUBLISHED: February 2nd, 2023
Following on from our previous video and article where we lifted the bonnet to find out what was really inside our newly acquired BSB Superstock Suzuki GSXR1000r, in this episode, we report from a recent trip to the iconic track, Portimao, to sample the goods.
Hot weather, perfect tarmac, good food and great company were some of the ingredients of our memorable European track even organised by No Limits. https://www.nolimitstrackdays.com/
Having 3 consecutive days on track was the perfect way to get familiarised with the GSXR1000. With massive power and a near perfect set up, the wow factor was incredible and it's the best bike I've ever ridden…
With that in mind I feel I've only scratched the surface! Much more to come on this series, so please make sure you subscribe for more action in 2023.
In this video, Aaron was wearing:
Hope you all enjoyed this video, please like, comment and subscribe.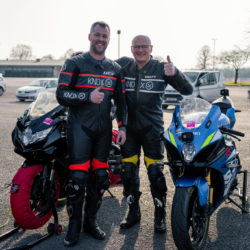 Related posts