Out of stock
Covert Gloves V14
£99.99
Size Guide
Style Notes
3 Season Soft Leather Waterproof Motorcycle glove using patented OutDry®. Technology.
This glove has laminated membrane on the inside of the leather so cannot absorb water past the leather exterior. The result is a glove that does not become heavy with water in the rain. Also the fingers will not pull out which is a massive frustration for so many riders!
Perfect spring/summer/autumn glove and without added bulk.
Details & Fit
The OutDry® membrane is bonded directly to the shell and completely seals the stitching.  This ensures that the inner remains completely dry.
Perfect Fit – Increased Dexterity – because the membrane is bonded to the shell. This makes the glove thinner giving greater feel and sensitivity.
Windproof – With OutDry® bonded membrane technology, wind is blocked on the outer surface. With conventional construction, air can penetrate the exterior and fill the space between shell and membrane.
Highly Breathable – The OutDry® System prevents moisture build up between shell and membrane which allows body vapour to easily push through the glove, keeping hands dry on the inside.
Full 1.0mm Korean Cowhide construction.
Pittards digital goat leather 0.8mm overlay used on palm and finger tips for increased durability.
Patented low profile Knox Scaphoid Protection System (SPS) on the palm (Patent No EP1594378) to eliminate the grab effect that occurs when a leather palm makes contact with the road, reducing the risk of hyper extension which can be the cause of a broken scaphoid
Soft silicone knuckle for added comfort.
Velcro wrist closure for a secure fit.
Waterproof zip used for ease of use when putting on/taking off the glove.
Accordion stretch panels on fingers, thumb and top of hand for increased flexibility.
Strategically placed 4mm biofoam panels placed on thumb, top of hand and outer wrist.
Box construction fingers for increased dexterity.
Low profile cuff section of the glove so that it fits well under jackets.
Colour – Black
Sizes S – XXL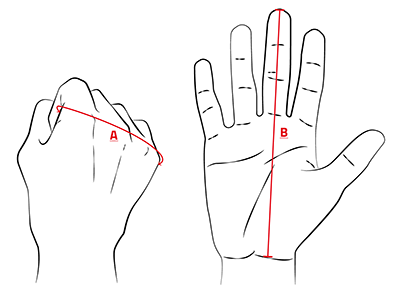 Palm Circumference (A): Palm circumference is the total measurement around the widest part of the palm and over the knuckles. Put the tape around your palm and make a fist, then note the measurement.
Hand Length (B): Measure from your wrist crease to the end of your middle finger.
Measure your hand length and width and choose size the closest to your measurements. This should fit your hand correctly. If your hand fits one measure but not the 2nd, or if you prefer a looser fit, we would advise choosing the next size up.
| Men's Hand Size | XS | S | M | L | XL | XXL | XXXL |
| --- | --- | --- | --- | --- | --- | --- | --- |
| Palm Circumfrence (mm) | 200 | 215 | 230 | 245 | 260 | 275 | 290 |
| Hand Length (mm) | 179 | 186 | 193 | 200 | 207 | 214 | 221 |
People also bought
Need help selecting products that go well together? Use Live chat or email us at: sales@planet-knox.com